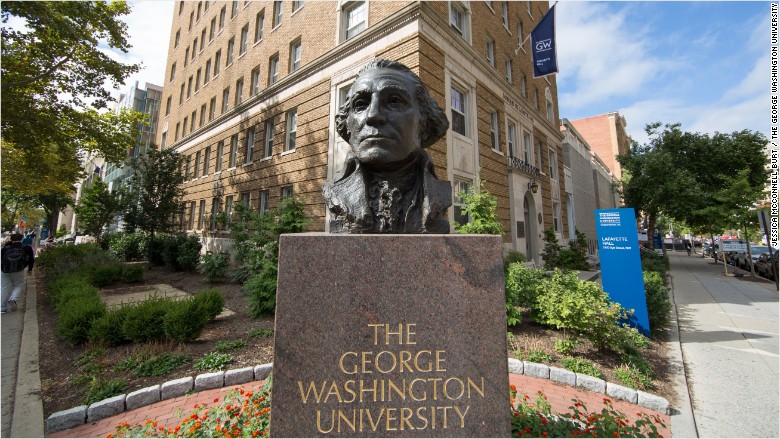 George Washington University got rid of its SAT requirement, and applications soared 28%.
This kind of jump is unprecedented, the school said. About 6,000 more students applied compared to the year before.
It also saw a "significant" increase in applications from blacks, Hispanics, international students and those who would be the first in their family to go to college.
That's what GW was hoping for when it started allowing applicants to opt out of submitting their standardized test scores this year. The school says it won't hurt your chances of getting in. About 20% of those who applied chose not to submit their scores.
GW is one of the largest and most prestigious schools to go "test-optional," but it's a growing trend. More than 30 schools dropped the requirement in the past year, bringing the total to about 850. The list includes mostly liberal arts schools, including Wesleyan University, Bryn Mawr and Wake Forest.
Related: What happened when these colleges ditched SAT scores
The thinking is that dropping the test requirement will encourage more low-income and minority students -- who tend to score lower on the SAT -- to apply.
While academic research is mixed on whether a "test-optional" policy really does increases diversity among enrolled students, some schools have seen it work. Diversity is up, and they're attracting strong applicants who may not have applied before. Experts say that high school grades can be much better at predicting whether or not a student will succeed in college than their SAT or ACT scores.
Related: Harvard's endowment is $36.4 billion
Some other factors may have played a role in GW's spike in applicants, too. The college also credits its new, data-driven recruitment strategy and revamped campus visit experience.
The increase in applications could make it more difficult to get in. GW admitted about 60 more applicants who applied early-decision compared to last year, but a spokeswoman said the college has not yet determined how many total students will be accepted. And it appears that the applicant pool could be more competitive this year. Of those already admitted, high school GPAs are slightly higher than in last year's class.