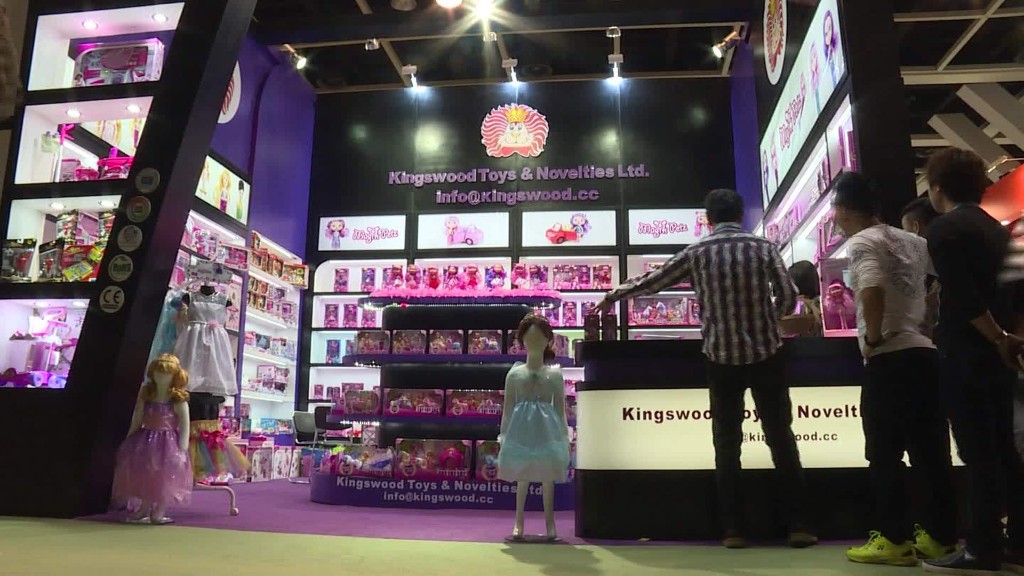 Let's call it the people's problem of China. The country's workforce has been shrinking since 2012 -- the fallout from a decades-old policy that restricted most couples to only one child.
Faced with an aging population, labor shortages and slowing economic growth, China relaxed the law. Starting this year, couples are allowed to start having two children.
The verdict's out on whether that's the answer to China's economic challenges. But for certain industries, the math is simple: more babies equal more business.
Take toys. There was a buzz of optimism at the recent Hong Kong Toys and Games Fair, which matches up manufacturers and distributors with buyers from around the globe. It's the biggest event of its kind in Asia and the second biggest worldwide.
The fair's organizer, the Hong Kong Trade Development Council, says China's new policy means there will be 2.4 million additional babies born there every year. That's forecast to bring an extra 75 billion yuan ($11.5 billion) of spending in the country's toy industry, which already has annual sales worth hundreds of billions of dollars.
Related: Baby formula a big winner from China's two-child policy
"We were like, 'Yes!'" said William Che, the general manager of Kingswood Toys & Novelties, recalling the moment when the end of the one-child policy was announced.
A Hong Kong-based company started by Che's father nearly four decades ago, Kingswood's main focus had been the European and U.S. toy markets. But that's now changing.
Che said he's expecting sales to mainland China to at least triple over the next five years. He acknowledges, though, that competition is already heating up as the rest of the industry catches on.
"It's going to be tough, but there's huge potential," he told CNN.
NiceToys, another manufacturer in Hong Kong, is expecting a 30% jump in sales thanks to the two-child policy, according to sales manager Henry Cheng.
The Chinese law change and lackluster growth in the European market have prompted him to shift his focus to mainland China. But he's aware of a possible bump in the road ahead.
Related: Why China's two-child policy is no silver bullet for economy
"In big cities like Shanghai or Beijing, couples are not so keen on second kids," Cheng said, suggesting many find the prospect too expensive.
That seems to be the case in the capital. Before the new policy went into effect, Beijing officials found that only 10% of couples eligible to have a second child said they actually wanted one.
Economists have raised similar concerns, warning that the two-child policy may be too little, too late to reverse the effects of the one-child rule. By China's own estimate, the new policy will boost economic growth by half a percentage point over an unspecified time frame.
Despite the uncertainty, the toy makers know there's one thing they can count on.
Parents "won't spend too much on themselves," Che said. "But they are very willing to spend money on their children."