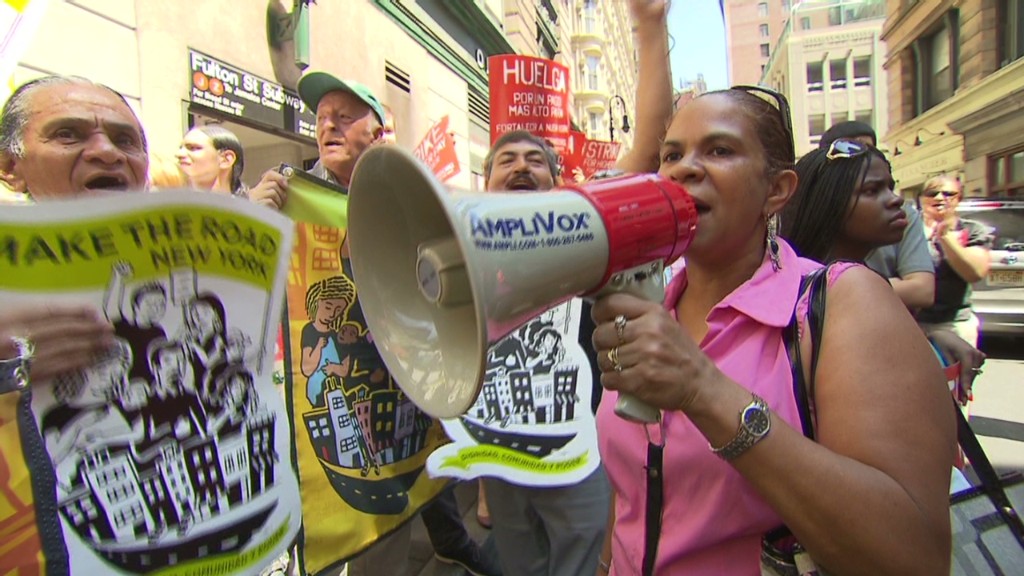 Fast food and other low paid workers will take their "Fight for $15" minimum wage demands to the Democratic debate on Thursday.
Organizers say they expect more than 1,000 protesters in Milwaukee, Wisconsin, to walk off the job at noon. The workers will gather outside the debate between Hillary Clinton and Bernie Sanders.
Besides a $15 minimum wage, protesters are fighting for affordable child care, quality long-term care, racial justice and immigration reform.
Related: NYC Uber drivers protest rate cuts
Roughly 46% of Wisconsin workers are paid less than $15 an hour, according to organizers. Many of them will be voting for the first time during the 2016 presidential election.
Sanders supports a $15 minimum wage while Clinton has advocated for $12 an hour.
None of the Republican candidates have endorsed a $15 an hour minimum wage.
The current national minimum wage is $7.25 an hour.
Kendall Fells, the organizing director behind the Fight for $15, said the protesters are seeking support from either party.
"These workers are living in poverty. They have to decide whether to feed themselves or their kids, so they're not concerned with political parties or whether a candidate is running for city council or president," Fells said. "They care about two things: getting $15 an hour and the right to unionize. It's about getting out of poverty."
Related: Walmart found to have fired striking workers unlawfully
Thursday's rally is the latest attempt to put pressure on 2016 candidates. It follows walkouts in Charleston, South Carolina, Des Moines, Iowa, Milwaukee, Wisconsin, and Manchester, New Hampshire, in recent months.
The previous Milwaukee walkout ended at a rally outside a GOP debate where the first question posed to candidates was about the Fight for $15 and the strikers.
According to the Fight for $15, nearly 64 million Americans are paid less than $15 an hour.
Related: Port workers in New York and New Jersey go on strike
Jonathan Johnson, 24, and DeAsia Gordon, 19, both work at McDonald's and plan to join the strike on Thursday.
"I'm a father of three and can't afford to support my family even with a higher education," said Johnson, who attended college.
Gordon, a first-time voter, said she works two jobs and is barely able to make ends meet.
As for what the candidates take away from the protest, Gordon was optimistic the workers' presence would be felt.
"The Fight for $15 is very powerful and, as a voter in 2016, candidates should know they'll only get our vote if they support us," Gordon said.