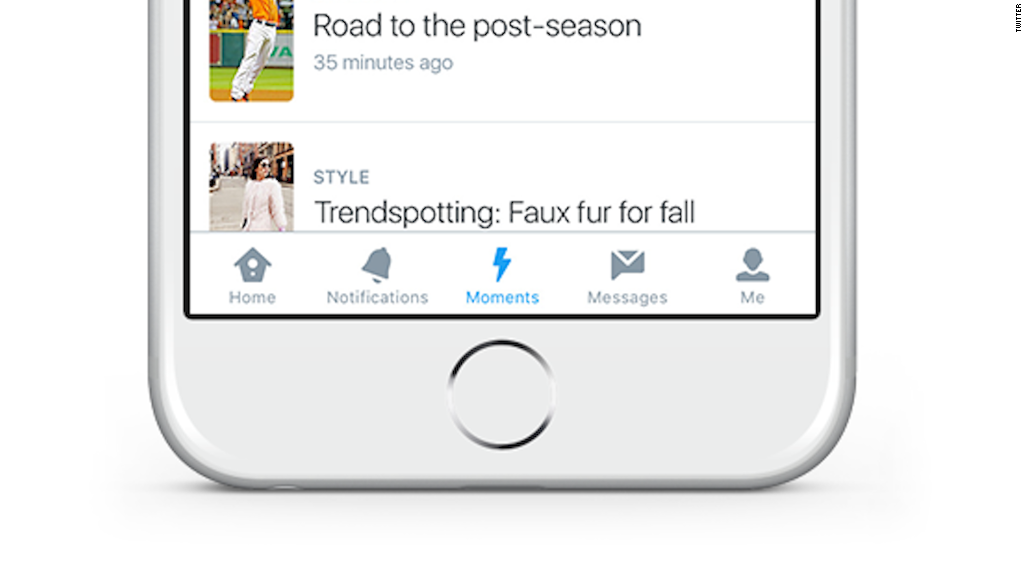 It's hard for the small core of Twitter addicts to accept, but Twitter just isn't popular enough to be successful.
New management, products, designs and features haven't done much to move the needle. Twitter's growth has stagnated, and it's nowhere close to turning a profit.
"Everything is changing at Twitter except the one thing that really matters: its strategy," said Richard Windsor, analyst at Edison Investment Research. "Twitter needs to encourage users to spend time beyond microblogging."
Twitter has been able to effectively generate sales from sponsored tweets and partnerships. But it's growing at a snail's pace -- it's still a relatively niche product that hasn't been able to expand its reach the way that Facebook (FB), Google (GOOG), Instagram and other giant Internet services have.
Twitter had 307 million active users in September. Facebook has 1.6 billion. Google has eight products with over 1 billion users each. Even Instagram surpassed Twitter in September, growing to 400 million users.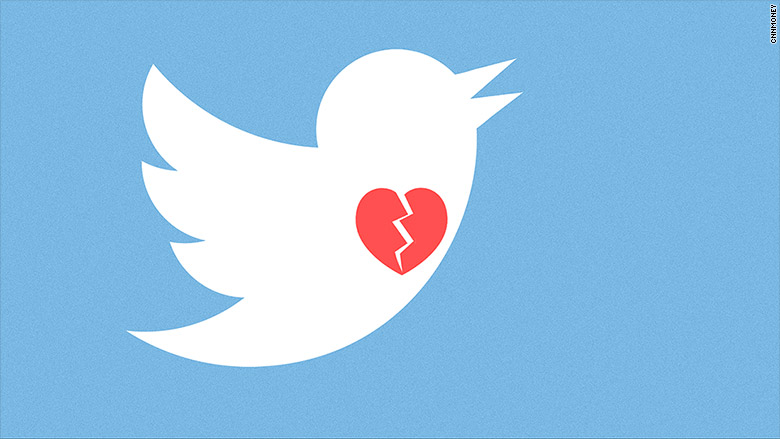 One of the biggest problems the company faces is that there isn't a heck of a lot to do on Twitter to keep customers engaged. Timelines are chronological, and it's easy to miss stuff.
Twitter is aware of the problem and has launched a slew of new products to address the issue. But it's left to be seen just how much Twitter's new products, including Moments and Highlights, will capture customers' and advertisers' attention.
And later this quarter, Twitter is expected to launch a whole new algorithm that will change the chronological order of feeds, hoping to appeal more to casual users who aren't obsessively keeping up with thousands of tweets in real time.
Some analysts have suggested Twitter stop aiming to be Facebook and embrace its smaller, but rabid fan base. By charging its customers a subscription, the company could potentially become profitable.
Related: Will Twitter dump its 140 character limit?
Meanwhile, Twitter's management is in turmoil. The revolving door of executives continues to spin, and the company just announced its product, engineering, media and HR directors are all leaving for greener pastures.
New board members are expected to come to the rescue soon. Re/code reports that two of Twitter's current board members will soon exit, and they will likely be replaced by some Hollywood types, including a media executive or even a TV star.
Jack Dorsey is a part-time CEO, splitting his time with his other company, Square (SQ). That irks many investors who think that Twitter needs a CEO's undivided attention.
And rumors continue to persist that Twitter is up for sale.
Shares of Twitter have fallen 80% since it hit its all-time high just over two years ago. Though Twitter's management believes the stock market is vastly undervaluing the company, many Wall Street analysts believe that it's actually way overvalued.
Twitter's stock is currently trading at 26 times future earnings, compared to its much more established tech rivals Apple (10) and Google (20).
That's why Twitter may have plenty of room left to slide. Edison's Windsor believes that Twitter's stock could "easily" fall by another third and trade below $10 a share. Trip Chowdry of Global Equities Research called Twitter's stock "junk," declaring that its headed for $5 a share.
Twitter is set to report its fourth-quarter finances on Wednesday afternoon.
Sales
Fourth quarter of 2014: $479 million
Fourth quarter of 2015 forecast: $710 million, up 48%
Twitter is expected to report record sales. The company continues to succeed in its advertising initiatives. On Tuesday, Twitter launched First View, a giant video ad that will appear at the top of users' feeds.
Profit
Fourth quarter of 2014: - $125 million
Fourth quarter of 2015 forecast: - $118 million, 6% improvement
Twitter continues to lose money, and it shows no signs of letting up.
Active customers
Fourth quarter of 2014: 288 million
Fourth quarter of 2015 forecast: 320 million, up 11%
Investors will have a close eye on whether Twitter is having any luck growing its customer base.