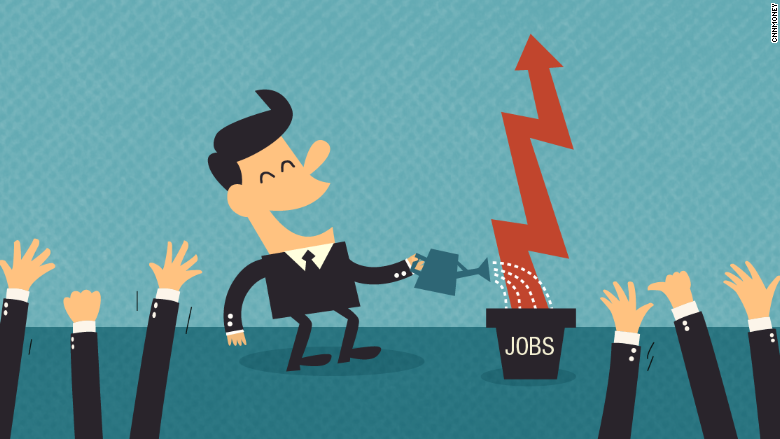 America's stock markets are having a brutal start to 2016.
The broad S&P 500 stock index has lost 10% of its value in the first six weeks of the year and the Nasdaq is nearly in a bear market. The selloff got worse Thursday: the Dow lost over 250 points.
All these negative numbers might make you think the U.S. economy must be in a dismal state
But the U.S. economy isn't in a crisis. Far from it.
"The economy is in many ways close to normal," Federal Reserve Chair Janet Yellen told members of Congress on Wednesday.
Related: 4 takeaways from Janet Yellen's testimony
Yellen has a point. America's job market is looking pretty solid, especially considering where it was seven years ago.
The unemployment rate is 4.9%, down from 10% in October 2009. Many economists believe we're close to "full employment."
Wage growth is finally starting to pick momentum after being absent for many years following the recession.
Wages grew 2.5% in January compared to a year ago: it's the best pace in six years, even though it's not what someone would call fantastic. The Fed wants to see wages grow at around 3.5%. For much of last year wages only grew around 2%.
Americans are buying big ticket items even if they aren't spending willy nilly. Car sales hit an all-time high in 2015. Home Depot (HD) has seen strong pick up in sales for roofs, counter tops and dishwashers.
More good news came Friday: a key measure of consumer confidence -- retail sales -- rose 0.2% in January compared to December. That sounds small but sales don't tend to budge much month-to-month and January's numbers surpassed expectations.
Related: America has near record 5.6 million job openings
Home prices are rising and Americans sold 5.3 million existing homes last year, the best year since 2006, according to the National Association of Realtors.
"Consumers are still very cautious and prudent in their spending," says Sam Bullard, senior economist at Wells Fargo. "In spite of that cautiousness, consumers are still comfortable going out and making sizable purchases."
Spenders are also getting a break from low gas prices. A gallon of gas is $1.69 in the United States, down from $2.21 a year ago. Good news for spenders is good for the economy: consumer spending makes up nearly 70% of economic growth.
Now there are a few big BUTs...
There are still many people on the sidelines in the job market. Participation is historically low for a collage of reasons: an aging workforce, a job skills gap and a lack of workplace reforms like paid parental leave.
Related: Oil crashes below $27 a barrel
America's manufacturing sector is in a recession, hurt by the strong dollar which makes U.S. manufactured goods sold overseas more expensive, and less attractive, to foreign buyers.
The global economy is slowing down -- triggered by China's slowing growth -- and negatively impacting sales for many U.S. companies that sell goods abroad like Apple (AAPL) and Nike (NKE).
And true, U.S. economic growth at the end of last year slowed down to 0.7%. Concerns that the U.S. economy is going into a recession have risen, yet the odds are still low for this year. The highest estimates of a recession in 2016 from some economists are at 20%.
However, America's industrial sector accounts for about 10% of the economy, far less than consumer spending.
And overall, many economists say the job market, despite its problems, remains the bright spot that can ultimately power the U.S. economy.