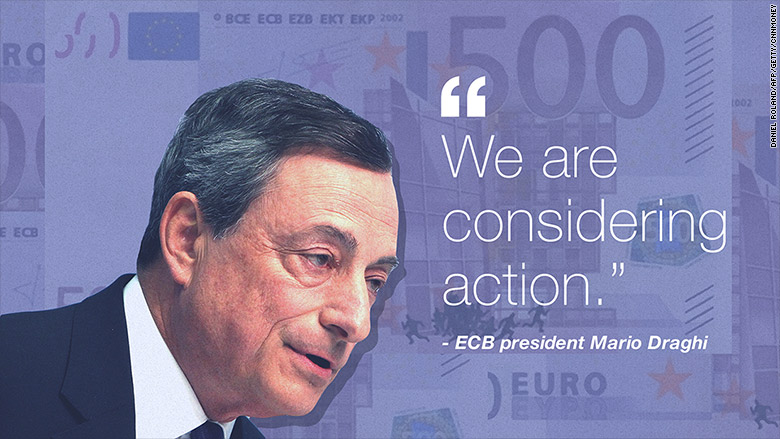 The 500 euro bill could soon be kaput.
European Central Bank president Mario Draghi made strong statements Monday indicating he is seriously considering phasing out the 500 euro banknote because it's become so intertwined with criminal activity.
"There is a pervasive and increasing conviction in the world of public opinion that high denomination banknotes are used for criminal purposes ... It's in this context that we are considering action," he said in response to a journalist's question about the future of Europe's most expensive bill.
The ECB is responsible for issuing euro banknotes that are used by all 19 nations in the eurozone.
Europe's top law enforcement officials maintain that the 500 euro banknote (worth about $557) makes it easy for criminals to launder money since it's so easy to move around undetected.
In a report last year, Europol said cash was still the "instrument of choice" for terrorists and 500 euro notes were in high demand, though they're not popular for everyday transactions.
"The 500 [euro] note alone accounts for over 30% of the value of all banknotes in circulation, despite it not being a common means of payment," the report said.
Related: Pennies and nickels cost more to make than they're worth
Draghi said top-level ECB officials are "reflecting" on what to do with the banknote, but any actions would be carefully executed.
His statements come just days after the head of eurozone finance ministers -- Jeroen Dijsselbloem -- called on the ECB to propose ways to clamp down on terrorists' use of the 500 euro bill.
The European Commission said earlier this year it would work with the ECB and Europol to find ways of stopping terrorists' cash flows. The Commission also plans to regulate virtual currencies and pre-paid cards to ensure criminals can't remain anonymous when using these sources of funds.