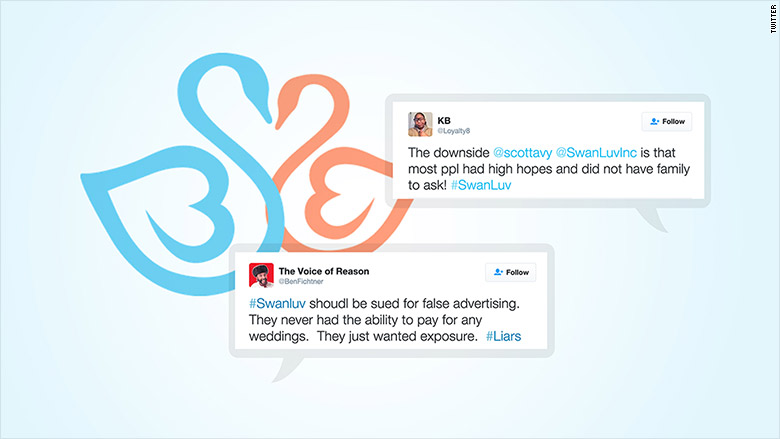 For couples getting ready to walk down the aisle, it sounded like a dream come true.
Late last year, Seattle-based startup SwanLuv said it was accepting applications from engaged couples for loans up to $10,000 to help fund their wedding.
The only catch: If they get divorced, they would have had to pay back the loan -- with interest.
If they stayed together, the money was theirs to keep.
The company received some buzz ahead of its Valentine's Day launch. But some wondered whether the possibility of free money was too good to be true.
Turns out, it was.
Due to "overwhelming demand," SwanLuv pivoted its business plan and launched as a wedding crowdfunding website instead. Couples can create their own webpage to solicit funds from friends, family and strangers to help pay for their big day.
Not exactly what betrothed users eagerly anticipating the site's launch were expecting.
Many took to social media to express their anger, and some accused the company of a bait-and-switch.
The company says it didn't anticipate the demand, or the heavy legal restrictions and regulations associated with giving out loans. "When we were looking at providing a loan, that has more scrutiny to it. Now with the crowdfunding model, it's easier to operate," founder and CEO Scott Avy told CNNMoney.
The 24-year-old CEO claimed the company got positive feedback from users ahead of launching the new model.
"Not everyone was going to be selected for a SwanLuv loan. We have increased the odds for people to get financial support."
Avy said the website's terms will still specify that any funds raised will have to be returned to donors if a couple divorces.
"No other crowdfunding source is asking for money back," he claimed.
Eventually, Avy plans to offer couples the option of including their "capability score" on their funding page. The algorithm asks a series of questions, including, income, education level and parents' marital history to determine how likely a couple is to stay together.
Avy said he isn't focused on monetizing SwanLuv right now, but has had interest from venture capitalists and angel investors.
On Tuesday afternoon, the website wasn't available, and an error message said the server was currently undergoing maintenance.