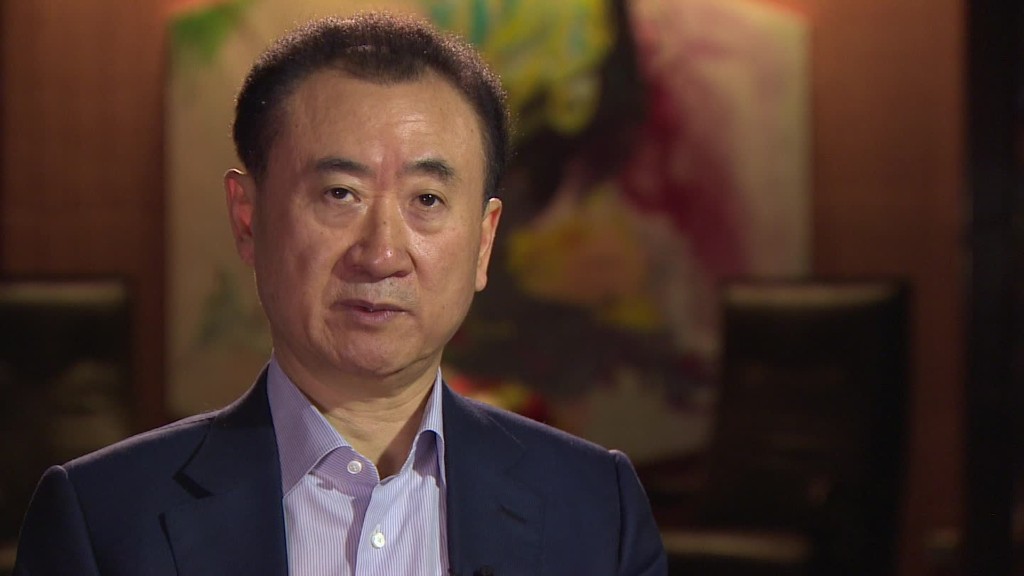 China's richest man, Wang Jianlin, is a pretty successful guy.
At 61, he's amassed a fortune of around $30 billion by building up his giant real estate firm, Dalian Wanda. He's now dabbling in entertainment and sports -- recent investments have included the Spanish soccer club Atletico Madrid and the Hollywood film studio Legendary Entertainment.
His recent book, a compilation of public speeches entitled "The Wanda Way," claims to give an inside look into his managerial philosophy and the values that turned his company into a giant conglomerate with big global ambitions.
We read his book here at CNNMoney so you don't have to. Here are some nuggets of advice from Wang:
1. Get tough in the army
Wang joined the Chinese military as a teenager in 1970. His grueling training involved epic marches that took the soldiers through "knee-deep stretches of snow."
"We were deprived of everything. In the snow, we had to dig our own hole to spend the night," he recalls. Anyone who faltered "could forget about being chosen to move up that year, or earning your Exemplary Fighter award."
This experience built his "teeth-gritting spirit and a desire to fight until the end," he says.
Wang suggests there's a direct relationship between a military background and success, pointing out that many top Chinese entrepreneurs previously served in the military.
2. Differentiate and innovate, like Starbucks
"The first key is to understand how you can differentiate yourself from others and to be innovative," Wang said. "For instance, everyone knows how to sell coffee, but Starbucks (SBUX) redesigned the coffee-making process, innovated the business model and became a successful chain business."
He also highlighted McDonald's (MCD) and Yum! Brands (YUM)-owned KFC for similar praise.
Wang disputes the idea that only high-tech companies can lead the way forward: "No matter whether you are in a traditional or an emerging industry, as long as you're capable of innovating the existing business model, you can reap super profits."
He even put his money where his mouth is, striking a "half joking ... half serious" 100 million yuan ($15.3 million) bet in 2013 with Alibaba (BABA) founder Jack Ma on whether e-commerce will make up more than half of the domestic retail market in 10 years' time.
3. Stay close to the Chinese leadership
Wanda only cooperates with one Chinese state-owned enterprise for its construction operations, and Wang has sought to align his business priorities with what the ruling Communist Party has decreed.
For example, he's increasingly interested in investing overseas -- especially after the State Council in 2014 released specifications urging private Chinese companies to go global, he says.
And he's not shy about seeking to please top government leaders, including President Xi Jinping, by sinking money into soccer teams.
"The government leaders care about it very much, and the Chinese administration of sports made several appeals, so I came back and am offering support for Chinese football," he says.
Still, it's a difficult road to navigate. "Government-business relations are very complicated in China," Wang says. "It's even more difficult than completing a Ph.D. course at Harvard."
4. Minimum target: Be No. 1
"There's nothing wrong with being No. 1 worldwide," according to Wang.
But part of the fabric of success means instilling company-wide ambitions and goals with all employees to build a distinctive company culture, he says.
To help with that, he has an internal website and monthly company magazine that he describes as "the core media for spreading Wanda's corporate culture."
A collection of touching success stories about employees are published annually to boost company morale. Wang also recommends one book each year for all employees to read.
Outstanding employees get a bonus paid vacation and an invite to a splashy annual conference to rub elbows with Wanda company executives.
5. Don't read books on corporate philosophy
"One of the most defining characteristics of my success is that I've never had full trust in books," Wang says.
That includes ones by people like himself.
"You cannot simply copy models that have been proved by successful entrepreneurs," he said. "Please don't take what I talk about here today as teaching material."
What worked for Wanda may not work for another firm -- circumstances and industries change, he warns.
For any budding entrepreneurs that still want to read Wang's book -- despite his own advice -- it's issued by the British firm Lid Publishing.
The publishing firm didn't respond to multiple requests for comment about the book's inception.