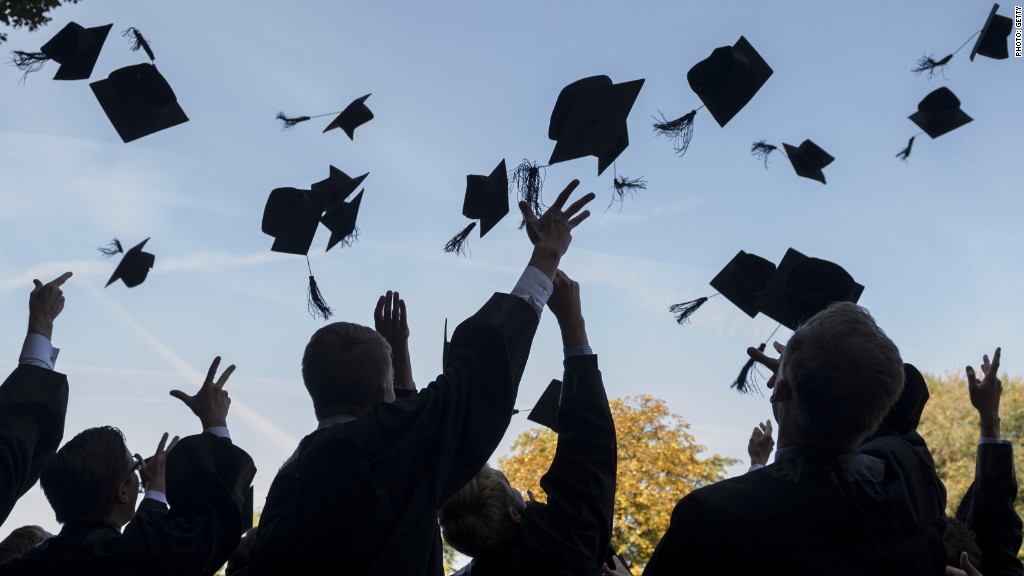 Chelsea Workman went to Ohio State University because it was her cheapest option. But she still had to take out student loans and work to make ends meet.
By the middle of her sophomore year, she'd had enough. She dropped out and moved to Germany to finish her degree where college is free.
Hunter Newsome, from California, decided to go to college in Estonia rather than the University of California, Davis -- at the very last minute. He's saving more than $10,000 a year on tuition, and he'll earn a bachelor's degree in three years rather than four.
There are at least 44 schools across Europe where Americans can earn their bachelor's degree for free, according to Jennifer Viemont, the founder of an advising service called Beyond The States.
All public colleges in Germany, Iceland, Norway and Finland are free for residents and international students. And some private schools in the European Union don't charge for tuition either. Many are going out of their way to attract foreigners by offering programs taught entirely in English.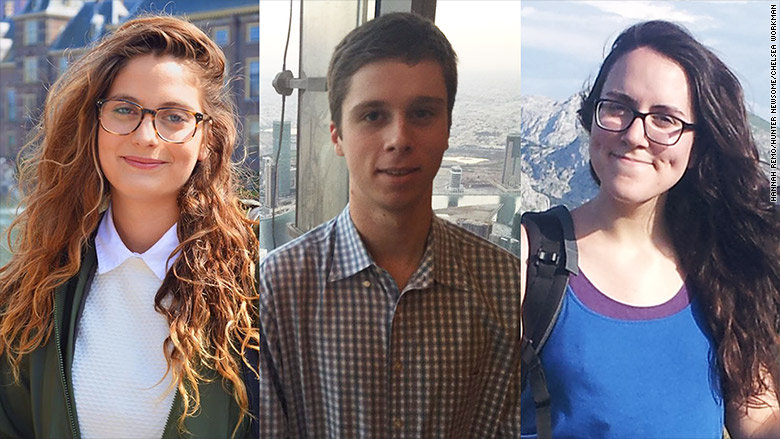 When they do charge for tuition, the bill is paltry compared to the U.S. The average cost of tuition here (without room and board) is currently $9,410 at public colleges and $32,405 at private colleges, while a majority of programs in Europe charge less than $2,225 a year, according to Viemont. Some of the highest tuition for international students is in the Netherlands, but it still tends to be less than $9,000.
Of course, a lot of American students don't pay full price for tuition. For those getting a big scholarship at home, moving to Europe might not be that great a deal. Those at public schools end up paying less than an average of $4,000 when you account for scholarships and grants. Still, that doesn't beat free.
"The cost is what makes people think about going to college abroad, but then they start to see the other benefits like learning a new language, travel opportunities, and being prepared to work in a global economy," Viemont said.
It's not for everyone, though. You won't find frat parties, sorority houses, or football games overseas.
And it might not be the right fit for someone with their heart set on immediately returning home after graduating. There aren't very good stats on how many Americans are getting degrees abroad (there were 47,000 in 2012 compared to 20 million in the U.S.), let alone how employable they are back home. The unique experience might be to your advantage, but it could be hard to find fellow alumni to help with a job hunt in the States.
Overseas, you'll probably have to find your own housing. On average, room and board costs about $10,000 at American colleges, but the students CNNMoney spoke to for this story pay much less in rent in Europe.
They don't have dining halls to go to for meals, though. And they also have to apply for a residency permit or visa, and -- depending on the country -- may have to pay for health insurance.
But these things don't bother these three Americans who are currently getting their college degrees abroad.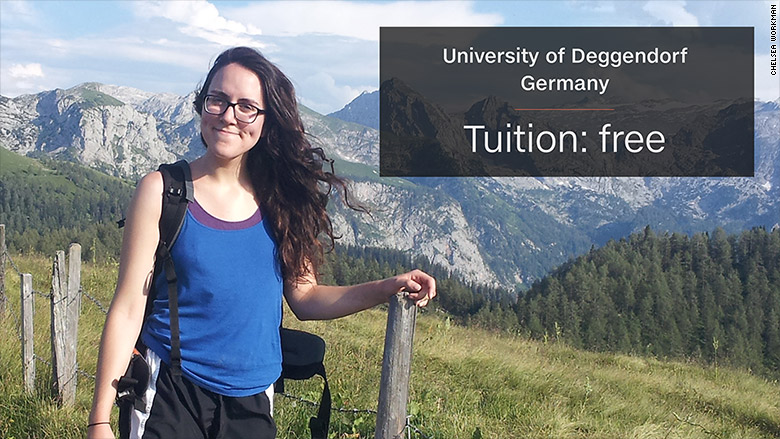 Chelsea Workman
Studying: International Management in a 3.5- to 4- year bachelor's program.
Is it really free? She paid about $220 a semester for tuition when she first arrived, but Germany has since made tuition free at all public colleges. Now she pays a $58 administrative fee each semester, about $90 a month for health insurance. Her rent is about $330 a month.
Biggest challenge: "You need to be prepared to study 10 hours a day, and there's probably not time for a job in addition to your studies. I take seven or eight classes a semester."
Future plans: "I don't really have any plans to go back to America. I don't really want to. My sister moved to Germany before me, my brother is here studying now and my dad is on the way over."
What she misses: "Diverse culture and food. Every restaurant here has the same food on the menu."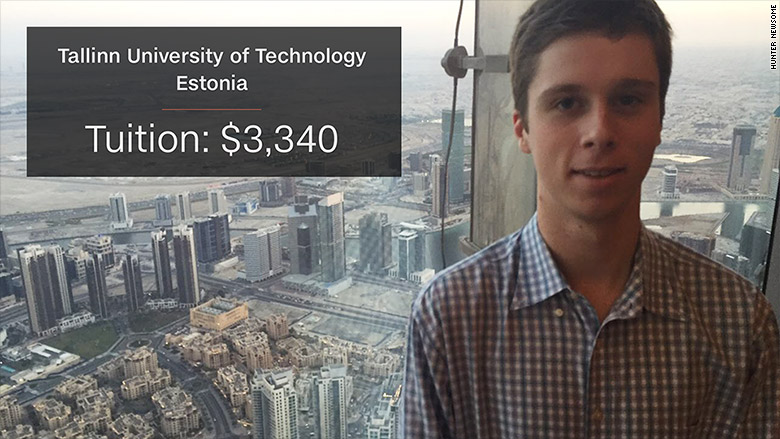 Hunter Newsome
Studying: International Relations in a 3-year bachelor's program.
Why he moved: "It was my Dad's idea and I thought, why the hell not? My Mom was skeptical at first but she started researching and found out it was going to be a lot cheaper."
Forget spending on text books: "Last semester I only had to have a single book and I checked it out of the school library. For some professors, a lot or all of the material is online, and for others you have to be in class to receive the knowledge."
On finding housing: "It could be difficult around this school, but in my case my parents helped me with that. I pay 230 euros ($256 USD) a month and have a balcony with a nice view of the forest. It's really a beautiful city."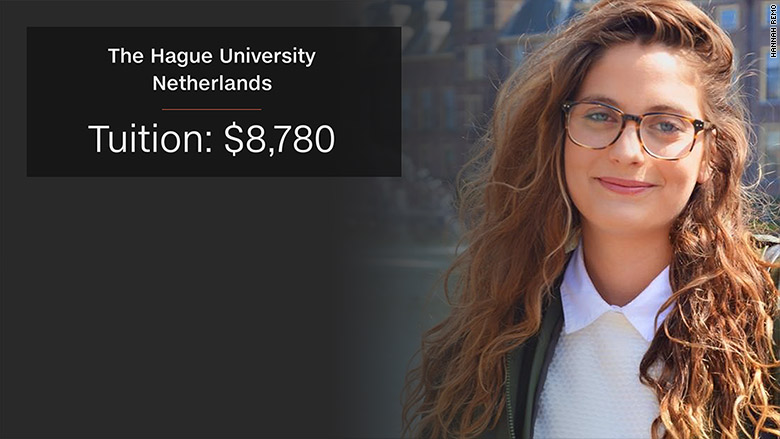 Hannah Remo
Studying: European studies (EU politics) in a 4-year bachelor's program.
Who she had to persuade: "I had to sell my Dad on it. I told him if I stayed in the U.S. I'd want to go to Colorado or California, which is more or less the same plane flight from New Jersey to Europe."
On the application: "It was relatively painless. I had to submit my high school transcript, a recommendation, and an essay. SATs don't exist here and it's the most beautiful thing."
Future plans: "I 100% have my heart set on staying in Europe. I disagree with the way a lot of things are run at home. It blows my mind that college is so expensive in the U.S., it makes me think that I don't want to raise a family there."
Favorite thing about her new home: "Whether you're the child of a doctor, lawyer or garbage man, you'll have the same opportunity and the same education here."