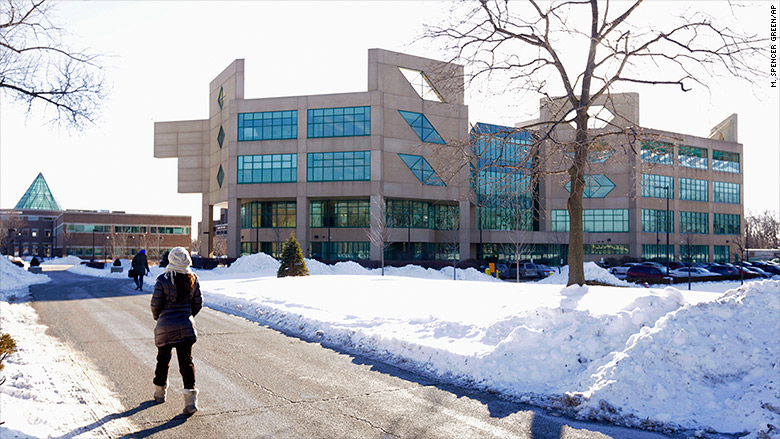 If students at Chicago State University weren't aware of the the budget crisis in Illinois yet, they are now. The school just canceled spring break as a way to save money.
An eight-month-long budget impasse at the state level has tied up funds usually earmarked for Illinois' public colleges. The resulting cash crunch has forced some to take drastic measures just to get through the spring semester, including laying off employees, eliminating faculty travel budgets and -- now -- shortening the semester.
Students at CSU were supposed to be off for spring break the week of March 14. But instead, classes will still be held. The semester will finish one week earlier than scheduled and the graduation ceremony will be bumped up two weeks.
"In order to remain true to our commitment (to finish the semester), we have been pushed to the point of having to make significant adjustments to our academic calendar," wrote President Thomas Calhoun in a letter to the university community on Tuesday.
Related: Illinois colleges are running out of cash
It's unclear how much money the college will save by shortening the semester, or whether or not the school would have to close without changing the calendar. A spokesman did not return calls asking for comment. But in his letter, the president emphasized that "the budget stalemate in Springfield continues to be a major concern for the Chicago State University community."
On Friday, the college announced that all faculty, staff and administrators will be notified of potential layoffs if funding doesn't come in.
CSU relies on state funding for about 30% of its budget, not unlike the 11 other public universities and 48 community colleges in Illinois. CSU received about $36 million during the previous year.
The schools are facing added expense this year, too, because the state has yet to fund grants it awards low-income students. Many, including CSU, are fronting students the money for those scholarships so they can stay in school. That amounts to another $5 million hole for the college.
Related: Illinois funded lottery winners before college students
State colleges were already tightening their belts before this year's budget impasse. Many have received less and less state funding each year, and seen a decline in enrollment.
CSU, located on the south side of Chicago, saw enrollment fall more than 8% from 2014 to 2015. Most students are minorities and from low-income families. More than 80% receive federal Pell grants, which are reserved for the neediest students.
Related: Illinois can't pass a budget and this is who's getting hurt
The shortened semester is going to make things tough for Tiffany Nuckols. The nursing student is expecting to graduate this spring, but has to complete her clinical hours, assignments and exams first -- and now has one less week to do it all. She had planned to use spring break to rest up and study.
"This is much more serious than missing a trip to the Bahamas or somewhere for spring break. I'm just trying to get to the end of the semester," Nuckols said.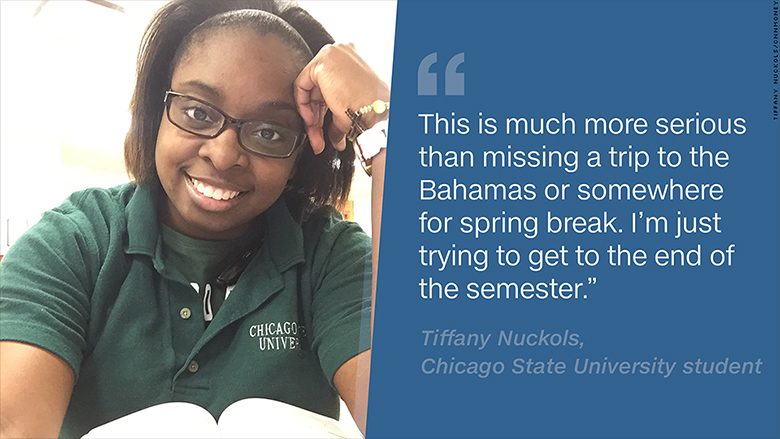 Spring break wasn't the first thing to get cut at CSU. Construction projects have been put on hold and one student, Charles Preston, said library hours have been reduced.
"We students are really aware of things getting cut and we are really angry with the state government," Preston told CNNMoney.
He's helped organize student rallies. Last week, more than 100 students and faculty traveled to Springfield to protest outside the state capitol.
Related: Stranger pays it forward to Illinois college student
On Thursday night, Bernie Sanders held his own rally on the CSU campus. Sanders has been visiting campuses around the country to talk about student debt and his proposal to make tuition free at all public colleges.
Even if Sanders became president and was able to implement his free college plan, some school funding would likely still come from the state.
"It's awesome if we get more media attention because of Sanders, but it won't necessarily translate to funding for our school or fix state politics," Preston said.
But the college senior does support Sander's college proposal. "The state legislature is killing our education and if college was free, maybe this wouldn't happen," he said.