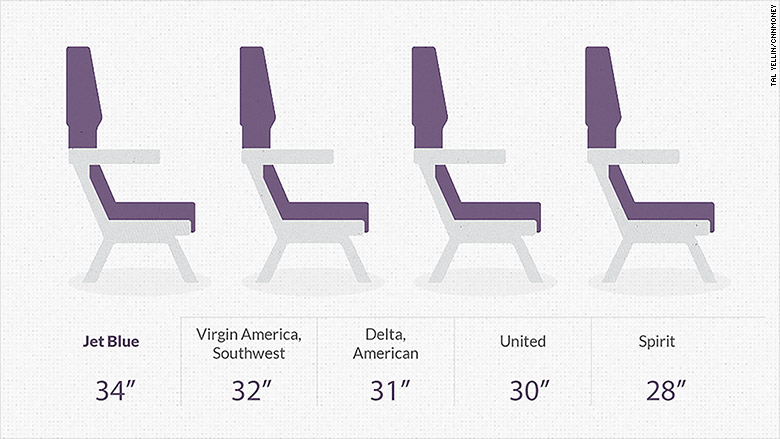 The push to stop airplane seats from shrinking is gaining steam.
U.S. Senator Charles Schumer said Sunday that the Federal Aviation Administration should create a minimum seat size and distance between seat rows on airplanes.
The Democrat from New York claimed the distance between seats has shrunk to around 31 inches from 35 inches, while the average seat size has shriveled to 17 inches.
"Consumers are tired of being packed into airplanes like sardines, and so, it's time for the FAA to step up and stop this deep-seated problem from continuing," Schumer said in a release. "It's no secret that airlines are looking for more ways to cut costs but they shouldn't be cutting inches of legroom and seat width in the process."
Related: This is the best time to buy a plane ticket
Schumer is pushing for the looming FAA reauthorization bill to include an amendment that would require the agency to set seat standards.
Congress must pass legislation authorizing the FAA, and the clock is ticking. Its current authorization ends on March 31. The legislation outlines the agency's budget and priorities.
Federal laws require a certain amount of space in exit rows, but there are no mandates regarding the space and size of the rest of an airplane's seats and rows.
Related: Legroom: How airlines compare
Schumer isn't alone in his pursuit to combat shrinking seat size. Democrat Rep. Steve Cohen, who is a member of the House Transportation and Infrastructure Committee's Subcommittee, introduced very similar legislation in early February.
It failed in committee.
Cohen commended Schumer's proposal on Sunday.
"Higher profits must never come at the expense of safety. Planes need to be capable of rapid evacuation in case of emergency, yet appropriate testing has not been done on all of today's smaller seats," Cohen said in a statement.