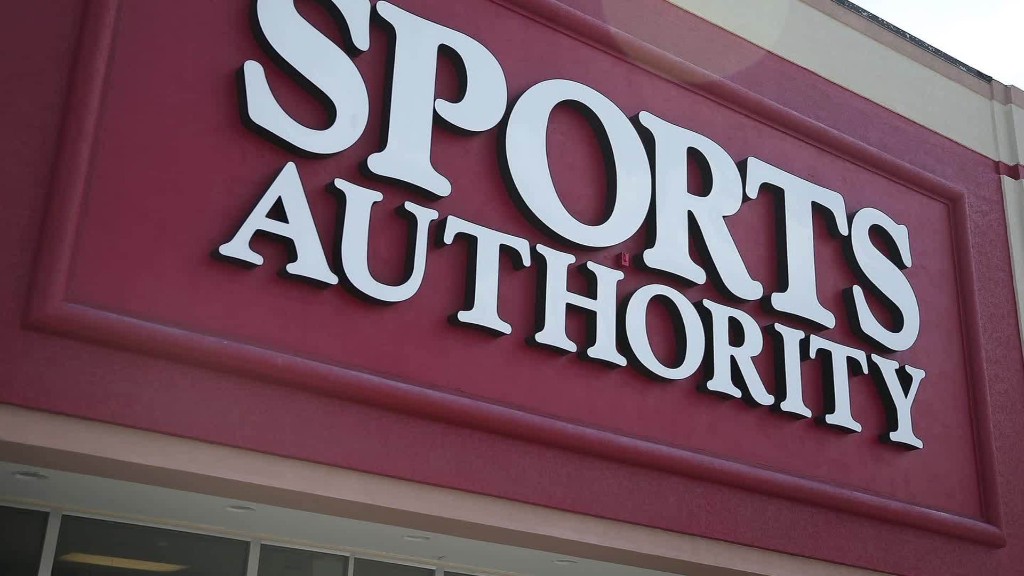 Sporting goods chain Sports Authority filed for bankruptcy Wednesday, and now we know which stores will be shuttered as a result.
The company, which has 450 stores, filed a court document that lists the 143 locations that are closing in 27 states.
Texas is the state that will be the hardest hit, with 24 Sports Authority storefronts slated to go dark.
Consumerist did a nice job publishing the list. Here's our version:
ARIZONA
Casa Grande, 1004 N Promenade Pkwy
Glendale, 7360 W Bell Rd
Mesa, 1812 W Rio Salado Pkwy
Phoenix, 4820 E. Ray Road
Tuscon, 7160 E Broadway Blvd
Tuscon, 4225 N. Oracle Rd
Tuscon, 5185 S Calle Santa Cruz
CALIFORNIA
Bakersfield, 4821 Ming Ave
Camarillo, 351 West Ventura Blvd
Canoga Park, 21301 Victory Blvd
Cerritos, 11900 South Street
Corte Madera, 435 Corte Madera Town Center
El Cajon, 2983 Jamacha Rd (Rancho San Diego)
Escondido, 1352 W. Valley Pkwy
La Mesa, 5500 Grossmont Center Dr
Los Angeles, 4550 W Pico Blvd Ste 305 (Midtown Crossing)
Los Angeles, 1919 S. Sepulveda Blvd
Los Angeles, 6600 Topanga Canyon Blvd
Redding, 1347 Churn Creek Road
Riverside, 3380 Tyler
Santa Ana, 3900 S Bristol Street
San Luis Obispo, 243 Madonna Road
Stockton, 10536 Trinity Parkway
Thousand Oaks, 145 W Hillcrest Drive
Ventura, 4870 Telephone Road
Walnut Creek, 1675 Olympic Blvd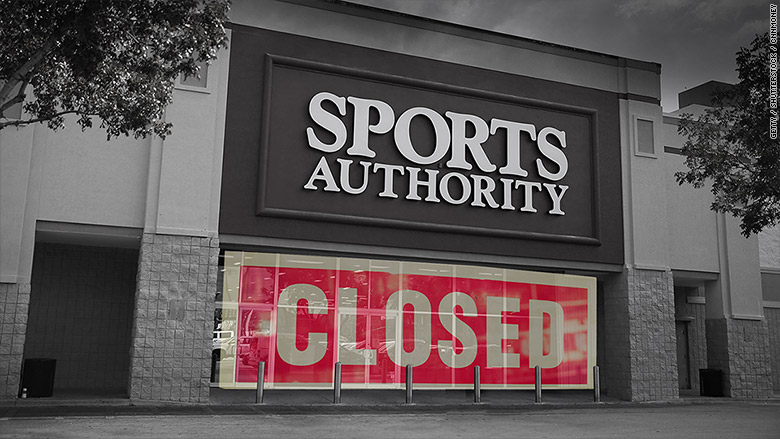 COLORADO
Denver, 1000 Broadway (Sportscastle)|
Greenwood Village, 9000 E Peakview Ave (Arapahoe)
Littleton, 8055 West Bowles Ave
CONNECTICUT
Bridgeport, 4543 Main Street
Danbury, 13 Sugarhollow Road
North Haven, 180 Universal Drive North
DELAWARE
Wilmington, 1100 Rocky Run Pkwy
FLORIDA
Altamonte Springs, 380 S. State Rd. 434
Bradenton, 201 Cortez Road West
Daytona Beach, 1910 W. International Speedway Blvd
Estero, 8012 Mediterranean Drive
Fort Myers, 9375 Ben C Pratt Pkwy (Cypress Lakes)
Fort Myers, 2317 Colonial Blvd
Lakeland, 3800 US Highway 98N
Melbourne, 1750 Evans Rd
North Port, 18219 Tamiami Trail
Ocala, 4039 SW 43rd Street Rd
Orlando, 7500 W. Colonial Dr
Orlando, 610 N. Alafaya Trail
Port Richey, 9560 US Highway 19
Port Saint Lucie, 10648 SW Village Pkwy
Spring Hill, 1417 Wendy Ct
Tallahassee, 1644 Governors Square Blvd
Tampa, 1730 E. Fowler Ave
Wellington, 820 S State Road 7
GEORGIA
Hiram, 4471 Jimmy Lee Smith Pkwy
Lilburn, 4235 Highway 78 (Stone Mountain)
ILLINOIS
Calumet City, 1510 Torrence Ave
Chicago, 845 North Michigan Avenue (Water Tower Place)
Geneva, 17777 S. Randall Road
Joliet, 2700 Plainfield Road
Lake Zurich, 727 W. Main St
Lombard, 173 Yorktown Center
Matteson, 4832 211th St
Northbrook, 2030 Northbrook Court
Orland Hills, 9231 W. 159th Street
Schaumburg, 1015 E Golf Rd
Springfield, 3211 S. Veterans Pkwy
KANSAS
Lenexa, 12014 W. 95 Street
Wichita, 6959 E. 21st North
MASSACHUSETTS
Danvers, 100 Independence Way
Framingham, 1 Worchester Rd
Holyoke, 50 Holyoke St
MARYLAND
Baltimore, 6510 Baltimore National Pike
Columbia, 10300 Little Patuxent Pkwy (The Mall in Columbia)
Gaithersburg, 110 Odendhal Ave
Waldorf, 3326 Crain Hwy
MAINE
Auburn, 730 Center Street
MICHIGAN
Clinton Township, 33930 S Gratiot Ave
MINNESOTA
Rochester, 80 25th St. SE
MISSOURI
Bridgeton, 11982 St. Charles Rock Rd
Fenton, 788 Gravois Bluff Blvd
Kansas City, 8980 NW Skyview Avenue (Tiffany Springs)
St. Peters, 4025 Veteran's Memorial Parkway
NEBRASKA
Omaha, 17021 Evans Plaza (Maple Road)
Omaha, 885 S. 72nd Street
NEW HAMPSHIRE
Nashua, 213 Daniel Webster Hwy
NEW JERSEY
Cherry Hill, 2139 Route 38
East Brunswick, 300 State Route 18
Manalapan, 55 US Highway 9
Piscataway, 1327 Centennial Ave
Wayne, 81 Willowbrook Blvd
NEW YORK
Bronx, 171 W. 230th St
Brooklyn, 500 Gateway Drive
Commack, 124 Veterans Memorial Hwy
Garden City, 950 Old Country Rd (Westbury Outlets)
Riverhead, 1160 Old Country Road
Stony Brook, 2100 Nesconset Hwy
Syracuse, 9090 Destiny USA
Yonkers, 750 Central Park Ave.
OHIO
Columbus, 5819 Chantry Drive (Reynoldsburg)
Dublin, 6285 Sawmill Road
Klamath Falls, 2870 S 6th Street
OREGON
Hillsboro, 18085 NW Evergreen Pkwy
Klamath Falls, 2870 S 6th Street
Roseburg, 1440 NW Garden Valley Blvd
Salem, 831 Lancaster Drive N.E.
PENNSYLVANIA
Easton, 3855 Dryland Way
Whitehall, 2180 MacArthur Rd (Allentown)
PUERTO RICO
Carolina, Avenida Jesús M. Fragoso
Ponce, 525 Avenida Franklin Delano Roosevelt
San Juan, Rafael "Churumba" Cordero Santiago Avenue
TENNESSEE
Collierville, 10337 E. Shelby Drive
Memphis, 2751 Wolfcreek Parkway
Plano, 2201 Preston Road (West Plano)
TEXAS
Austin, 9600 S Interstate 35
Dallas, 9100 N. Central Expressway (Caruth Plaza)
Denton, 1800 S Loop 288
El Paso, 801 Sunland Park Drive
Farmers Branch, 4245 Lyndon B Johnson Freeway
Fort Worth, 4830 SW Loop 820 (Hullen)
Forth Worth, 2930 Preston Road (Frisco)
Houston, 10225 Katy Freeway (Gessner)
Houston, 2131 South Post Oak Blvd
Houston, 8625 FM 1960 Rd W (Mills Road)
Humble, 20416 Highway 59 North (Deerbrook)
League City, 2620 Gulf Freeway South
Mansfield, 1551 US Highway 287 (Legacy)
McAllen, 3300 Expressway 83
Pasadena, 3949 Fairway Plaza Drive
Pearland, 11200 Broadway St
Plano, 3300 N Central Expressway (East Plano)
Richmond, 5472 W. Grand Pkwy S (Cinco Ranch)
Rockwall, 920 Steger Towne Road
San Antonio, 21115 US Highway 281 North (Stone Ridge Market)
San Antonio, 125 N. W. Loop 410 (La Plaza del Norte)
Shenandoah, 19075 Interstate 45 South, Ste. 105 (The Woodlands)
Stafford, 12730 Fountain Lake Circle (The Fountains)
Webster, 1529 W. Bay Area Blvd (Baybrook)
UTAH
Ogden, 3651 Wall Ave (Newgate)
Sandy, 10453 South State St (Southtowne)
Taylorsville, 5786 S. Redwood Road (Redwood)
West Jordan, 7682 S. Campus View Dr
VIRGINIA
Fredericksburg, 1461 Carl D. Silver Pkwy
Hampton, 2106 Coliseum Dr (Hampton Roads)
Norfolk, 5900 E. Virginia Beach
Sterling, 21070 Southbank St.
Virginia Beach, 2720 N. Mall Dr