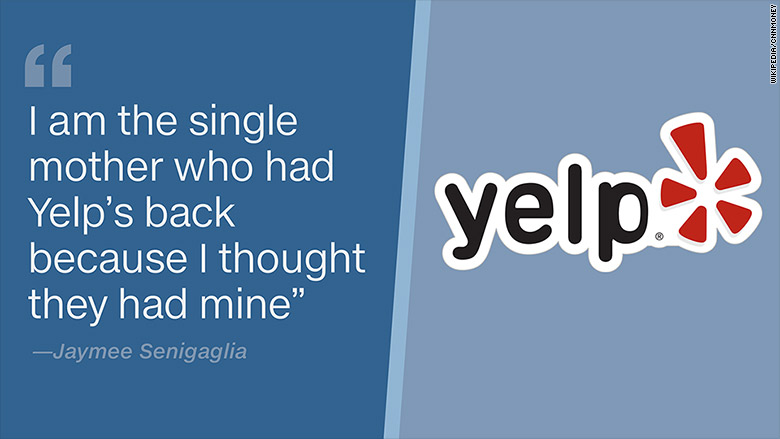 Another former Yelp employee has publicly aired her complaints against the company.
In a post on Medium titled "Yelp Fired A Single Mother Today: Me," Jaymee Senigaglia claims she was fired from the online review company for requesting unpaid time off for a personal emergency.
Senigaglia details how she recently moved to San Francisco with her three-year-old son and quickly began succeeding in her sales position with Yelp.
But she found the company wasn't very accommodating to the demands she faced as a working single mother.
Related: Are Millennials 'entitled' or just underpaid?
She admits she missed a few days of work in February.
Then, after her boyfriend was in an accident that left him in the intensive care unit, she requested three days of unpaid time off to care for him.
But she says the company gave her an ultimatum: come in now or resign.
"When I said I needed some time and this is all traumatic with caring for my boyfriend they told me that I would need to make a decision by noon and if I didn't come in or resign, they would terminate me. In tears I said 'ok' and hung up," she wrote.
Yelp (YELP) confirmed that it parted ways with Senigaglia over repeated absences, citing in a Twitter post that she missed 10 out of 59 workdays -- nearly 17% of her short time with the company.
Yelp said it made many exceptions to its attendance policy to help Senigaglia. "We also provided a cumulative ten paid days off to cover those needs, despite her status as a new employee who had not yet accrued PTO time," a company spokesperson said in an email to CNNMoney.
Senigaglia disagrees that she missed 10 days and said she was never given any warnings over taking too many days. She's asked the company to share her records detailing her time off.
"There is a real issue with the way parents are being handled in the corporate workforce," she told CNNMoney. "Considering I closed $41,000 in revenue when I was only required to bring in $8,000 ... my termination is very is short sighted."
Senigaglia, who concluded her post with the hashtag #YelpCares, has received some support on social media.
Many criticized the company's decision to disclose details about why she was let go on Twitter.
Related: Yelp CEO responds to employee's open letter about low wages
Senigaglia isn't the first Yelper to publicly call out the company for its treatment of workers.
Last month, an employee who called herself Talia Jane wrote an open letter to CEO Jeremy Stoppelman detailing how she couldn't make ends meet on her pay check.
"Every single one of my coworkers is struggling," she wrote. "They're taking side jobs, they're living at home. One of them started a GoFundMe because she couldn't pay her rent."
Jane said she made $733 bi-weekly, and that most of her paychecks go to cover her $1,245 rent. She noted that she often goes to bed hungry and that hasn't bought groceries since starting the job.
The 25-year-old was let go from the company after the letter posted.
Senigaglia also alluded to low pay, writing that she made $2,000 a month and has to rely on her family to cover her $2,500 rent and $1,200 monthly daycare costs.