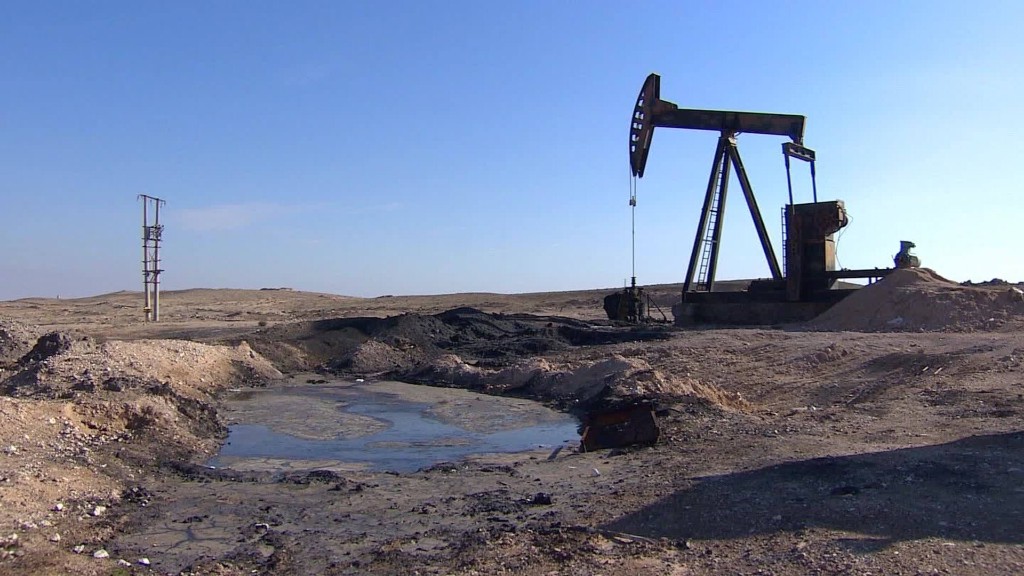 The well-oiled ISIS war machine is starting to creak.
ISIS, once dubbed the richest terrorist group in history, has been struggling with declining oil production and has been forced to ration the use of gasoline and other fuels, experts say.
The group also makes money selling oil, but its production, distribution and refining capabilities have been badly damaged by U.S.-led military airstrikes.
The best estimates say ISIS was producing nearly 50,000 barrels per day in 2014. And it was raking in up to $1.6 million daily, according to the United Nations.
It's hard to say exactly how far production and oil revenue have fallen since then.
Andreas Krieg, a military expert at King's College London, says he thinks output is now closer to 20,000 barrels per day, a figure that is in line with other recent estimates.
"While difficult to quantify, the strikes have undoubtedly impeded [ISIS's] ability to produce, sell, and profit from oil," noted Daniel Glaser, a U.S. Treasury official in charge of cutting off ISIS financing, in a statement last month.
Airstrikes have also led oil production to become intermittent and unreliable, said Luay Al-Khatteeb, director of the Iraq Energy Institute.
They "hardly have any access to serious oil operations," Al-Khatteeb told CNNMoney.
Related: ISIS cuts its fighters' salaries by 50%
Once ISIS pulls oil out of the ground, its ability to refine it and sell it has also been constrained by a lack of infrastructure and personnel.
Locals continue to refine crude oil in ragtag facilities, but are now unable to meet demand in ISIS-controlled areas.
"They have a problem with the availability of oil, gasoline and diesel for vehicles," said IHS analyst Ludovico Carlino, noting that ISIS commanders have stopped receiving free fuel.
Aymenn Jawad Al-Tamimi, a researcher at the Middle East Forum think tank, says he has seen leaked ISIS documents showing that the group began warning fighters in late 2015 to stop using military vehicles for personal use.
ISIS needs fuel to transport fighters across territories in Iraq and Syria as it battles on several fronts.
ISIS has raked in over $2 billion since 2014 by plundering local banks, selling oil, levying taxes on people in its territory and accepting ransoms for kidnappings, among other things.
To compensate for the recent drop off in oil revenue, ISIS has resorted to extorting money from people who live in the so-called Caliphate, according to Krieg from King's College.
It has also cut fighters' salaries, according to documents leaked from inside ISIS territory.
Related: The cost of fighting terrorism
--CNN's Tim Lister and CNNMoney's Jose Pagliery contributed to this article.