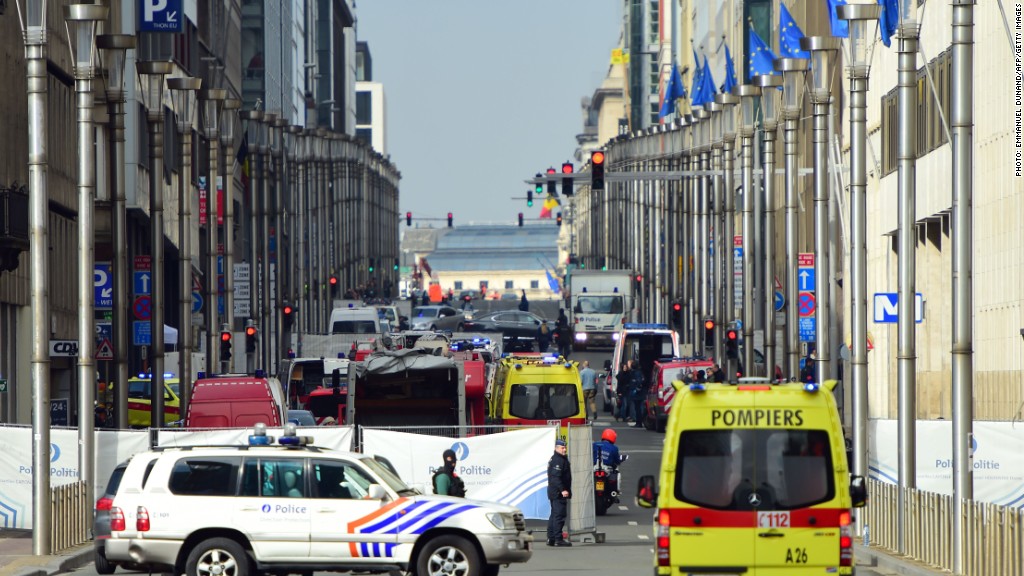 "Through the Brussels attacks, the whole of Europe has been hit."
French President Francois Hollande's response to Tuesday's attacks on the Belgian capital shows why this city of 1.2 million people punches way above its weight.
Brussels is the center of political gravity in the European Union, much like Washington, D.C. is in the U.S.
It's home to thousands of European officials who regulate the world's biggest single market, and hundreds of multinational companies who do business in the EU. Roughly 30,000 lobbyists operate in the city.
The suicide attack closed the city's main international airport, and a subsequent blast on the city's transport network took place in the district where the main EU offices are located.
Related: Has your flight been canceled after Brussels attack?
The European Commission employs about 21,000 people in the city. They enforce EU rules, and in recent years have been stepping up pressure on big companies over competition, data privacy and taxation.
Companies like Microsoft (MSFT), Amazon (AMZN) and Alphabet, the owner of Google (GOOGL), are boosting their presence in Brussels to try influence government decision-making.
Related: World markets fall after attacks in Brussels
The founders of the EU stopped short of naming an official capital city. They thought that would go against the multinational nature of the EU.
But Brussels has emerged as the de facto headquarters of the union. The European parliament, which holds EU officials to account, is based there, as is the European Council -- which brings together the governments of the 28 member states several times a year to set policy.
When Europe decided to throw a financial lifeline to Greece, the marathon negotiations took place in Brussels. And it was where Europe agreed to launch the euro currency, and to allow former Communist countries to join the bloc.
Related: Brussels under attack: Live updates
It's not just about the EU. NATO has its headquarters in the city, as does Eurocontrol, the air traffic safety agency.
Over 200 foreign embassies and consulates are based in Brussels. The U.S. embassy is just a few blocks away from Maalbeek, the subway station where one of the explosions occurred on Tuesday.
The United Nations, World Health Organization, the International Labour Organization, the World Bank, and the International Monetary Fund all have offices in Brussels.
All that activity attracts a crowd of journalists: there are about 1,700 foreign correspondents in the city.