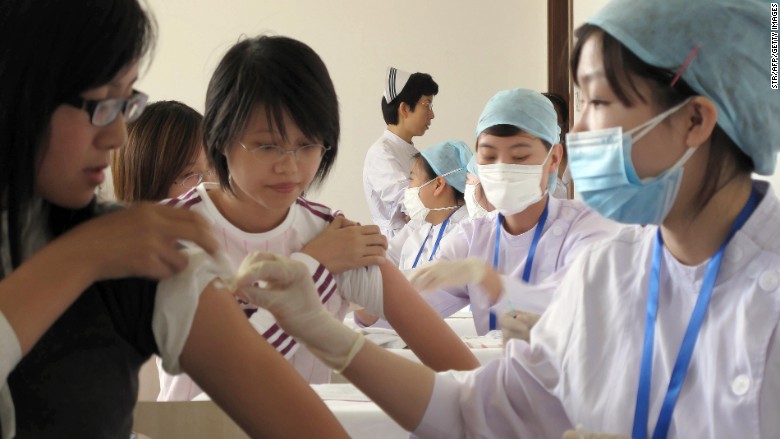 Chinese authorities have arrested dozens of suspects in connection with an illegal vaccine scandal worth tens of millions of dollars, state media reported Wednesday.
Police in the eastern province of Shandong detained 37 people on Tuesday. That sweep follows the arrests last month of a mother and daughter who are alleged to have illegally sold vaccines that had expired or were improperly stored, according to China's official news agency, Xinhua.
Sold across various parts of China over a period of several years, the vaccines were reported to have been worth more than 570 million yuan ($88 million).
Authorities are also investigating three pharmaceutical companies and have already ordered one of them, Shandong Zhaoxin Bio-tech, to cease operating.
China's Food and Drug Administration is working with local authorities to find out where exactly the affected vaccines ended up, and to get them off the market.
Related: Frozen meat from the 1970s seized in China
The world's most populous nation has been plagued by a number of health and food safety scandals in recent years, including one stomach-churning case in which frozen meat from the 1970s was seized by authorities.
The World Health Organization said Tuesday that it was aware of reports of the vaccines being resold to hospital and clinics and was waiting for Chinese authorities to announce the results of their investigation.
"Vaccines need to be stored and managed properly or they can lose potency and become less effective," the WHO said in a statement.
But expired or badly stored vaccines "seldom if ever" cause a toxic reaction, it said. "Rather, the risk to children from administering expired or improperly stored vaccine is lack of protection from the disease for which the vaccine was intended."