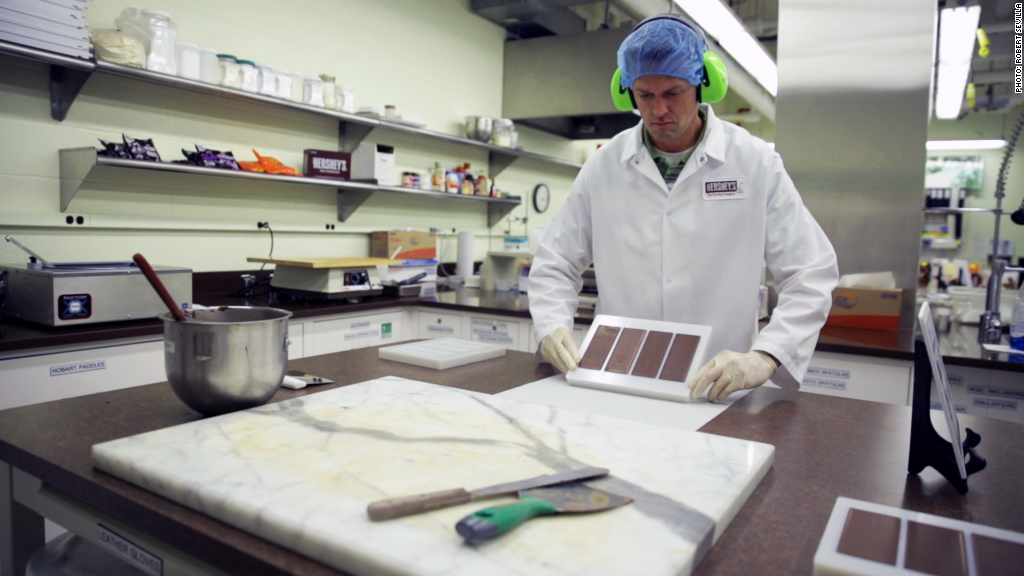 It will be easier to watch your waist this Easter. Chocolate bunnies are getting more expensive.
Bad weather and rising demand in Asia are pushing up prices of cocoa, a key ingredient in chocolate making.
The milk chocolate index, which tracks prices of commodities including cocoa butter and powder, sugar, milk, and whey powder, is up 10% compared to last Easter, according to data from Mintec.
Bad weather in cocoa-growing countries has hurt the harvest, causing global shortages.
Mondelez (MDLZ), Hershey's (HSY), Lindt and Nestle (NSRGY) all announced raising wholesale prices in the last two years. Euromonitor International, a global market research firm, said chocolate makers have been increasing prices steadily -- either by raising sticker prices or by making bars smaller.
West Africa, which produces more than 60% of global cocoa, has been hit by droughts. Ghana, the world's second biggest producer after Ivory Coast, had the lowest rainfall since 1999 between August and October, key months in the cocoa growing cycle.
On top of that, the region saw Harmattan winds arriving a month earlier than normal last year. The dry, dusty winds from the Sahara desert usually blow between December and March, blocking sunlight and causing temperatures to drop.
Production in South America, another major cocoa region, is forecast to drop this year because of droughts caused by the El Niño phenomenon.
El Niño occurs when trade winds slacken over the Pacific, disrupting ocean currents and trapping warm water. The phenomenon also caused droughts in Indonesia, another cocoa-producing country.
Related: Go easy on that dressing, there's an olive oil shortage
The International Cocoa Organization expects a 113,000 tonne global production shortfall in the 2015/2016 season.
Citigroup (C) expects cocoa to trade at historically high price levels this year. The bank's analysts said higher prices are already curbing demand growth and confectionery sales.
Meanwhile, global consumption of chocolate is rising. Consumers in Asia Pacific and India are finding their sweet tooth -- Euromonitor expects Asia Pacific to consume more cocoa ingredients than to North America by 2017.