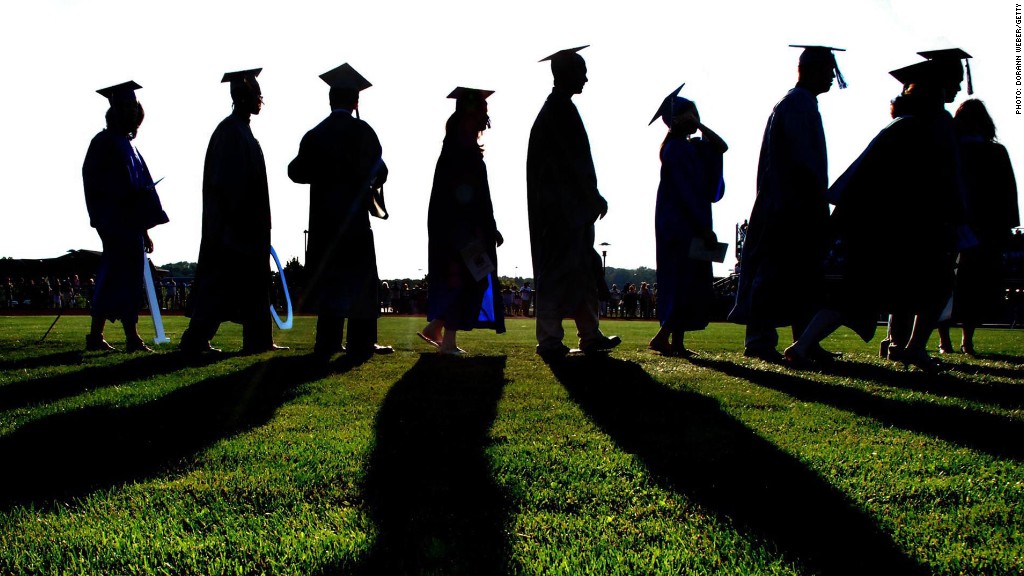 A graduate can't blame her law school for years of unemployment, a jury ruled Thursday.
It rejected a claim from Anna Alaburda that Thomas Jefferson School of Law lured her to enroll with misleading employment statistics.
She graduated in 2008 and passed the bar on her first attempt. But three years later -- after failing to find a full-time job in the legal field -- she sued the school for fraud.
Alaburda claimed that the San Diego school misrepresented its true post-graduate employment rate by including those hired for jobs that did not require a law degree. If she knew the truth about the statistics, she said she wouldn't have enrolled.
When Alaburda was applying to Thomas Jefferson in 2004, a stat published in U.S. News and World Report said that 80% of its recent graduates found jobs within nine months.
The magazine ranks grad schools every year, and uses an employment rate for each school that does not differentiate between which jobs require a J.D., attorneys for Thomas Jefferson said in a court document. They argued that the school has "no control" over the way U.S. News and World Report displayed the data.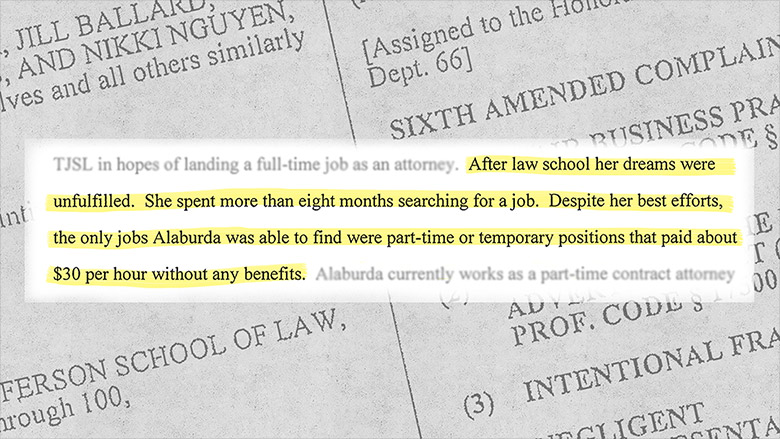 "I am pleased that the jury affirmed that Thomas Jefferson School of Law did not falsify its post-graduate employment statistics," said Dean Thomas Guernsey Thursday in a statement.
"Today's decision by the jury further validates our unwavering commitment to providing our students with the knowledge, skills and tools necessary to excel as law students, pass the bar exam and succeed in their professional careers," he said.
The school's lawyers also argued that the degree from Thomas Jefferson did not prevent Alaburda from getting a job. In a court document referencing her deposition, she admits to turning down a job from a law firm paying $60,000.
Lawyers for Alaburda did not respond to a request for comment.
Related: Are Millennials 'entitled' or just underpaid?
A handful of other law school grads have brought similar cases against their alma maters in the past five years, but Alaburda's is the only one that made it to trial.
Since her case was first filed in 2011, the American Bar Association has changed its policy, now requiring schools to report details about the jobs grads are getting, indicating whether you need to pass the bar for the position, if having a J.D. is an advantage, and if it's full or part time.
Related: How I got a $11,000 raise
But transparency alone doesn't make the job market easier for law grads. While it's improving, just 66% of those in the class of 2014 have found a job that required passing the bar, according to the National Association for Law Placement. It was the first year the employment rate for law school grads rose since 2007.
More than 10% are unemployed. And the median starting salary of $63,000 is well below what it was before the recession: $72,000.