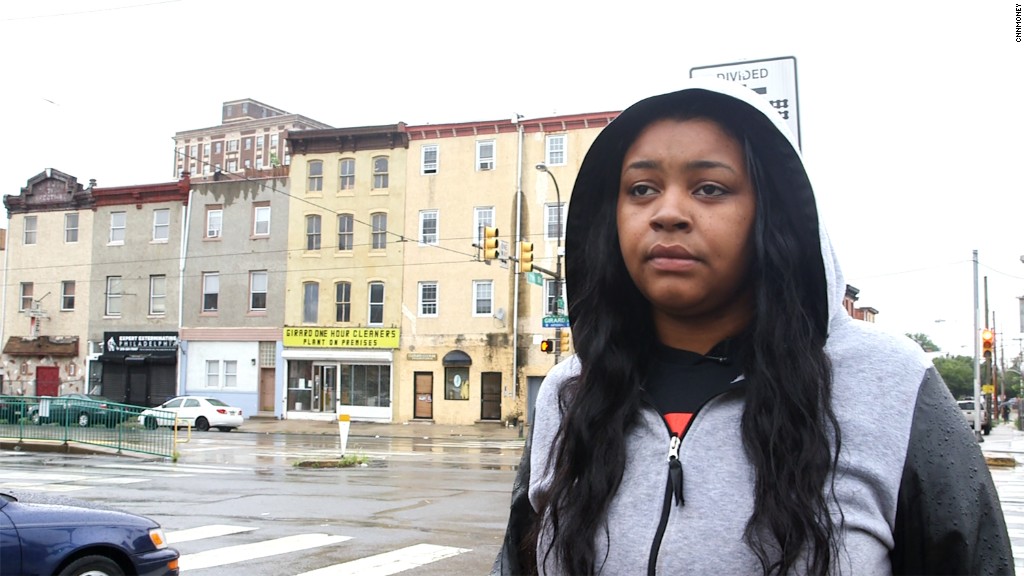 Gov. Andrew Cuomo and legislative leaders in Albany have come to an agreement that will eventually raise the state's minimum wage to $15 for everyone.
The measure is included in the state's 2016-2017 budget package, which legislators passed Friday.
"We believe that people who work hard should be able to earn a decent living and support a family with dignity," Cuomo said.
Related: What you need to know about the minimum wage
Cuomo first proposed a statewide $15 minimum wage back in January. It represents a 67% increase over the state's current $9 minimum. Cuomo estimated it could directly benefit 2.3 million workers, who represent close to a quarter of the state's workforce.
But it may also have the effect of pushing up pay for workers who make more than minimum wage, since employers will need to preserve pay differentials between entry-level jobs and more senior positions.
The hike to $15 would be phased in more slowly than the governor originally proposed -- and in some parts of the state, much more slowly.
For most New York City businesses, the minimum wage will rise to $11 at the end of 2016, then increase by $2 each year until it hits $15 by the end of 2018. But businesses with 10 or fewer employees will get an extra year. Their minimum wage will rise to $10.50 at the end of this year, then go up by $1.50 each year until it reaches $15 at the end of 2019.
In areas near New York City (i.e., Westchester, Nassau and Suffolk counties), the minimum wage won't reach $15 until the end of 2021.
And for businesses in upstate New York -- where towns and cities have had a harder time economically -- the minimum wage would only climb 70 cents a year until it reaches $12.50 by 2020. After that, the upstate minimum will continue increasing to $15 but at a pace set by the state's budget director in consultation with the state's labor department.
In addition, starting in 2019, the budget division and labor department will annually assess the economy in each region and the effect of the minimum wage hikes to figure out if it's necessary to temporarily suspend the scheduled increases.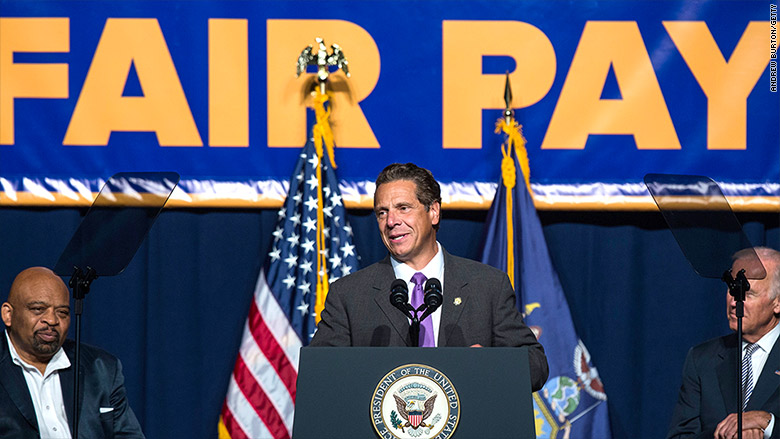 The New York deal comes just hours after California became the first state in the nation to pass a statewide $15 minimum wage.
Those who support an increase highlight how a $15 minimum wage could help the overall economy. By increasing wages for those who need it most, they will be less likely to quit, reducing turnover costs for employers. And the low-wage workers -- along with their colleagues who also may get a pay bump -- will spend the extra money in their local economy, which in turn can boost demand and help create other jobs.
Related: California becomes first state to approve $15 minimum wage
But those who oppose the hike worry it will hurt businesses and jobs in struggling economies in upstate New York. Less concern is expressed for the economies of downstate New York -- primarily New York City, where the cost of living is high and job growth has been strong.
Some business owners look at a $15 minimum wage as costing closer to $18 an hour, since they have to add about $3 to pay for unemployment and disability insurance, plus workmen's compensation in some industries, said Howard Nielsen, owner of Sticky Lips BBQ in Rochester, NY.
"I speak to a lot of people in my industry and we're all very, very nervous about it," Nielsen told CNNMoney before the deal was announced.
Related: New York seals deal on $15 minimum fast food wage
New York state already requires large food franchises to move toward paying its fast-food workers at least $15 per hour. And Governor Cuomo recently mandated the same for state university workers.
New York and California aren't the only places moving toward a $15 minimum wage. Both New Jersey and the District of Columbia may include a $15 minimum wage proposal on upcoming ballots. And several U.S. cities and counties, including Los Angeles, San Francisco and Seattle, have already approved a $15 minimum.