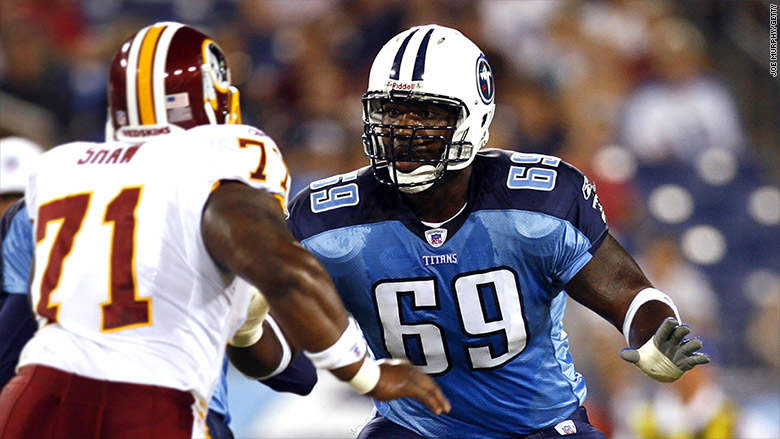 At the peak of his post-NFL career, Marques Ogden was worth $4 million.
But by the spring of 2013, the former-player-turned-developer had lost everything.
His once-thriving business had failed, his home was foreclosed on, his two cars were repossessed and his credit was shot. With just $1,800 in his bank account, he filed for personal bankruptcy.
But Ogden's path to success and eventual loss wasn't what you might expect from a pro athlete who lost everything.
He didn't blow his money on fancy cars, big houses and expensive vacations. All it took was one bad business decision.
And with a background in finance, he'd started out with more financial smarts than most people.
Related: Even NFL players worry about money
Ogden never planned on playing in the NFL.
He attended Howard University on a football scholarship and graduated with a degree in finance. His plan was to follow in the footsteps of his investment banker father and become a financial adviser. He interned for Merrill Lynch and hoped to some day work on Wall Street.
But when agents started calling about being a draft prospect his junior year, he decided to go all in on football.
Ogden was drafted into the NFL in 2003, and received a signing bonus of around $75,000. "I had never seen anything that big come through in one check," he recalled.
His rookie-year salary came in around $400,000.
Despite his hefty salary, Ogden was careful with his spending and stuck to a tight budget.
"I was fiscally aware of my expenses and my income. I had a profit and loss statement ... I did that on a monthly basis."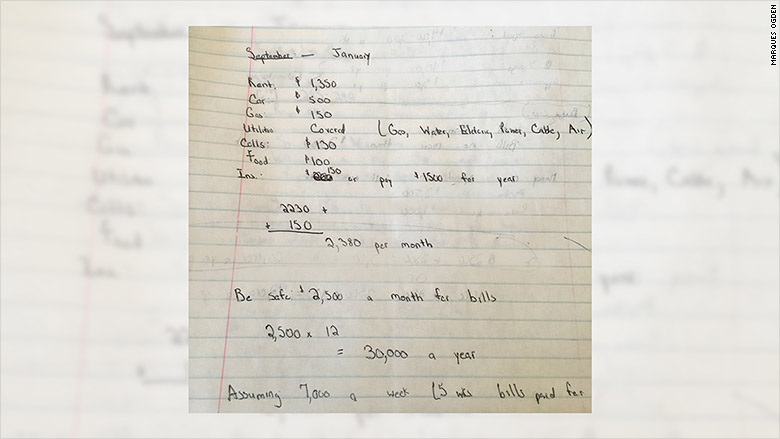 Ogden ended up playing on four teams in the NFL -- including the Jaguars and Titans -- and retired in 2009 due to a back injury. But he had the foresight to meticulously plan for life off the field. He often jokes that the NFL stands for "Not For Long."
Related: Ex-NBA star went from $108 million to bankruptcy
While still playing, he took courses in construction development at the University of Southern California through a program the league offers players, and launched a construction company in Baltimore in 2008. He funded the venture with part of the $2.5 million he had saved playing football, but he also took out credit and home loans.
The first big project the company took on in 2009 was a success, and the momentum continued. After starting with seven people on the payroll, the company grew to around 50-60 employees in 2012 at its peak in 2012.
But then everything came crashing down. Ogden took on a seven-figure project in downtown Baltimore that was riddled with problems and he claims he never received payment. It ended up costing him $2 million in 90 days.
He tried to keep the company afloat by pumping in personal funds, but it was too late.
He was devastated and filed for bankruptcy in 2013.
"It was very depressing, I had become a statistic that I was trying to avoid. I didn't have lavish spending habits. I became a statistic trying to save my business and that can happen to anyone."
He applied for a grant from The Gene Upshaw Players Assistance Trust. Former football players with financial hardships can apply for assistance from the program which is funded by on-field fines players get hit with.
Related: Ex-NFL star: 'I had to start over and pick up the pieces'
Ogden found out he was approved for the grant the day before his rent was due -- he would have been $100 short.
He and his wife moved to North Carolina, and the trust covered his rent and utilities for four months. He returned to his finance roots and got a job with Merrill Lynch. But after a few months on the job, he decided finance was no longer his dream.
Instead, he merged his business and football backgrounds: He started running a local football camp, which grew into individual and team training sessions.
He's now also a motivational speaker and talks frankly about both his personal and business struggles. He wrote an autobiography called "Sleepless Nights" that came out last year.
"Both of my parents had strong educations and financial literacy backgrounds," he said. "If I can lose everything in 90 days, you can too."