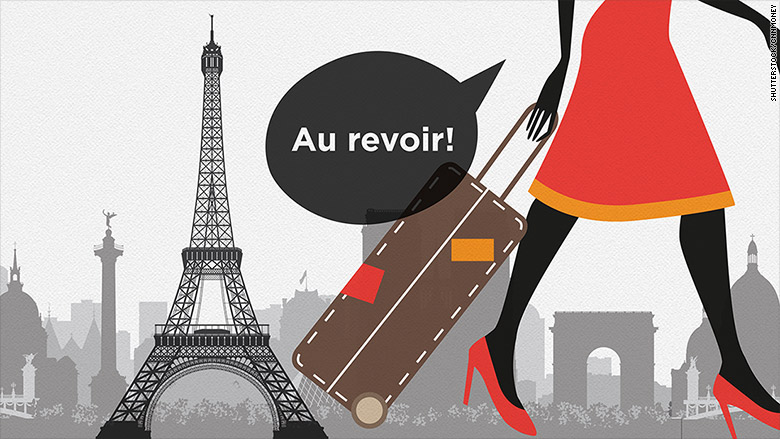 Millionaires are fleeing France.
Around 10,000 millionaires left the country in 2015, according to a report by New World Wealth, which provides analysis on the global wealth sector.
Paris saw the biggest exodus of high net worth individuals, with 7,000 millionaires leaving the city last year. That's roughly 6% of Paris' millionaires, a population of 126,000, according to the new report.
Most millionaire Parisians moved to the U.K., U.S., Canada, Australia and Israel.
The study is based on wealth statistics, surveys, interviews with migration experts, second citizenship platforms, wealth managers and property agents, and also considers investor visa statistics. This is the third annual report from New World Wealth.
Related: Singapore adding millionaires faster than Hong Kong
China saw 9,000 millionaires -- 1% of its total -- leave the country in 2015. Meanwhile, 6,000 left Italy, 4,000 exited India and 3,000 left Greece.
"The outflows from India and China are not particularly concerning, as these countries are still producing far more new millionaires than they are losing," the report said. "Once the standard of living in these countries improves, we expect several wealthy people to move back."
On the flip side was Australia, which saw 8,000 millionaires coming to its shores. Around 7,000 millionaires moved to the U.S. in 2015, and 4,000 to Israel.
The report said exiting millionaires is a "bad sign," for countries. "Millionaires are often the first people to leave ... they have the means to leave unlike middle class citizens."
The millionaire exodus could also hurt local economies, as many are business owners employing people and paying high taxes, the report said.