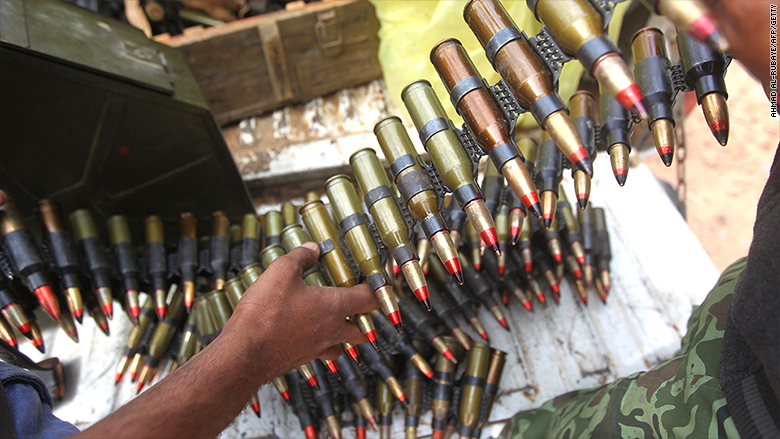 Facebook and other social media sites are becoming the new marketplace for people who want to buy weapons in Libya.
A study by the Small Arms Survey and the Armament Research Services (ARES) revealed a growing number of arms trades made online in Libya.
Experts say closed groups on Facebook (FB) and Whatsapp are the most common places for such trades, but apps like Instagram and Telegram are also used.
ARES tracked groups and individual arms traders active online in Libya, recording 1,346 illicit sales in just one year.
N.R. Jenzen-Jones, director at ARES, said the report provides only a snapshot of how armed groups use social media to trade weapons online.
He said data gathered by ARES suggest very similar trends in other conflict zones, including Syria, Iraq and Yemen.
And it's not just small arms that are sold online. The study, first reported by the New York Times, found sales of heavy machine guns, rocket launchers, grenade launchers, anti-tank guided weapons and portable air defense systems.
Related: Facebook, Instagram ban private gun sales on their sites
The report, published on Thursday, said most of the sales are done by militia and other armed groups. They are either buying guns or using social media to dispose of unwanted or unusable weapons.
The report said the arms trade was tightly regulated in Libya during the Qaddafi regime era. But after the 2011 revolution, the regime's massive arsenal was raided by illicit arms traders and armed groups, and the black market started to flourish.
The online black market for arms has grown in recent years, as internet connections have become more available.
Facebook and Instagram banned private firearms sales in January, hoping to crack down on the peer-to-peer sales of weapons on their platforms.
"We remove any such content as soon as we become aware of it. We encourage people to use the reporting links found across our site so that our team of experts can review content swiftly," Facebook told CNNMoney on Thursday.
Some of the groups spotted by the report's authors have already been closed by Facebook.