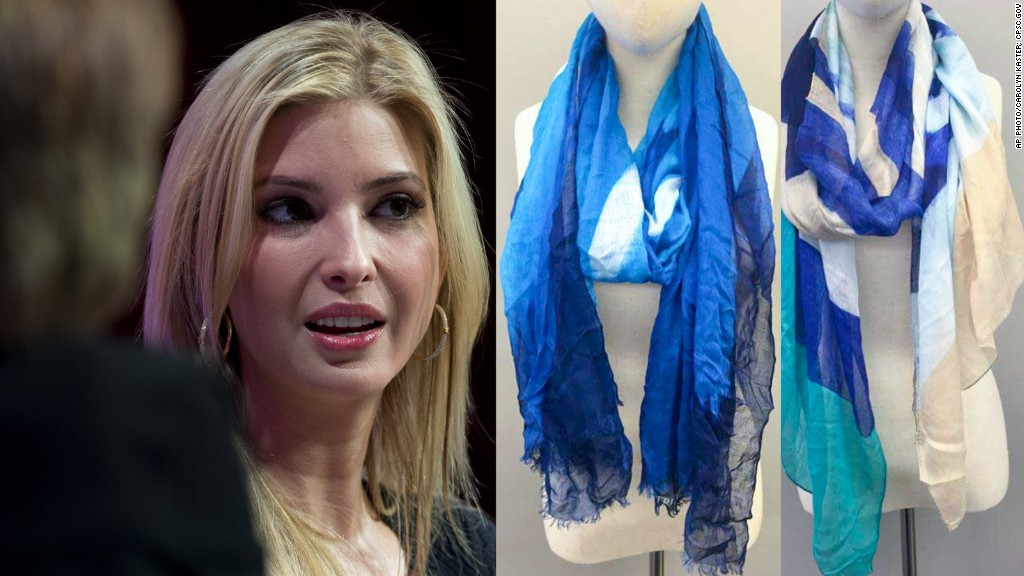 Donald Trump has an embarrassing new China connection.
About 20,000 scarves made in China for his daughter Ivanka Trump's fashion line are being recalled because they pose "a burn risk," the U.S. Consumer Product Safety Commission said Wednesday.
Consumers should immediately stop using the rayon scarves, which come in two different styles, and return them to the place of purchase for a full refund, the CPSC advised. Although no injuries have been reported in relation to the scarves, they are being recalled because they fail to meet federal flammability standards.
Donald Trump has made trade a key theme of his campaign for the Republican presidential nomination, slamming American companies for manufacturing products in countries outside the U.S. But many of the products in his and Ivanka Trump's fashion collections -- including Donald J. Trump suits and ties -- are made abroad in places like China.
Related: Donald Trump suits and ties are made in China
The recalled Ivanka Trump scarves were sold from October 2014 to January 2016 at stores like Century 21 and Lord & Taylor, the CPSC said, and online at amazon.com and loehmanns.com.
A statement from the Ivanka Trump Collection said it was "disappointed to learn of the need for Global Brands Group, our license partner, to recall two styles of Ivanka Trump scarves, but we are relieved that immediate action is being taken."
Global Brands Group, which is headquartered in Hong Kong, did not respond to a request for comment Thursday.
Related: Trump tower's Chinese investors buy a path to U.S. citizenship
Donald Trump has acknowledged that some of his products are manufactured in China.
"I talk about my ties in speeches. I'm open. I say my ties many times are made in China," he told CNN's Jake Tapper last year.
"It's very hard to have apparel made in this country," Trump said.
He says he wants to put a tax on Chinese and Mexican goods like clothing coming into the United States to level the playing field and bring back middle class jobs. He's said the tax could be as high as 35 or 45%.
Economists warn this would ignite a trade war and could cause a recession. China and Mexico and possibly other nations would respond by putting taxes on U.S. goods and services. It would also make a lot of everyday items more expensive for Americans.
-- Heather Long contributed to this report.