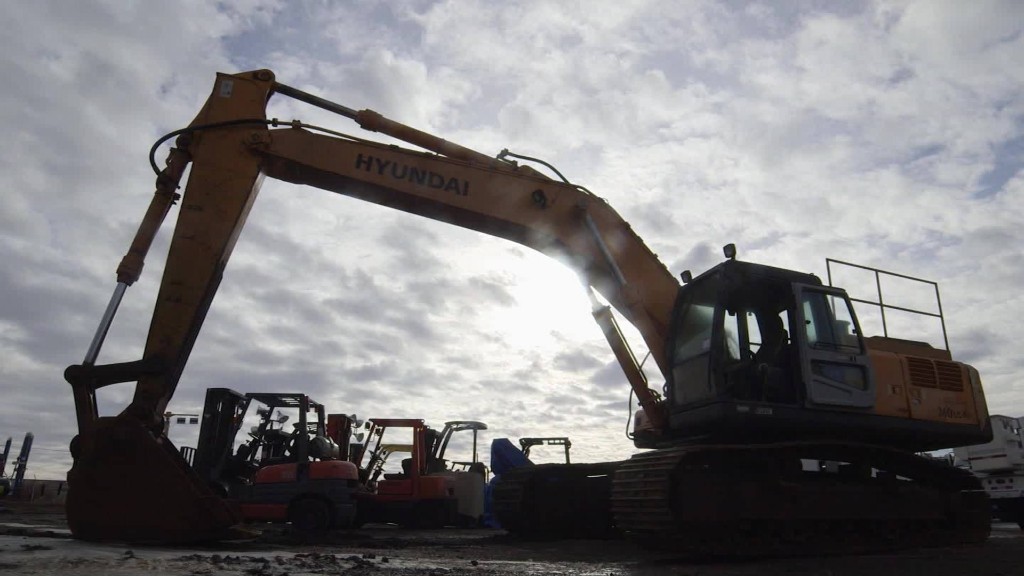 TransCanada reopened the Keystone pipeline on Sunday, over a week after a spill was discovered in an underground section of the pipeline in South Dakota.
TransCanada said it is operating the pipeline at a reduced pressure as part of a plan that was okayed by regulators.
The leak was discovered on April 2 and forced a key section of the controversial pipeline to be shut down. TransCanada (TRP) initially told regulators the spill totaled about 187 gallons of oil, but later raised that estimate to 16,800 gallons.
After days of searching for the source of the spill, TransCanada on Friday said it had identified the "small leak" on the pipeline near the Freeman pump station in Hutchinson County.
The Keystone pipeline has grabbed headlines in the last few years. Environmental concerns led President Obama to deny a permit to expand the Keystone pipeline last year. TransCanada has challenged that denial in U.S. federal court.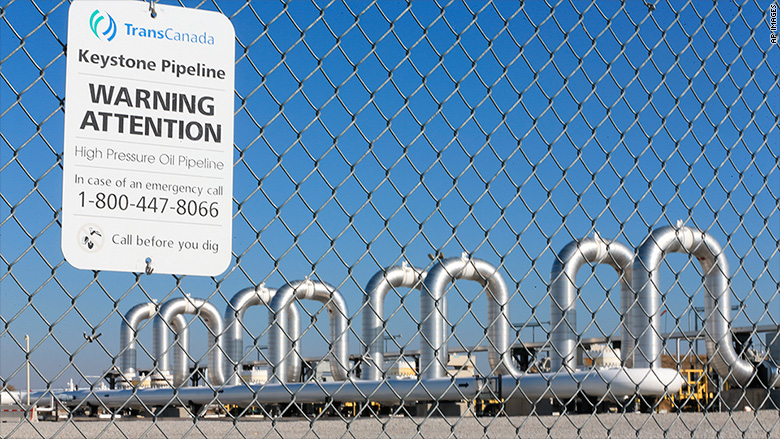 TransCanada said this latest spill had been "controlled" because that section of the pipeline was shut down immediately after the leak was reported and valves and pump stations were shut down remotely. The company said visual inspections confirmed the valves were closed.
One of the biggest concerns in an oil leak is that it could contaminate not just land but local ground water. That is an elevated concern for pipelines that run underground as Keystone does in South Dakota.
TransCanada said it continues to conduct aerial patrols and visual inspections of the site and that clean up and land restoration has already started and will continue over the coming days.
TransCanada said it has not "observed significant impacts to the environment" and there are no "significant" bodies of water nearby. There is "no threat to public safety," the company said.
South Dakota's lead environmental response agency has been on site and confirmed that the spill is not impacting aquifers. The EPA said it is aware of the situation.
Related: U.S. oil boom not slowing enough to solve epic glut
So far, the Keystone pipeline incident doesn't look nearly as bad as a massive 2013 oil pipeline leak in neighboring North Dakota.
At that time, a Tesoro pipeline break caused more than 20,000 barrels, or about 840,000 gallons, of oil to spill into a wheat field. That spill covered roughly the size of about seven football fields and sparked a cleanup effort spanning years.
Still, environmentalists are alarmed because the Keystone pipeline not only operates underground but carries tar sands down from Canada. Tar sands oil is much thicker and stickier than traditional oil, significantly complicating clean-up efforts. The fact it's thicker also means it needs to be combined with other hazardous materials to allow it to be transported in pipelines.
Related: Oil crash hits workers in Canada
Last year the National Academies of Sciences, Engineering and Medicine published a report arguing current regulations have "shortcomings" and "weaknesses" when it comes to preparing for tar sands spills.
Jane Kleeb, an outspoken anti-Keystone pipeline activist, has been arguing for years against building tar sands pipelines near farms.
"All of us are worried about landowners we know there. How long are they going to have to put their farm life on hold because of TransCanada's reckless pipeline?" said Kleeb, who is head of advocacy group Bold Nebraska.
TransCanada has been cited by regulators for safety concerns in the past, including five "correction action orders" since 2006 from the Department of Transportation. These urgent orders are issued for pipelines that pose a "serious hazard to life, property or the environment." One such order required TransCanada to test failed pipe components and do other steps following a pair of May 2011 leaks in North Dakota and Kansas.
Others are concerned pipeline operators are ill-equipped to detect an oil leak when it happens, no matter how small.
"These spills keep happening. The pipeline companies have shown they don't have an effective system to detect these spills," said Doug Hayes, a staff attorney at the Sierra Club.
TransCanada told CNNMoney it regularly inspects the pipeline route using low-flying aircraft and deploys sensitive leak detection equipment to detect small leaks. The company said it also regularly performs maintenance on the pipeline.
Proponents of the Keystone XL pipeline project argue that not only will it create jobs, but that these pipelines are far safer than transporting oil by train. The volatile nature of the oil produced in North Dakota and Canada raises the risk of explosions during train derailments. In 2013, 47 people were killed when a train carrying oil derailed near Lac Megantic, Quebec.