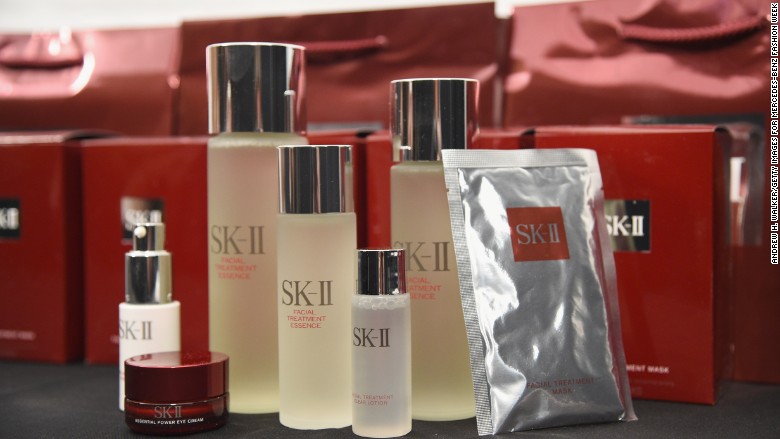 A luxury skincare brand is causing a stir in China with a new marketing campaign that challenges the idea of "leftover women," a derogatory term that's been used to shame unmarried Chinese women who are past their mid-20s.
SK-II, part of consumer giant Proctor & Gamble, has launched several online videos championing single women in China with the tagline #ChangeDestiny as part of a global ad push.
Women in China who remain unmarried into their late 20s -- like many of their Western counterparts -- face immense social pressures to get hitched. The "leftover women" label has been used to stigmatize them.
One of the slickly produced SK-II videos is an emotional look at how several women explain to their parents that they won't settle and marry just for the sake of it.
A father says to his daughter, "I won't die in peace until you are married," while a mother chides her daughter for being "too picky."
Related: Ad exec's #WomenNotObjects campaign makes waves
As shown in the video, some parents even go so far as to post personal ads in a public park -- dubbed the "marriage market" -- in efforts to find a suitable partner for their daughters, and sometimes without them knowing.
The daughters talk about the agonizing pressures they face, how they feel like outsiders and are fed up with questions about marriage from relatives during big holiday gatherings. But many of them also say they feel they're disrespecting their parents by not fulfilling their wishes for them to marry.
It's a moving video that's proving popular, pulling in more than 1.5 million views on Youku.com, a Chinese service similar to YouTube, since it was posted two days ago.
SK-II's push nonetheless contains a paradox: it's celebrating women who refuse to conform to social pressures to marry before a certain age, but it's also aiming to sell them expensive products that promise "ageless skin" to fit with particular notions of beauty.
By tapping into women's frustrations, SK-II is seeking to do in China what other brands have tried elsewhere: win favor with campaigns that champion women and girls.
"The whole idea of female empowerment is a broader topic that's picked up a lot in the last year or two," said Ben Cavender of China Market Research.
Related: What's in a brand name? In China, everything
Single women are an important consumer group.
"A big portion of this segment are women who are well-educated, have white-collar jobs ... who are independently spending their own money," Cavender said. "Oftentimes, they're going to be the trendsetters adopting new products and services. In some ways, they're the first customers that a lot of brands want to be targeting."
SK-II was immensely popular in China, but suffered a setback in 2006 when it had to suspend sales after authorities discovered banned substances in its products. Angry customers sought refunds, and SK-II even resorted to temporarily shutting down sales counters, according to Chinese state media. SK-II has been struggling to improve its image since.
The company has been pushing its "Change Destiny" campaign for the past year, sharing stories of women overcoming challenges. In a statement, the company said this particular video shows women who "are capable, smart, talented and independent, and they are more than their marriage status."
Proctor & Gamble owns a huge suite of consumer brands including Tide, Pampers, Crest and Pantene.