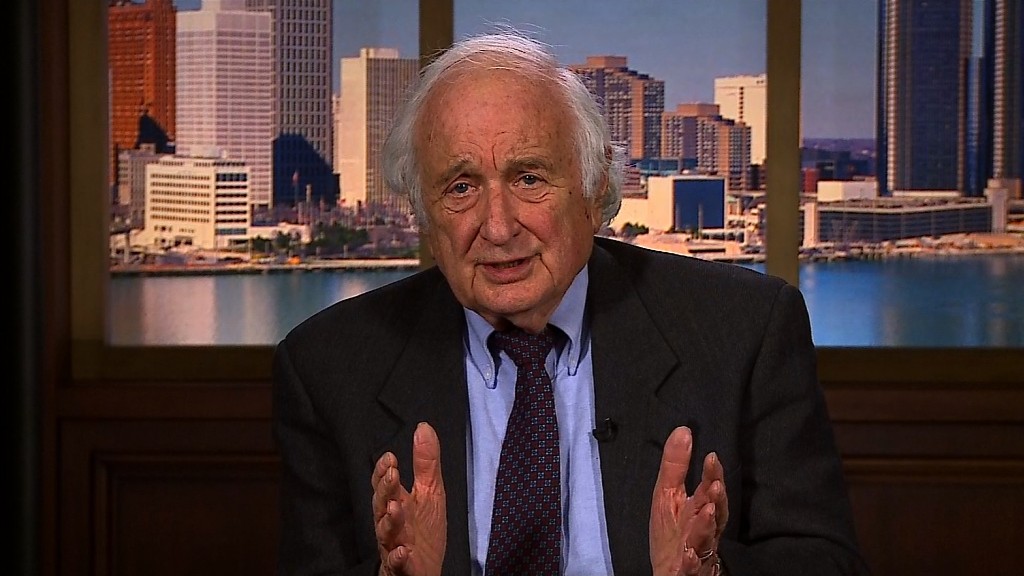 The Obama administration has made waves on Wall Street by scuttling several mega-mergers in recent weeks. But on the whole, Obama hasn't been nearly as tough on business combinations as Bill Clinton, the last Democrat to occupy the Oval Office.
In fact, Obama has stood up to only a handful more mergers than former Republican President George W. Bush.
The two government bodies that oversee corporate mergers -- the Federal Trade Commission and the Antitrust Division of the U.S. Department of Justice -- have openly opposed a combined 150 mergers during Obama's tenure. That's compared to 129 during Bush's eight years and 292 during the Clinton administration.
That's roughly 21 a year for Obama; 16 for Bush; 35 for Clinton.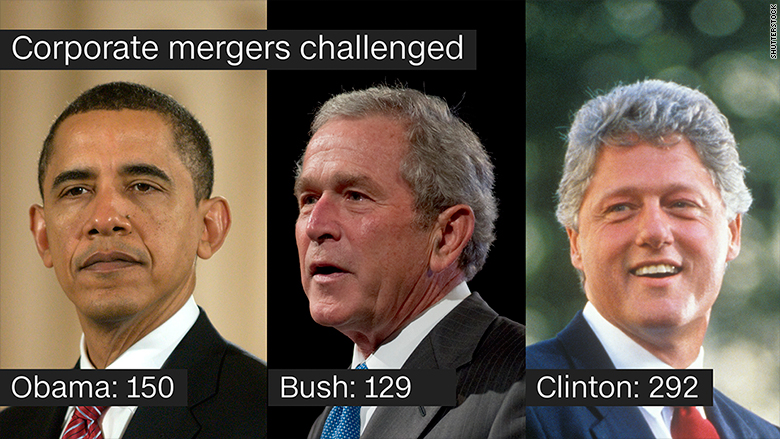 When he came into office, Obama was widely expected to be more obstructive to mergers than he turned out to be.
In 2009, Obama hired Clinton-era FTC Chairwoman Christine Varney to head up the Antitrust Division of the Justice Department. Varney had a reputation for being harsh on monopolies, earned most notably by representing Netscape in the United States' antitrust lawsuit against Microsoft (MSFT).
Varney came in with guns blazing, retracting a Bush-era rule that loosened regulations on monopolies.
"As antitrust enforcers, we can no longer sit on the sidelines," she said in a May 2009 speech at the liberal Center for American Progress in Washington.
But the administration never quite lived up to those expectations. Obama's DOJ has brought just 69 merger cases to trial, only 10 more than the historically low 59 mergers that President Bush's DOJ fought in court. The Clinton administration brought 103 mergers to trial. Varney left the Justice Department in 2011.
Of course, during the first few years of the Obama administration, the president's policies were focused on repairing the economy.
But now, merger activity is at an all-time high. There were a record $4.7 trillion worth of mergers and acquisitions announced in 2015, according to Thomson Reuters.
The Obama administration seems to be drawing a line in the sand. This week, the Justice Department sued to block the proposed merger of Halliburton and Baker Hughes saying the combination of two of the three largest providers of oilfield services in the world would hurt the U.S. economy and global competition. The DOJ also stopped United Airlines from building upon its monopoly position at Newark's airport.
And Pfizer canceled its plans to merger with Allergan after the Treasury Department issued new regulations designed to crack down on corporate tax avoidance.
Hillary Clinton has expressed misgivings about the Obama administration's approach to challenging mergers.
In an October 2015 op-ed in Quartz, Clinton promised to "beef up the antitrust enforcement arms of the Department of Justice and the Federal Trade Commission," if she is elected.
"I will direct more resources to hire aggressive regulators who will conduct in-depth industry research to better understand the link between market consolidation and stagnating incomes," she wrote. "Ultimately, this will foster a change in corporate culture that restores competition to the marketplace."