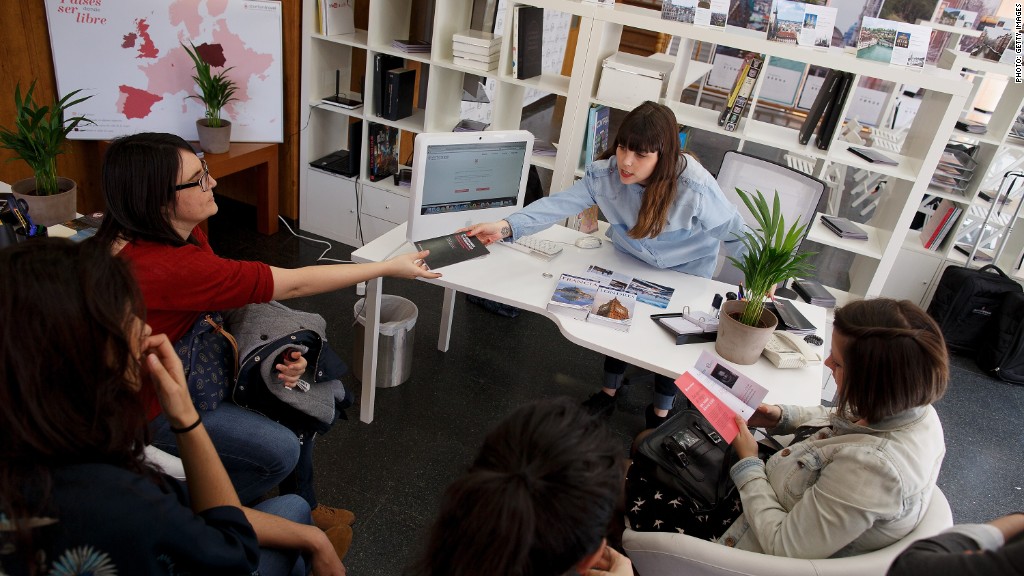 Women are likely to be paid less than men hired for the exact same role. Unless, that is, they're recent college grads, a new study shows.
Women in technology, sales or marketing with two years' or less experience actually got salary offers that were 7% higher than those received by equally inexperienced men, according to the jobs site Hired.
Why are the youngest female workers earning more than men? It could be in part because they're asking for it. Those junior women asked for 2% more in compensation than their male counterparts.
That's a surprising fact when you consider that most women typically asked for less up front -- about $14,000 less on average than a man applying for the same post, the study found.
Related: 6 things to know about the gender pay gap
And the more experience a woman has in a field, the less she's likely to ask for relative to a man with comparable experience.
Overall, women hired for jobs in technology, sales and marking were offered salaries that were 3% less than what men were offered, but at some companies the gender pay gap was as high as 30%, the study showed.
Men received higher salary offers for the same job title at the same company 69% of the time.
Related: When, where and why women earn less
"It's difficult to determine whether this is a symptom of unconscious gender bias in the hiring process or results from an ongoing cycle of women being underpaid, setting their salary expectations too low, and ultimately receiving less in subsequent roles," data scientist Jessica Kirkpatrick, the report's author, noted.
Related: For every dollar a man earns, a woman earns...
Hired also found that the gender pay gap at larger corporations is almost double that of bootstrapped companies or small, seed-stage firms.
Take the job of software engineer. Women were offered 7% less on average at major corporations versus being paid 4% less at small start-ups that haven't received a lot of funding yet.
Related: Yes, men earn more than women. Except in these jobs
The good news for everyone: The connection between asking for what you think you're worth and getting it applies to women at all levels of experience, Hired found.
"Women who ask for the same salary as men in the same role tend to get offers in line with what they are asking," Kirkpatrick wrote.