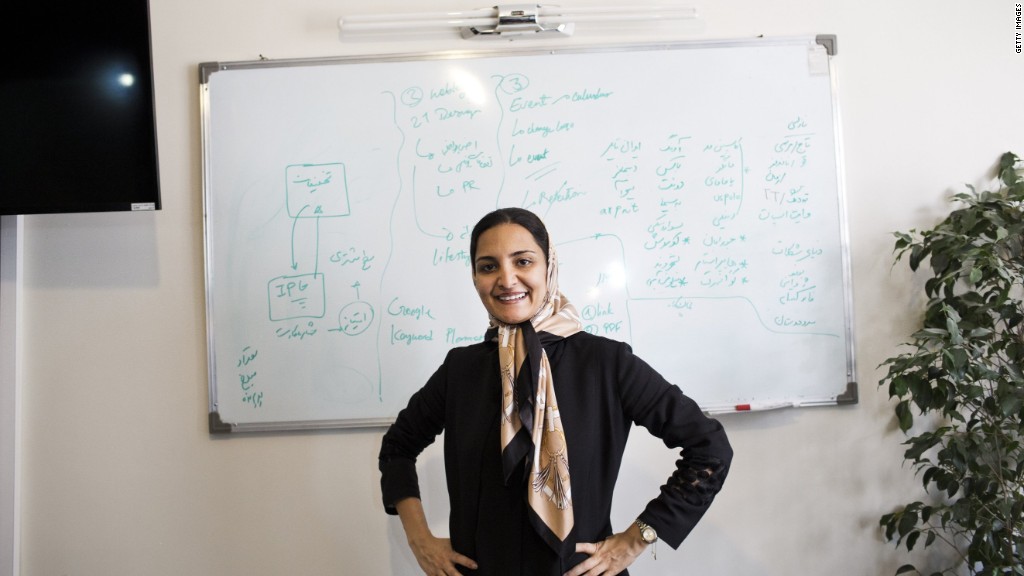 Iran's tech scene is ready to soar, but the country's religious leaders appear keen to keep its wings clipped.
Iran emerged from years of crippling sanctions in January, following a landmark nuclear deal last year, and is eager to take advantage of its vastly improved business prospects.
The country is already shaking up global oil markets, increasing its output and investing in infrastructure. But the government is also looking to diversify the economy and become less dependent on revenues from the energy industry.
Its growing tech sector provides a great chance to do just that.
Nazanin Daneshvar is the CEO and founder of Takhfifan.com, Iran's version of Groupon. She told CNNMoney that investors have been pouring into the country in the past few months.
"We have been operating for five years, and in terms of VCs coming to Iran, not much was happening," she said, referring to venture capitalists. "In the last couple of months, we were constantly hosting different VCs in our office, especially from Europe."
Related: Boeing working to drum up business in Iran
Takhfifan has grown from a two-person startup five years ago to a company with more than 100 employees. It's one of only a handful e-commerce companies operating in Iran, a market that remains largely untapped, according to Daneshvar.
"This leaves a big space for any technology company that wants to operate in Iran, starting from Amazon, going to Groupon, eBay -- anything really," she said.
Recent IMF reports on Iran's economy highlight its young, well-educated population and growing middle class. The government claims the country has 47 million Internet users, roughly half the overall population.
President Hassan Rouhani's government is pumping money into the tech sector to try to capitalize on the potential. The Iranian Communication Ministry's budget last year was its largest ever, swelled by big investments in Internet infrastructure.
There are a number of successful startup incubators, and Iran's universities offer several highly regarded engineering programs.
Related: Inside Iran's giant natural gas complex
But Iran's tech sector also faces many obstacles. The Internet inside the country is still tightly regulated, and some of the government's initiatives are clashing with influential religious leaders' demands for censorship and control.
The government is keen to allow access to social media platforms -- one of Rouhani's promises in February's election -- and to allow more companies to provide Internet service to consumers.
But the country's powerful Supreme Council of Cyberspace is pushing back.
According to the human rights advocacy group Freedom House, Rouhani's administration has faced challenges from hardliners who are demanding restrictions on Internet connection speeds in order to prevent what they deem "un-Islamic behavior."
That means activities like watching foreign films, which some authorities view as harmful to family values.
Related: Iran predicts economic growth of 8%
Religious leaders want the government to introduce more content filtering before Internet speeds are increased.
Iranians are also barred from making video calls on their mobile phones because of concerns the technology would bring about "cultural damage," according to Freedom House.
The group says authorities restrict access to tens of thousands of websites, including those of international media and human rights organizations.
But China, which also heavily censors Internet content inside its borders, has nonetheless managed to produce huge, profitable tech companies like Alibaba, Tencent and Baidu.
-- Maggie Lake contributed to this report.