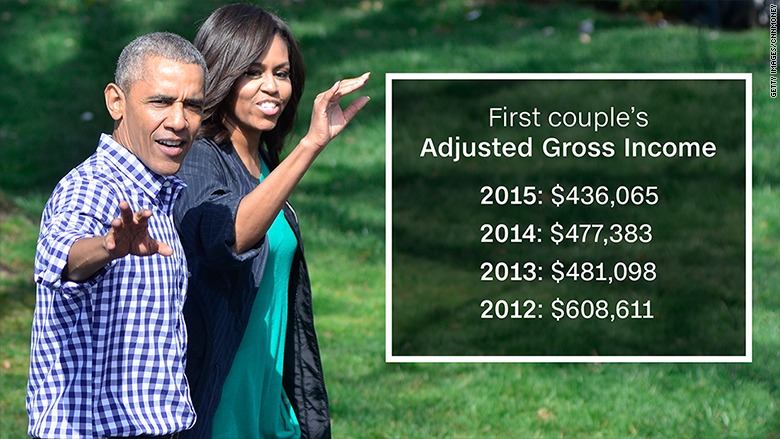 In what is likely to be the last public reveal of their annual income and taxes, President Obama and first lady Michelle Obama released their 2015 tax returns Friday afternoon.
The documents show the couple earned $436,065 in adjusted gross income last year, and paid $81,472 in federal income taxes, giving them an effective tax rate of 18.7%.
That's in keeping with their effective tax rates in recent years, which ranged from 18.4% to 20.4%.
The First Family's income has gradually declined since 2012, largely due to less income from the sales of the president's books.
The bulk of their 2015 income came from his salary of nearly $400,000. He also made $56,069 after expenses from his books.
Related: The Obamas' money: Boring investments, steady income
Like a lot of very high-income Americans, the Obamas had to pay an additional Medicare tax on their wages. The surtax, which was created under the president's signature health reform law, cost them an extra $1,766.
And they also fell prey to the Alternative Minimum Tax, which added $7,743 to their total tax bill.
The Obamas gave $64,066, or nearly 15% of their earnings, to more than 30 charities and nonprofits. Most contributions ranged between $1,000 and $2,000. But they donated $5,000 to the Beau Biden Foundation, named after Vice President Joe Biden's late son, and another $5,000 to Sidwell Friends School, which their daughters attend.
They also made a $9,066 contribution to Fisher House, which provides temporary homes for families of soldiers and veterans while their loved ones receive medical treatment.
The Obamas are due a federal tax refund this year because they overpaid what they owed Uncle Sam by $22,859.
They also paid nearly $49,000 in state and local income and property taxes.