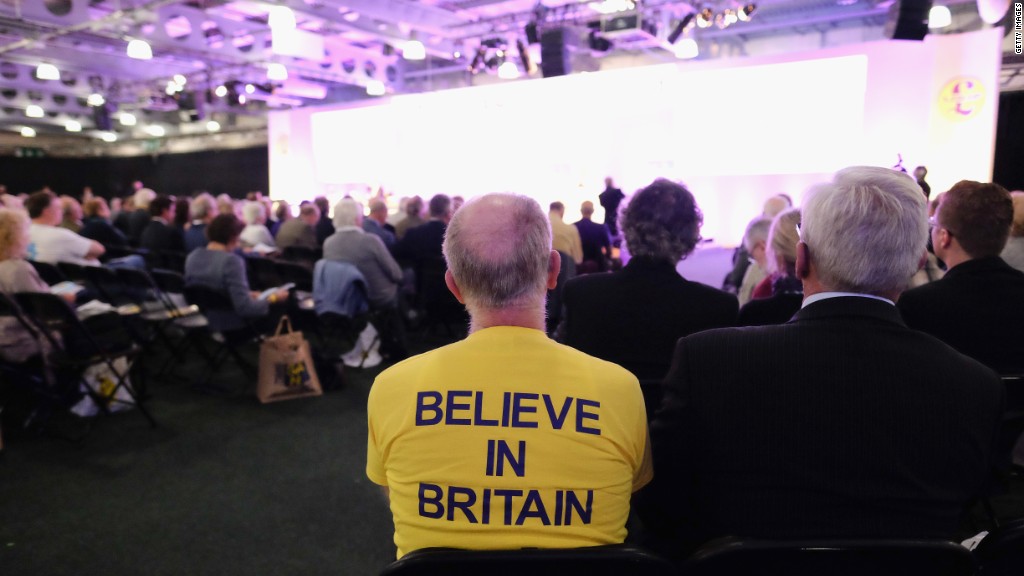 London's real estate market is getting the Brexit chills.
Investment in central London offices hit the lowest level in five years in the first quarter of 2016, as the referendum on Britain's future in the European Union looms.
Investment volume in the first three months of the year dropped 31% below the 10-year average, to £2.2 billion, according to research by commercial real estate agent Lambert Smith Hampton. That's less than half of the £4.6 billion recorded the previous quarter.
"It's no surprise that investors have taken a step back in the face of growing uncertainty over the outcome of June's E.U. referendum," said Ezra Nahome, CEO of Lambert Smith Hampton.
"We saw it in 2014 ahead of the vote on Scottish independence and we're experiencing it again now -- investors do not like uncertainty."
Many big global companies have said they might move part of their operations away from London, should the U.K. vote to leave. HSBC (HBCYF), Britain's biggest bank, warned on Friday it could run some of its business from Paris.
Related: Obama warns Britain against quitting Europe
And it's not just commercial property that's taking a hit.
"The majority of the property industry are concerned that a Brexit would make the U.K. less attractive for investment," said Darren Yates, head of research at Carter Jonas, a U.K. property company.
Savills, Knight Frank, Foxtons and other real estate companies with big London operations had already warned of a slowdown ahead of the referendum.
A survey by KPMG showed that more than two-thirds of big global real estate investors believe leaving the union would result in less investment into U.K. property.
A third of the companies surveyed said they were planning to or have already reduced investment into U.K. property ahead of the June 23 referendum.
Related: Leaving the EU could cost UK 100,000 finance jobs
London's real estate market is among the hottest in the world. Average real house prices have soared by almost 40% since the beginning of 2013, a recent UBS report said.
London is facing the risk of a "substantial" price correction, the report warned. Some analysts say Brexit could trigger the change.
A report by Nomura said Brexit could lead to a 10% drop in U.K. housing prices. And Moody's said leaving the E.U. would cause demand for London real estate drop, driving prices down.