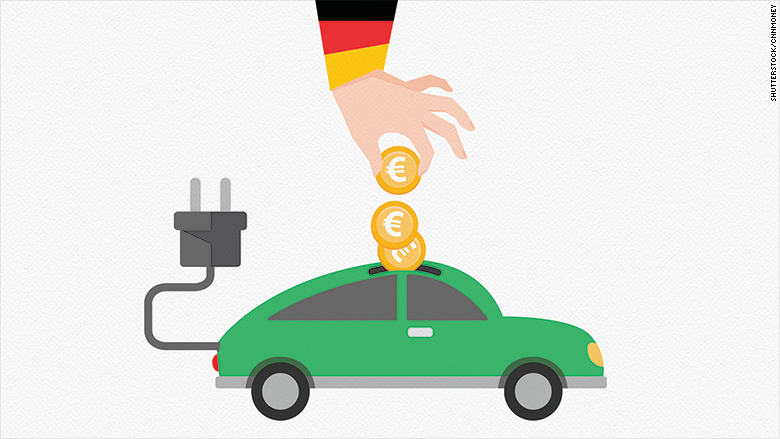 Germany is giving electric cars a big push.
The government has joined forces with three of the country's biggest automakers to launch an incentive program to boost sales of electric and hybrid vehicles.
Buyers will get rebates of 4,000 euros on electric cars and 3,000 euros ($4,500) for plug-in hybrids -- up to a total of 1.2 billion euros ($1.4 billion).
The government will put up half the money, and the automakers the rest.
Daimler (DDAIF), Volkswagen (VLKAY) and BMW (BAMXY) have so far signed up for the program. Foreign manufacturers can also take part, provided they help fund the incentives.
Germany has a lower proportion of electric cars than other big European countries, including the U.K., France, Italy and Spain. The new subsidies are designed to encourage drivers to swap to greener cars and boost the production of electric cars in Germany.
"Germany has been lagging behind other big European markets because they didn't offer any incentives...now they will be able to catch up," said Al Bedwell, an autos expert at LMC Automotive.
Germany currently has around 50,000 electric cars on the roads. The incentives could result in 400,000 electric car sales, said Germany's top economy official Sigmar Gabriel.
Germany wants 1 million electric cars on the roads by 2020, and 5 million by 2030. But experts have warned the target is not going to be reached.
"The plan seemed overly ambitious...they left it until too late to introduce the incentives," Bedwell said.
Related: These roads will charge cars as they drive
German automakers have been struggling to compete with foreign rivals in the electric car market, and talks between government and industry on the incentives dragged on for months.
The companies were originally willing to pick up only 25% of the cost.
The program should help sales of cheaper electric vehicles in particular, because it's only available for cars costing up to 60,000 euros.
"It's a good collaborative work between he government and the industry, it will boost the lower half of the market," said Tim Urquhart, principal analyst at IHS automotive.
In addition to funding the incentives, the German government will spend 300 million euros improving related infrastructure, and hopes to build 15,000 new charging stations in the next three years.
It will also invest 100 million euros to ensure 20% of government vehicles are electric.