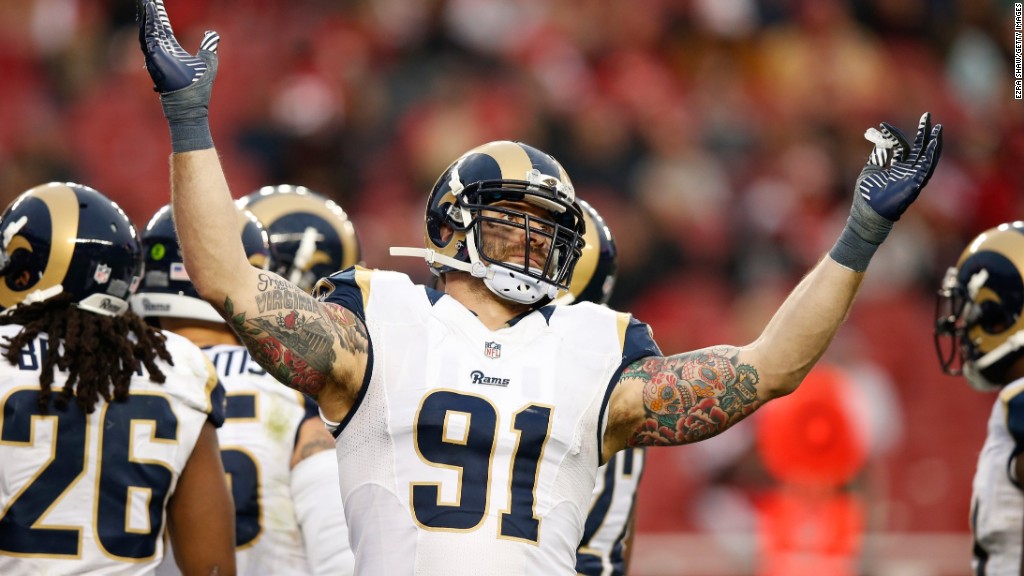 "The Raiders are undefeated in Las Vegas."
That's what Oakland Raiders owner Mark Davis joked about as he announced a pledge to put up $500 million toward a new stadium in Las Vegas.
"Together we can turn 'the silver state' into 'the silver and black state,'" Davis said.
He said his monetary pledge was a sign that he wasn't a billionaire looking for a free handout and that the stadium project would require a partnership.
Davis was joined on the floor by retired soccer star David Beckham when he announced the bid.
Related: Raiders move to Las Vegas faces long odds
The domed stadium would cost an estimated $1.4 billion and would seat about 65,000 fans. In addition to Davis, Sands Corp. (LVS), which owns three casinos in Las Vegas, has pledged $150 million to the project.
The proposed site for the stadium is a 42-acre piece of land owned by the University of Nevada, Las Vegas.
It will likely take three years to build the stadium and the move needs to be approved by the Nevada Tourism Infrastructure Committee, the state legislature and the NFL.
The NFL might prove an obstacle since the league is fairly conservative and has been adamant about not condoning gambling on football games. It has even rejected Super Bowl ads from the Las Vegas Convention and Visitors Authority.
Related: How Rams owner beat NFL old guard in move back to LA
Davis took over the team in 2011 after the death of his father, longtime Raiders owner and former coach, Al Davis.
Davis has said in the past that he wanted to keep the Raiders in Oakland but he'd also been trying to find the team a permanent home. (The Raiders currently share the Oakland Coliseum with the Oakland A's.)
Davis tried to move the team to Los Angeles and was in competition with the St. Louis Rams and the San Diego Chargers earlier this year.
The Rams ultimately won out and will play at the L.A. Coliseum until their new Inglewood Stadium opens in 2019.
This put the Raiders back on the hunt.
CNN's Braden Walker contributed to this report.