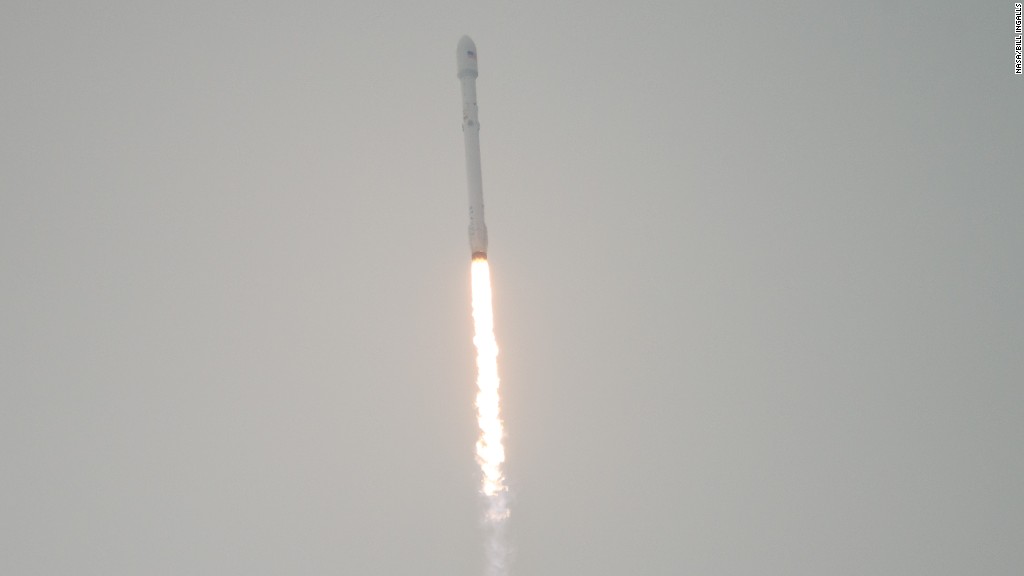 Elon Musk's SpaceX has been awarded an $82.7 million contract to send a U.S. Air Force satellite into space, shattering Boeing-Lockheed's long-held monopoly over military launches.
The contract to launch the Air Force's next generation GPS satellite in 2018 opens a lucrative new revenue stream for SpaceX, which plans to keep costs low by re-using its first-stage rockets.
A successful launch would also prove that the military has more than one option for sensitive launches.
Awarding the contract to SpaceX "achieves a balance between mission success, meeting operational needs, lowering launch costs, and reintroducing competition for National Security Space missions," said Lt. Gen. Samuel Greaves, Air Force Program Executive Officer for Space.
Related: SpaceX plans Mars mission for 2018
SpaceX had been competing with United Launch Alliance, a joint venture between Boeing (BA) and Lockheed (LMT) that previously had a monopoly on U.S. military launches. But ULA dropped out of the bidding process late last year.
Among the reasons: The venture uses rocket engines that are built in Russia, and deteriorating relations with Russia have led Congress to restrict the use of engines made there for military launches.
Musk, who is also CEO of electric car maker Tesla Motors (TSLA), fought hard for the right to bid for the contract. SpaceX filed a federal lawsuit challenging rules that blocked it from earlier bids. The suit was settled out of court, and SpaceX was granted permission to bid for future launches.
Related: Musk reveals the cause of SpaceX explosion
SpaceX does have some other government contracts, including one to ferry supplies to the International Space Station, and another to eventually carry U.S. astronauts into space as well. Despite congressional limits on the use of Russian rocket engines, NASA now depends on the Russian space agency to carry astronauts back and forth to the ISS.
Musk said Thursday that SpaceX's first mission to Mars could be less than two years away. The company plans to send a modified version of its Dragon spacecraft, called Red Dragon, to survey the terrain on Mars and potentially collect soil samples.
-- Chris Isidore contributed reporting.