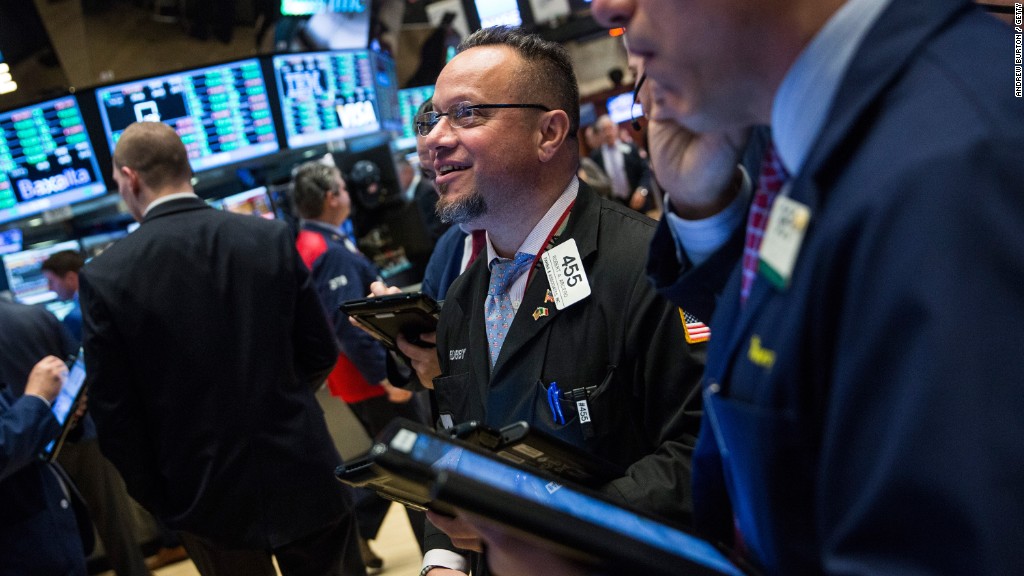 Wall Street is saying goodbye to April on a decidedly nervous note.
The Nasdaq slumped for the seventh consecutive day on Friday, while the Dow suffered its deepest weekly decline since early February.
Much of the blame goes to fumbled earnings reports this week from the giants in the stock market Apple (AAPL), Google-parent Alphabet (GOOGL) and Microsoft (MSFT).
"Google got punched in the nose," said Art Hogan, chief market strategist at Wunderlich Securities, referring to Google's selloff after badly missing its profit mark.
Other big companies like Chevron (CVX) and biotech giant Gilead Sciences (GILD) dropped on Friday after posting earnings duds.
"For the first time, we've had a multitude of household names disappointing on earnings. That's having an adverse effect," said Hogan.
Related: Market milestone: 2nd longest bull market in history
But another big driver of this week's turbulence was set in motion on the other side of the planet in Tokyo. After its surprise move into negative rates in January, Japan's central bank went the other way this time.
After telegraphing that it would go out of its way to grease the economy, the central bank once again caught the markets off guard, this time by failing to launch any new stimulus efforts.
Investors did not appreciate the surprise, sending Japan's stock market crashing 5% on the week. More importantly, the Japanese yen skyrocketed 5% against the U.S. dollar, an extent that few were prepared for.
"The Bank of Japan's (lack of action) sent a fast and furious current through the currency markets and is very disruptive to other asset classes like stocks," said Hogan.
One asset class that's benefiting from the choppy waters is gold. The yellow metal, which tends to rise when people are nervous, bounced 2% on Friday to a 15-month high of $1,299 an ounce. The VIX volatility index also spiked 25% this week, though it remains well off its highs of the year.
Related: Bank of Japan roils markets (again)
The turbulence on Wall Street comes just as it is also celebrating a new milestone. On Friday the bull market became the second-longest in American history. But this week's nervousness is fitting since the bull market has been marked by deep skepticism and frequent panic attacks.
"It's a particularly unloved bull market," said David Kelly, chief global strategist at JPMorgan Funds.
There was some good news for investors to hang their hats on this week. For instance, Amazon's (AMZN) stock ripped 9% higher on Friday after the longtime money loser revealed its fourth-straight profitable quarter. Likewise, Facebook (FB) surged to a new all-time high on incredible profit growth of nearly 200%.
There's also a silver lining to this week's market pullback: it is likely to quiet some of those concerns about how expensive the stock market was getting relative to earnings. Last week, the S&P 500's price-to-earnings ratio rose to the highest level since 2009.
In any case, Hogan urged long-term investors to ignore these short-term gyrations in the stock market.
"Don't get caught up in the earnings volatility. We go through this every quarter," said Hogan.