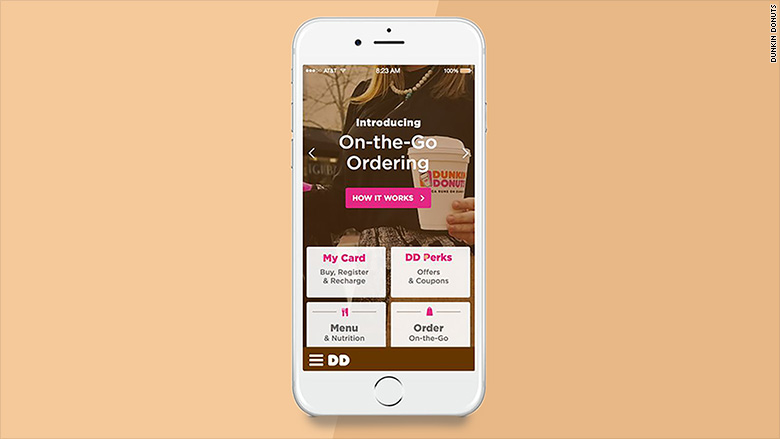 It's about to get even easier to get your caffeine or sugar fix at Dunkin' Donuts.
The Massachusetts-based chain is expanding mobile on-the-go ordering and also has plans to test out curbside delivery later this year.
Customers in New York City will soon be able to skip waiting in line, by placing their orders on the newly-updated Dunkin' Donuts (DNKN) app and then going directly to the pick-up area in stores.
The company plans to have on-the-go ordering available nationwide sometime this year.
And for customers who don't want to leave their cars for their order, Dunkin' announced Thursday on its earnings call that it has plans to test curbside delivery later this year.
Related: Everything you need to know about Starbucks' new rewards program
Dunkin' started testing the mobile ordering last year in Portland, Maine, and then in Boston in March.
"[Mobile ordering] is one of the most game-changing initiatives in our history," said CEO Nigel Travis, on the call.
The on-the-go ordering will be available in more than 1,650 stores in the New York metro area in mid-May.
Orders can be made up to 24 hours in advance, and customers can save their orders to make any daily runs easier.