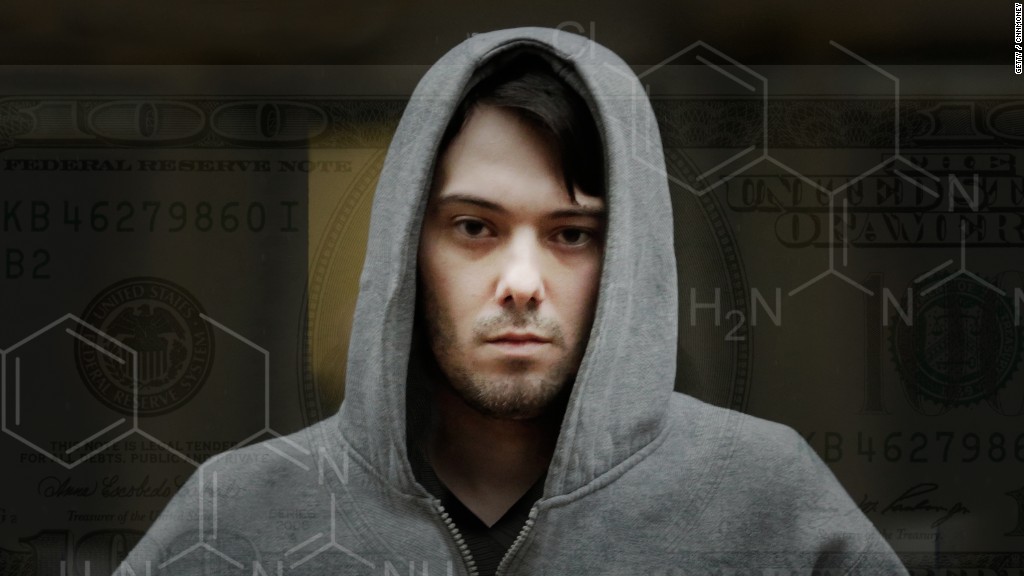 Martin Shkreli, the former pharmaceutical CEO famous for hiking up the price of a life-saving drug, is back in court.
Shkreli is expected to appear in U.S. District Court in Brooklyn on Tuesday to face multiple fraud charges.
Prosecutors have accused Shkreli of fraud, including illegally siphoning money from one of his companies to another to pay off bad market bets made by another of his companies.
His lawyer Ben Brafman declined comment about the court appearance. Tuesday's court appearance will be a fairly routine hearing to propose briefing schedules for pre-trail motions. But Shkreli himself is anything but routine.
Related: Who is Martin Shkreli? A timeline
Shkreli, the former CEO of Turing Pharmaceuticals, achieved infamy last year for jacking up the price of Daraprim, a treatment for cancer and AIDS patients, by 5,000% overnight. The price went from $13.50 a pill to $750.
Shkreli has defended his price hike as a necessary move to maintain profits. But to many he became the smirking face of Wall Street greed. Hillary Clinton accused him of "price gouging, pure and simple" and Donald Trump called him a "spoiled brat."
He was called in to testify before Congress, but he pleaded the Fifth as he rolled his eyes at questions from Congressmen, whom he denounced on Twitter as "imbeciles." Brafman called that "a regrettable choice of words."
He is not on trial for hiking up the price of Daraprim, even though that's his biggest claim to fame.
He is facing charges of illegally transferring funds and also lying to investors about his disastrous finances. They say Shkreli claimed to have assets under management that did not exist.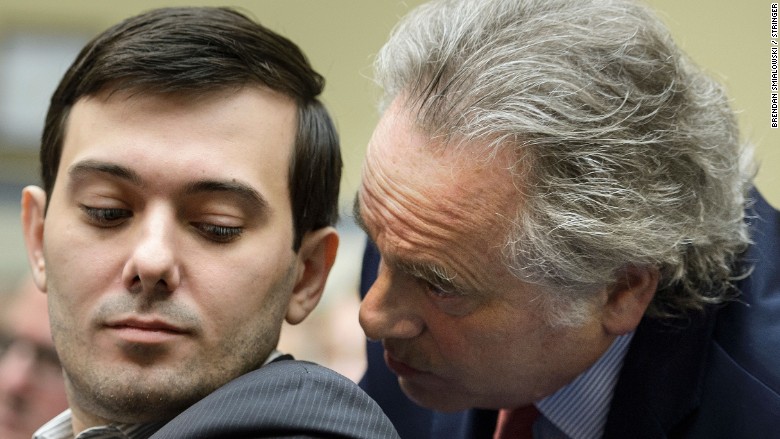 Related: Shkreli offers Kanye West $10 million to be sole owner of new album
According to court documents, Shkreli and his co-defendant Evan Greebel used investor funds from Retrophin (RTRX) to pay more than $7.6 million "through sham consulting agreements" to settle claims with investors from earlier failed hedge funds "even though Retrophin was not responsible for those claims."
Shkreli has embraced his reputation with enthusiasm. He has 115,000 followers on Twitter (TWTR), where he tweets about this cat Trashy, his beloved game chess, his self-referencing rap lyrics, his market observations, Warren Buffett, Bernie Sanders and Wu Tang, from whom he reportedly bought a gold album for $2 million.
Related: Ghostface Killah goes off on Martin Shkreli in 11-minute video
He also live-streams from his New York apartment, where he can be seen strumming his guitar in pajamas. He Periscopes his meanderings in Manhattan, where he recently dipped into the Pfizer (PFE) headquarters in midtown, introduced himself and requested a tour. (He was denied.)
Shkreli doesn't seem worried about potentially going to prison.
"I am confident I will prevail," tweeted Shkreli when he was arrested in December. "The allegations against me are baseless and without merit."