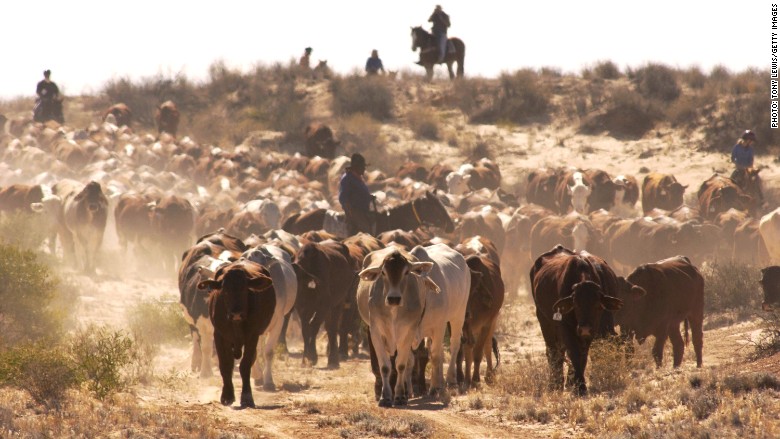 A ranch the size of Ireland is back on the market in Australia.
The Kidman beef company said Tuesday that it is accepting new offers for the massive property after a Chinese company pulled out.
The plan for China's Dakang Australia to take over the ranch was effectively scuttled by the Australian government, which warned last week that the deal was "contrary to the national interest."
Australian Treasurer Scott Morrison said he was worried that selling Kidman's holdings in one huge chunk had made it hard for Australian bidders to compete. Dakang had until Tuesday to respond to the government's concerns.
Kidman argues that breaking up the 120-year-old company will significantly reduce its value.
It's one of Australia's biggest beef producers and owns farm assets spread across more than 100,000 square kilometers of the country's interior. That's an area roughly the size of Kentucky. To inspect the full sweep of properties on the block by air would take about a week.
Kidman had agreed to sell 77,300 square kilometers (30,000 square miles) of its land to Dakang and the Chinese company's Australian partner.
Related: Australia spends $39 billion to compete in Asia's submarine race
The owners had already removed some sensitive parts of their holdings from the deal with the Chinese firm after earlier opposition from the government. That included Anna Creek Station in South Australia, which is close to a weapons testing site.
Dakang declined to comment on Tuesday.
Kidman Managing Director Greg Campbell said it was "important to note" that his company had not received any bids from Australian groups, despite having approached 130 domestic firms as part of the initial sale process.
"Australian parties remain welcome to come forward and express interest in acquiring the business in its entirety," Campbell said.
He said he also welcomed bids from "anywhere around the world." He noted that investment by companies based in the U.S., Chile and New Zealand would not require approval from Australia's Foreign Investment Review Board or its treasurer.
-- Jethro Mullen and Yuli Yang contributed reporting.