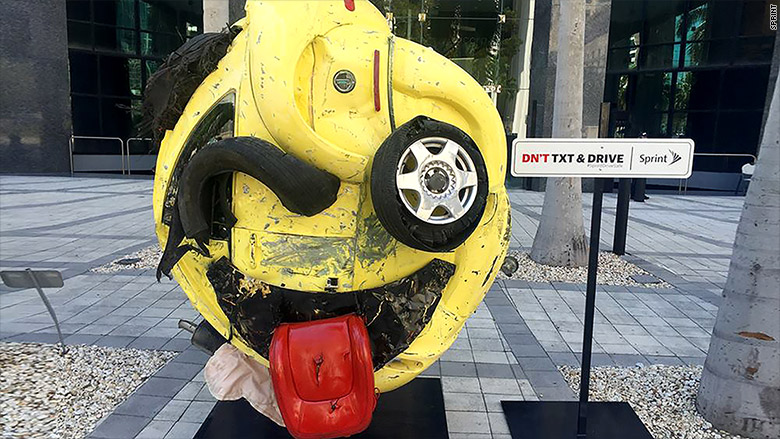 Sprint has unveiled the ultimate emoji as a statement against texting while driving.
"Texting & driving is no laughing matter," reads a sign alongside "The Last Emoji," an imposing yellow sculpture in downtown Miami.
The ad agency Alma, which built the sculpture for Sprint, tweeted "'The Last Emoji' is no joke" with a photo of the demented smiley face with its banged-up tires for eyes and a red car seat for a tongue.
According to Adweek, Sprint and Alma chose Miami as the location for the sculpture, and placed it there April 29, because Florida remains one of the few states that does not prohibit texting while driving as a primary offense. This means that texting drivers can only be issued citations if they've been pulled over for another traffic offense.
People are being invited to take a selfie with "The Last Emoji" and post it with the hashtag #SprintDriveSafe.
Related: New York drivers might get mandatory 'textalyzer' phone
The hazards of texting while driving has gotten a lot of attention lately. April was the national kickoff for Distracted Driving Awareness Month. The National Highway Traffic Safety Administration blames texting while driving as one of the factors in the deaths of 3,129 people in distracted driving crashes in 2014, the most recent year for such statistics.
The Sprint-Alma campaign is the latest to address the dangers of texting while driving. Another prominent PSA is a Werner Herzog documentary from 2013 called "From One Second to the Next." The avant-garde German filmmaker interviewed people crippled by texting drivers, and also drivers who killed people while texting and driving.