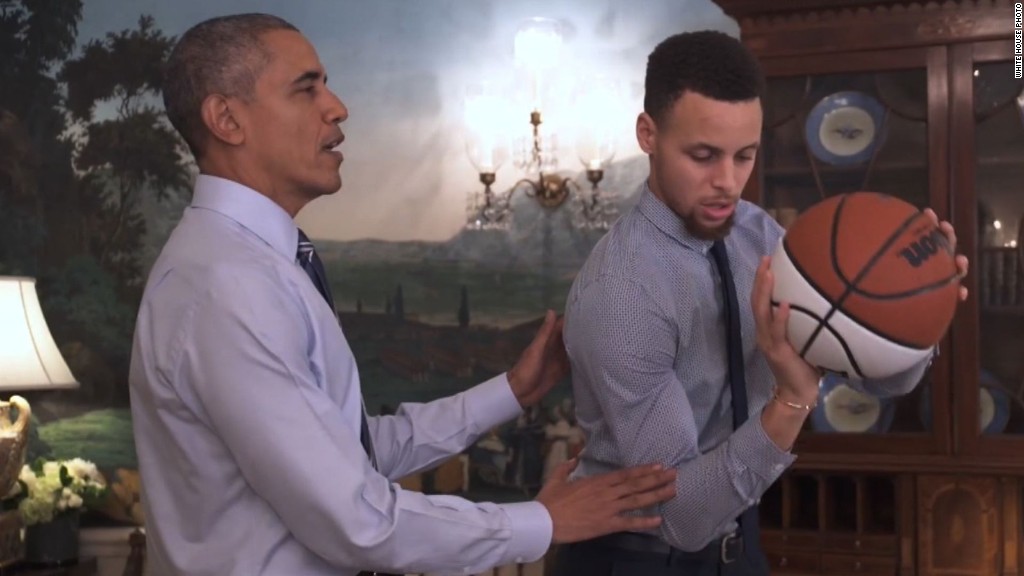 The second round of the NBA playoffs has provided a lot of excitement for fans, even if the league's most exciting player, Stephen Curry, has been reduced to spectator by a knee injury.
CNNMoney's new tool for superfans, Player ROI, will be live during the games -- helping fans gain new insight into a team's chance for victory by measuring how players are performing relative to their salaries. Here are three key story lines to watch this weekend:
1. Will other Golden State players continue pick up injured Curry?
The Warriors have kept rolling even without this year's best player. That's because some of Curry's less-celebrated teammates have stepped up their games -- and boosted their Player ROI rankings.
Shaun Livingston, starting in Curry's place, has averaged 13 points a game and moved up a notch on ROI from Earns his Keep to Good Bargain.
Forward Draymond Green, guard Klay Thompson and center Andrew Bogut have also raised their Player ROI scores from regular season averages. Bench player Ian Clark has seen his Player ROI nearly double.
The Warriors are up 2-0 on the Portland Trail Blazers and they might be able to wrap up the series by Sunday. Curry is still nursing his injured right knee.
Check out CNNMoney's Player ROI scores
2. Can anyone in the east stop the Cavaliers?
Cleveland has yet to lose a playoff game and they've dominated the Atlanta Hawks in the first two games of the second round. They've been led by Kyrie Irving, who has seen his ROI more than double since the regular season, and LeBron James, who is averaging 25 points.
James' Player ROI is dragged down by his massive salary. But the CNNMoney tool shows that J.R. Smith has been one of the hidden keys to the team: His 15 points a game have turned him into a Good Bargain.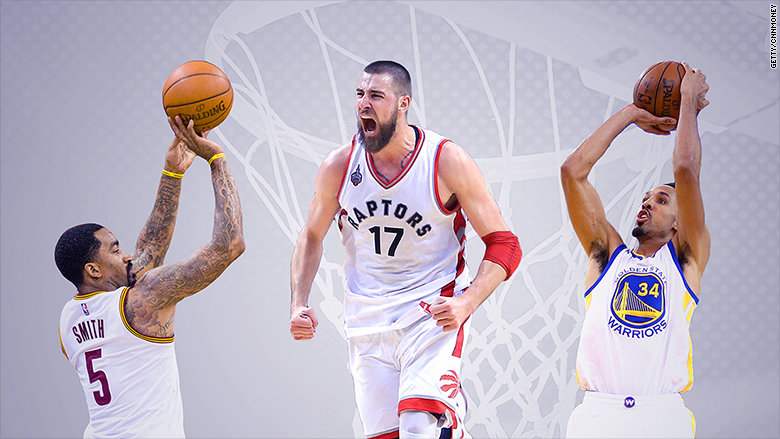 3. Who will emerge from closely fought Heat-Raptors series?
Hassan Whiteside continues to be a Player ROI star in the playoffs, as he was during the regular season. He remains on the top of CNNMoney's rankings and provides his team the Best Bang for the Buck. His 17 rebounds were one of the keys to the team's overtime win in game 1 of the series.
But Toronto came back with its own overtime win in game 2. The Raptors were led by Jonas Valanciunas, who scored 11 of his 15 points in the fourth quarter and OT. Combined with his 12 rebounds, that gave Valanciunas one of the best single-game Player ROI scores of this year's playoffs. And it enabled his team to even up the series.
With two such evenly matched teams it's tough to predict who will advance to the conference finals.