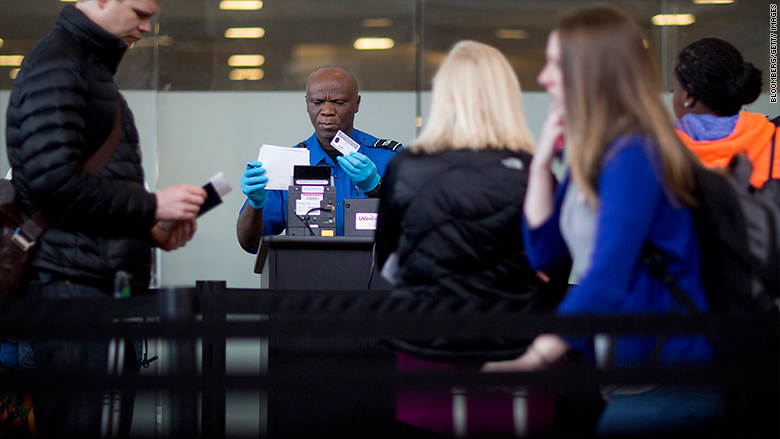 Help is on the way to combat marathon security lines at airports across the country.
The TSA received final Congressional approval Wednesday for its request to re-allocate funds to increase security officers at airport security checkpoints.
Airports have been experiencing record passenger numbers recently, creating long wait times to get through security.
Fliers have complained of wait times pushing an hour to get to their gates.
Related: Why security lines are expected to be so bad this summer
The head of the Department of Homeland Security, which includes the TSA, asked Congress last week to be able to shift $34 million to increase the number of officers at airports.
Here's how the TSA will spend the money: Around $26 million would pay for additional overtime and part-time hours, and around $8 million would go toward the hiring of 768 officers this month. The TSA had originally planned to hire the new workers by September.
The extra staff is coming just in time.
The summer months bring an influx of vacationers, who tend to bog down lines even more since they tend not fly often and aren't as familiar with the screening procedures.
Related: Will getting rid of bag fees reduced airport security lines?
But the TSA has said that additional screeners won't necessarily reduce wait times since many checkpoints are already operating at full capacity.
On Tuesday, two lawmakers asked airlines to temporarily halt charging checked-bag fees to help keep the lines moving this summer.
Airlines are also frustrated over the long lines that have caused missed and delayed flights.
American Airlines said 6,800 of its passengers missed their flights during a busy Spring Break week in March because they were stuck in security lines.
Related: Airlines want you to share your airport security line horror stories
In an effort to help keep lines moving, American (AAL) has hired contract workers to help with non-screening tasks, according to company spokesperson Ross Feinstein.
The company has placed workers around security at its hubs, including New York, Philadelphia, Miami and Chicago, to instruct fliers on how to prepare for the screening and replace bins to help keep lines moving.
"We are trying to assist, but it's not a final solution," said Feinstein.
Airlines have also asked fliers stuck in epic security lines to post an image on social media with the hashtag: #iHatetheWait
Airports have complained to TSA over the lack of adequate security staff, and some have threatened to hire private screeners.
The Port Authority of New York and New Jersey, which operates three major airports, sent a letter to the head of TSA last week that requested "sufficient staffing" and detailed that "the patience of the flying public has reached a breaking point."