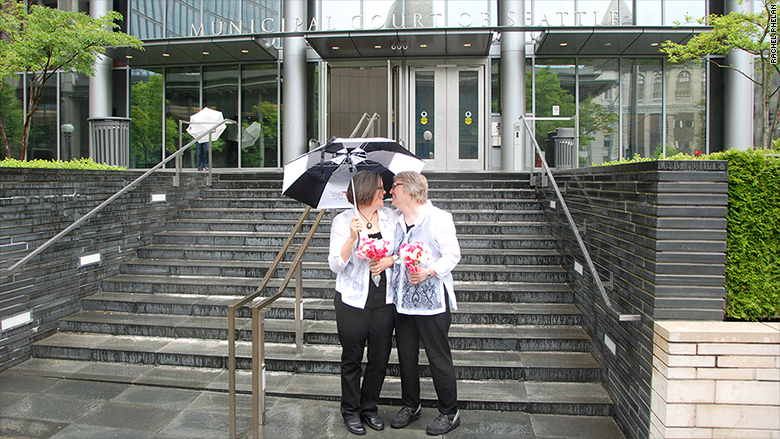 It's been nearly three years since a Supreme Court decision granted same-sex married couples the same federal benefits as others.
But implementing that change didn't happen overnight. Kathy Phelan spent the past 22 months waiting for her spousal Social Security benefits.
After several trips to her local Social Security office, multiple calls and endless paperwork that now fills a two-inch binder, Phelan finally received a lump sum for the 22 monthly checks the agency determined she had been due but wasn't paid.
"It's widow's benefits and that will never be good news to my heart. My pocket book, however, is breathing a great sigh of relief and thanks," Phelan told CNNMoney.
She and her wife, Kaye, could finally legally marry in 2013 after being together for 34 years. But Kaye got sick soon after and lost her battle with cancer within a year.
"Kaye would have been more practical and just celebrated that we got the benefits she had worked for. But oddly, I feel very sad. This is just one more thing that I have experienced in life without her by my side," Phelan said.
Related: Same-sex marriage is legal. Here's what it means for couples
Social Security grants a "survivor benefit" when a higher-earning spouse dies first. That means that Phelan, who worked as a teacher and artist, can collect a Social Security check equal to the amount Kaye, a geriatric nurse practitioner and college professor, would have earned: $2,160 a month.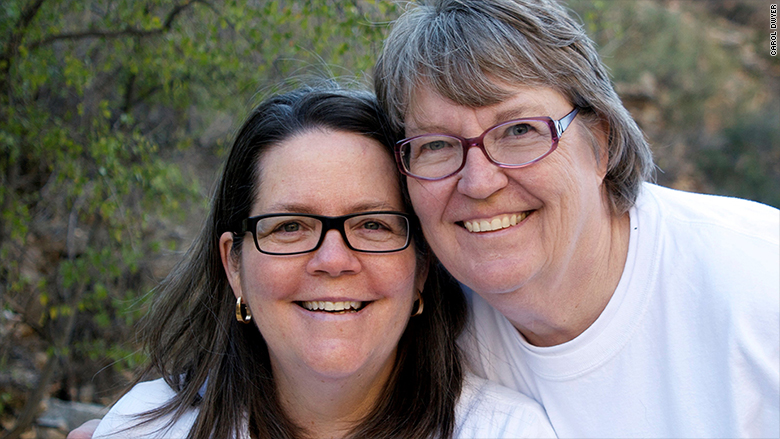 First, Phelan was flat out rejected when she filed for her benefit. Although the 2013 Supreme Court decision to strike down the Defense of Marriage Act (DOMA) granted federal benefits to all married couples, it still left some in the lurch if they were married in a different state than where they lived.
Kathy and Kaye married legally in Washington state in 2013, but lived in Arizona. Since Same-sex marriage wasn't recognized there until five months after Kaye died, Social Security did not treat Phelan as her legal spouse.
Related: The best time to start taking Social Security
Good news came last year when the Supreme Court ruled again on the issue, this time ending the ban on same-sex marriage in the remaining 13 states that still didn't recognize it. Now couples would be treated as legally married no matter when or in which state they held the ceremony. And in August, the Department of Justice clarified that benefits would be granted retroactively back to the date a same-sex couple first filed for the benefit.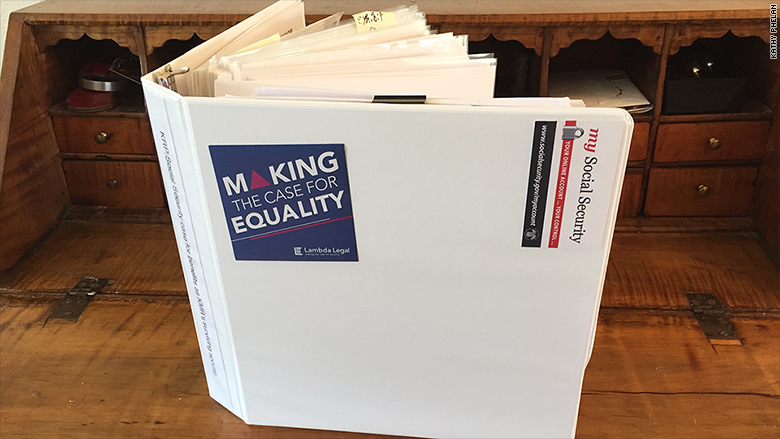 Still, Phelan waited. The agency said it had to work with the DOJ to develop new instructions helping its workers apply the court's decision, but that it was attempting to make all decisions promptly.
"There were some very kind people at the local Social Security office that really advocated for me," Phelan said.
But they didn't always know exactly how to help her. In fact, it was hard to find anyone who could help her through the process, since few had been through it before. She reached out to dozens of lawyers who didn't know how to advise her.
Eventually she found someone at Lambda Legal, a non-profit that advocates for LGBT rights, who did understand the details of her case and could lend a hand on how to structure appeal letters and to offer some encouraging words.
Related: Transgender policies across the country
While it was a frustrating process, Phelan said she can't imagine how much more difficult it would have been if others didn't help pave the way for the legalization of same-sex marriage.
"I realize my little victory rests on the shoulders of many," Phelan said.
She hopes that her success will make the process a little bit easier for anyone else stuck in limbo like she was. Her advice? Document everything by printing out every email, saving every letter, and writing down the name of everyone you talked to and what they said. And be persistent. Meanwhile, the Social Security Administration has published new information and instructions for same-sex couples.