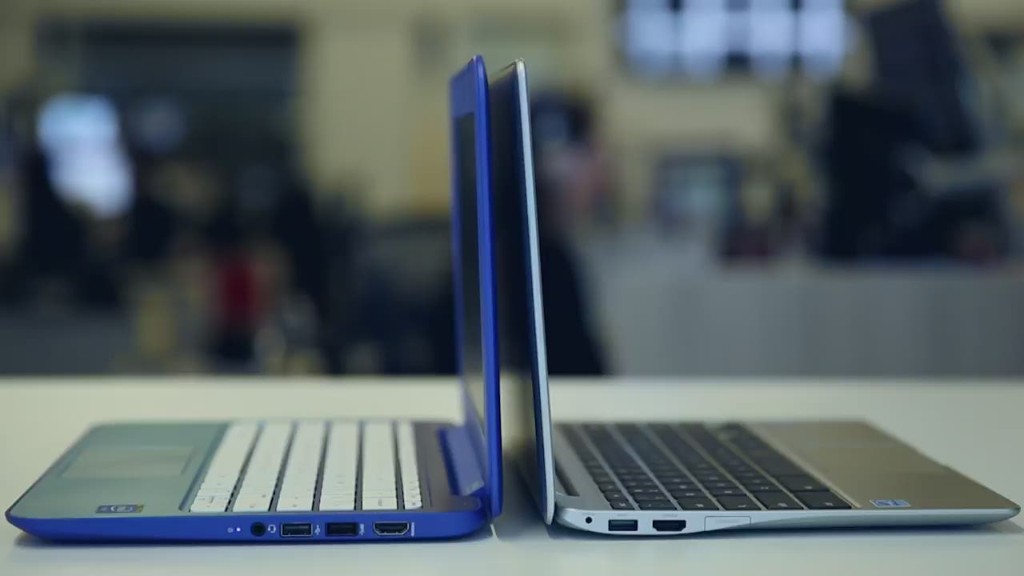 The company behind two of the most highly rated smartphones (big and small), the leading smart thermostat, a super high-end laptop, a 2-in-1 tablet, a Wi-Fi camera, streaming audio and video players, a sexy router and a smart smoke detector ... is Google?
It's strange but true. Google (GOOGL) is synonymous with search and Internet apps, but it has quietly built itself a very respectable gadget business. Google has come a long way since its first Nexus smartphone launched in 2010.
The Nest is a top-seller. The Chromecast is a big hit. The Nexus 6P is one of the best-reviewed smartphones ever. And Chromebooks are quickly becoming the standard education laptops for K-12 students.
Google appears unsatisfied, however.
Its portfolio of gizmos is expected to expand at the Google I/O developers conference next week. Google is rumored to be unveiling two brand new gadgets at I/O: A virtual reality headset and an Amazon Echo competitor.
Google's new virtual reality gizmo is expected to be a standalone gadget, running Android (no smartphone required).
VR isn't new to Google, though its current offering is kind of a joke. "Cardboard" is its $15 VR viewer that is literally made out of cardboard, Velcro and plastic lenses. It doesn't do anything on its own: You have to stick your smartphone inside a cardboard flap.
Google's new Echo competitor is expected to be a tall Internet-connected speaker that can play music, read your emails out loud, tell you the weather and do all the tasks that virtual assistants do. Like Amazon's Echo, it will respond to voice commands ("OK Google," not "Alexa"), but it will have Google's giant search engine to pull information from.
Related: Google launches time-saving keyboard for iPhones
Why the big gadget push?
Google thrives on data. Its mission, after all, is to "organize the world's information and make it universally accessible and useful."
There's a tremendous amount of information that can be learned from Google's gadgets: how you use energy, connect to the Internet, and what media you stream. By better understanding its customers' behaviors, it can offer ads and services that are tailored to them.
Plus, VR and the Internet of Things are the buzzy, potentially groundbreaking ways we might interact with the Internet in the future. Google wants to ensure it isn't left out. If Amazon, Apple, Microsoft, Facebook or any other competitor beats Google to the punch, Google could lose out on a massive amount of important information about their customers.
And if Google doesn't control the gadgets that you use, there's no guarantee you'll use its services. For example, Android promotes Gmail, YouTube, Google search and Google Maps at launch (something the company is currently being investigated for by the European Union).
By making gizmos and devices that its customers want to use, Google can continue to lock people into its services and searches, collecting their data and serving up more relevant ads.