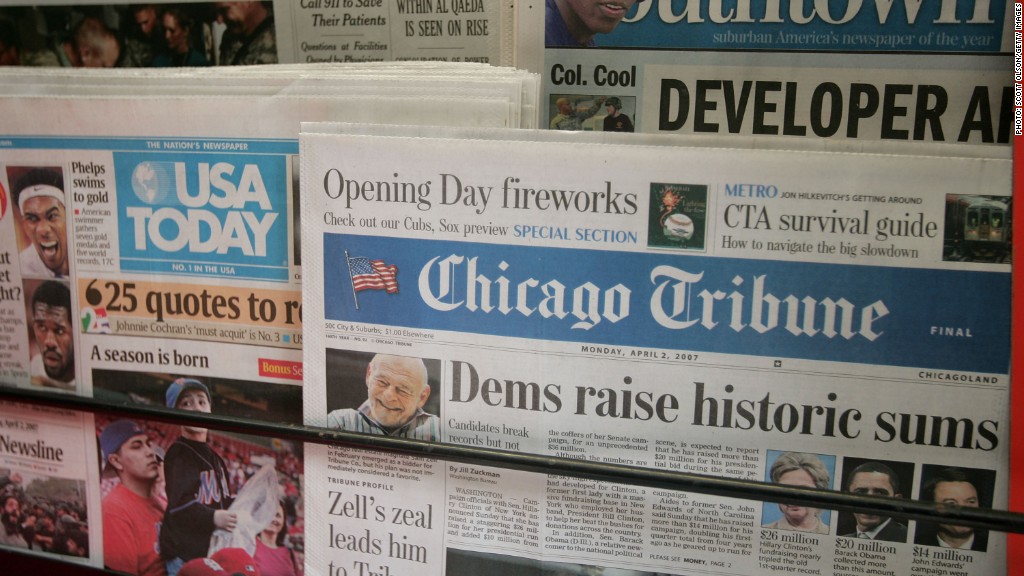 Gannett upped its bid for Tribune Publishing by about $50 million on Monday, after the Los Angeles Times owner said Gannett's previous offer undervalued the company.
Shares of Tribune Publishing (TPUB) rose sharply, soaring 24% in premarket trading.
Gannett's offer now stands at $864 million, about double the company's market value on the day before the initial offer was made public. The previous bid was worth around $815 million.
Tribune had rejected that offer, saying it "understates the company's true value" and "is not in the best interests of its shareholders."
Instead, Tribune's new CEO, Justin Dearborn, said that the company is doubling down on its new strategy dubbed "Tronc." The Tronc transformation would involve pooling resources from its various publications.
Gannett (GCI), which owns USA Today, says it hopes increased offer will encourage Tribune to reconsider and sell itself instead. Gannett said it believes its USA Today network offers a much better opportunity to revitalize Tribune than Tronc would.
"Our increased offer demonstrates our commitment to engaging in serious and meaningful negotiations with the Tribune Board," said John Jeffry Louis, Gannett's chairman, in a prepared statement. "The time to act is now."
Louis said Tribune shareholders overwhelmingly support the deal, and he encouraged them to "send a clear message to their board to engage immediately with Gannett."
Related: Can the L.A. Times survive Gannett?
The Tribune said it has received an offer, but it has not yet responded to the bid.
To show that it means business, Gannett is asking Tribune shareholders to withhold their votes for Tribune's board of directors at the company's upcoming annual meeting.
Gannett believes that there is some serious hidden value in Tribune that could be unlocked by combining the two companies. After reviewing Tribune's most recent financial statements that were filed earlier this month, Gannett said it found some new insights into Tribune's debt and pension liabilities and it has even greater confidence in a merger's ability to "yield additional operational improvements."
Robert Dickey, Gannett's CEO, said that Tribune would be ill-advised to reject the new, better offer.
"By not engaging constructively with Gannett and continuing to pursue an unproven strategy based on its Tronc platform, we believe Tribune is jeopardizing its shareholders' investment and disregarding their best interests," Dickey said in a statement.
Dickey sent Dearborn a letter on Monday morning, urging him and the board to accept Gannett's "mutually beneficial, highly compelling transaction."