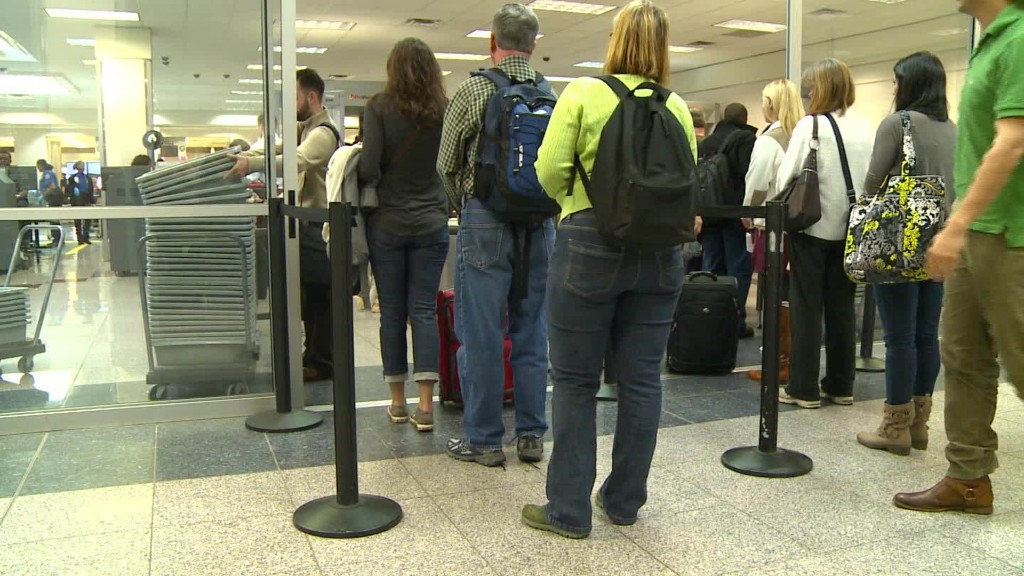 American Airlines is taking matters into its own hands to help reduce long airport security lines.
The airline is planning to spend $4 million to hire contract workers at its hubs and other cities to help Transportation Security Administration agents with non-screening tasks, like giving out instructions to fliers, and returning bins to the front of the screening lines.
American says it already spends $17 million a year on resources to help shorten lines.
In a letter sent to employees Wednesday, American's Chief Operating Officer Robert Isom said the lines "evoke frustration from all of us."
Related: Who's to blame for the long airport security lines?
Due to low airfare and a recovering economy, many airports have been experiencing a flood of passengers. That has put a strain on TSA security checkpoints and caused major congestion.
Many travelers have faced hour-plus wait times, and thousands of people have missed their flights due to the long lines.
The TSA has unveiled a 10-point plant to help reduce the wait times, including the hiring of 768 new screeners by mid-June and bringing in more canine teams. Bomb-sniffing dogs increase the number of fliers who get expedited screening.
Isom called the TSA's moves "a decent start" but that they aren't enough.
He also noted that the airline is considering ways to fund more canine teams.
Related: What to expect this summer when flying
"The only viable way to fix these long lines is for TSA to increase their staffing at checkpoints throughout the country."
The Dallas-based airline also plans to help increase enrollment in TSA Precheck, the agency's expedited screening option, through marketing campaigns.
On Sunday, more than 400 American Airlines (AAL) passengers at Chicago's O'Hare airport missed their flight because of long security lines. Some, who had missed the last flight of the day, stayed at the airport overnight.
On Tuesday, O'Hare and Midway airports recommended that travelers arrive three hours ahead of their departure time because of long security wait times.
Since mid-February, around 4,500 American Airlines customers have missed their flight from O'Hare because they were stuck in security lines.