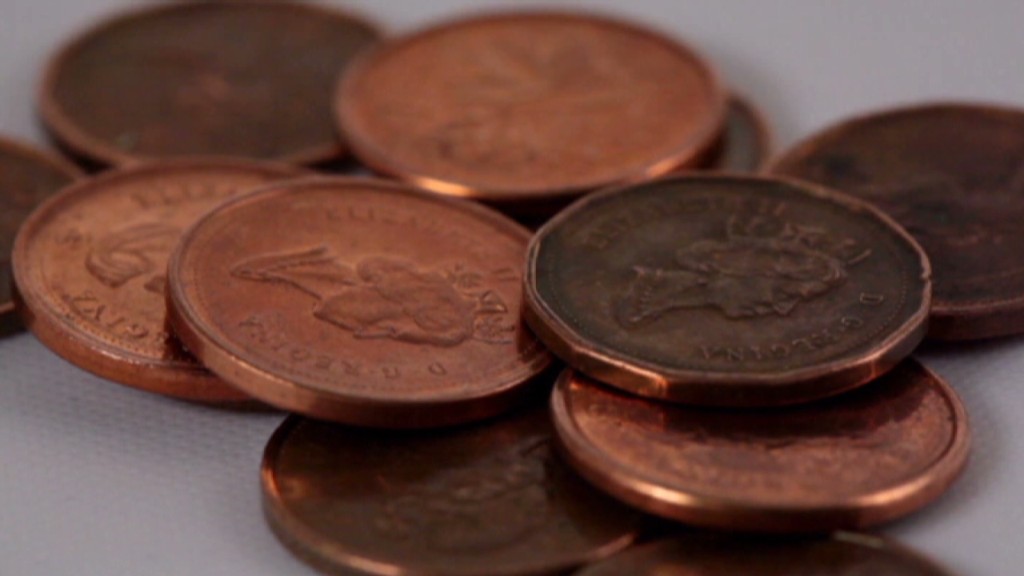 Pennies, America's least loved coin, just got little harder to get rid of.
TD Bank (TD) is getting rid of its Penny Arcade coin counting machines following questions about their accuracy and apparent waning interest by customers.
The bank was the subject of both a New York lawsuit and a report on NBC, which found the machines short changed multiple deposits of $300 worth of coins by as little as 5 cents and as much as $43.10.
"Offering free coin-counting to our customers has been a long-standing service at TD," said Michael Rhodes, the head of TD's consumer banking. "However, recent accounts regarding the performance of our Penny machines have led us to reassess this offering. We have determined that it is difficult to ensure a consistently great experience for our customers."
Related: Debate rages over penny's fate
TD said it suspended using the Penny Arcade machines at its 1,300 branches in April and will now remove the machines.
The bank also said the usage of its coin-counting machines has declined steadily over the past few years. It counted about 29 billion coins a year, according to a recent court filing.
The Penny Arcade was free for TD customers, but non-customers paid an 8% fee. The service had been free to everyone until 2010.
In April, a New York man brought a class action lawsuit against the bank, alleging that he was short changed by $1.51 when putting $57 worth of coins into the Penny Arcade machines. That case is now in federal court.
Related: TD Bank is killing my favorite freebie
The bank, which advertises itself as "America's most convenient bank," will still accept pre-rolled coins from customers at no charge. And other perks it offers, like free lollipops and dog biscuits, and walking customers to their cars with an umbrella when it's raining, remain in place, said spokeswoman Judy Schmidt.
TD's protocol called for daily testing of every Penny Arcade machine. Like any machine, they need routine maintenance and go on the fritz sometimes.
There are roughly 240 billion pennies in the economy, about twice as many as all other coins combined. But by some estimates, two-thirds of them are not in circulation -- stashed away in drawers and jars. The federal government minted 16 billion coins last year.