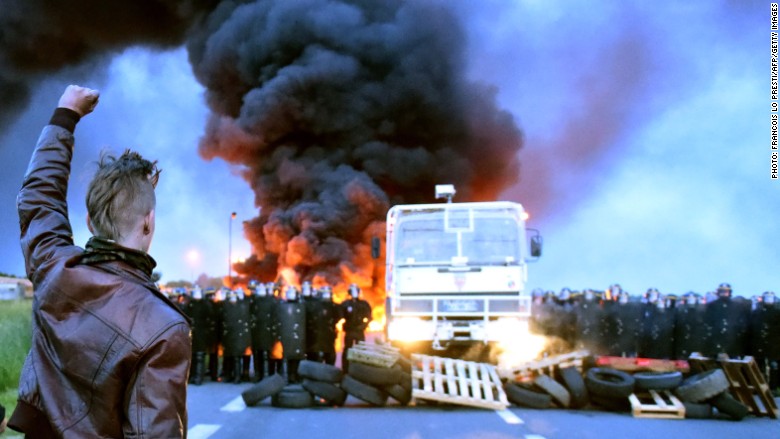 Gas stations across France are running out of fuel.
Workers protesting against new labor laws imposed by the French government have gone on strike at all eight of the country's oil refineries.
Three refineries have been forced to halt operations, and the government has made use of its emergency reserves of fuel for the first time in six years. One in three gas stations is short of fuel or completely dry, according to several reports in French media.
The new laws make it easier for employers to fire workers and reduce overtime pay. The government used special powers earlier this month to bypass the French parliament to pass the legislation because it feared the measures would be defeated.
Labor unions are demanding the government withdraws the changes, and are threatening even more disruption.
Police clashed with protesters in the early hours of Wednesday as they tried to break a blockade of the French port of Marseille. Workers in some of the country's power plants have said they might also join the strike.
Related: France may give workers right to ignore emails at home
The strikes are due to last until Friday, but the CGT, France's biggest labor union, said they could be extended if the government doesn't change its stance. And even if the blockades end, shortages are likely to continue for several days while refinery operations are restarted.
The dispute comes at a difficult time for France. Tourism has slumped following deadly terrorist attacks in Paris last year, and the economy is expected to grow by just 1% this year. The country is preparing to host the European soccer championship, which kicks off on June 10 in cities across France.
The blockades are already scaring big oil companies. Total (TOT), which operates five of the eight refineries, said it might revise its investment plans in France following the blockade.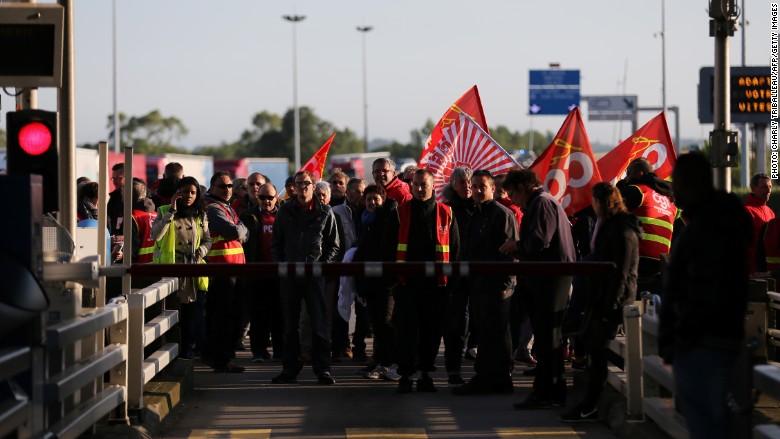 But there's no danger of France running out of petrol and diesel anytime soon. The French government said it still has 115 days of consumption in its fuel reserve.
-- CNN's Anais Furtade and Armelle De Oliveira contributed to this article.