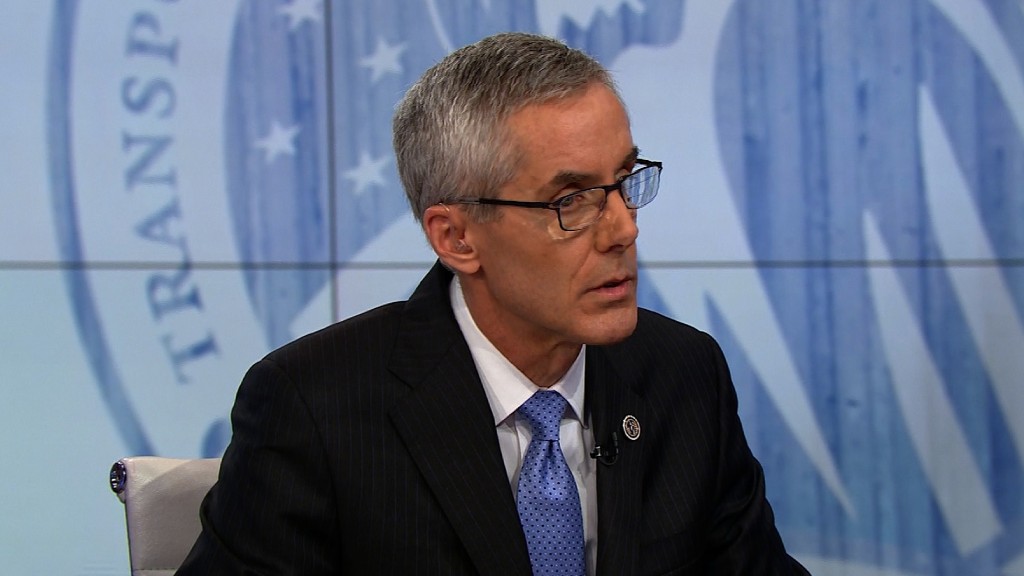 There could be a light at the end of those seemingly never-ending airport security lines.
It's been less than two weeks since the head of Homeland Security announced a plan to reduce the marathon wait times at airports across the country, and some airports are already seeing some relief.
Last week, Chicago's two major airports were recommending travelers arrive three hours ahead of their domestic flight times to get through the security checkpoints.
This week, there's an average wait time of 15 minutes for security lines at O'Hare, according to American Airlines (AAL) spokeswoman Leslie Scott in Chicago.
But we're not out of the woods yet.
The head of the TSA is warning that despite some improvements, travelers should still arrive a couple of hours ahead of their flight this Memorial Day weekend.
"We've done a tremendous amount to mitigate it, I think people will see large volumes at big airports because this is a record travel volume year," Peter Neffenger told CNN's Alisyn Camerota Thursday morning.
The TSA's plan included hiring 768 TSA workers by mid-June and adding more canine teams at the country's busiest airports. An explosive-sniffing dog can typically screen 1,000 passengers a day, according to the agency.
Related: Could this solve TSA's security line problems?
But the TSA isn't the only one taking action to help speed up lines. Airlines and airports have also launched their own initiatives.
They've been spending millions to hire contractors to instruct fliers about the security process and help with other non-screening tasks at checkpoints.
Last week, American announced it will spend $4 million to hire outside contractors. Delta has made a similar investment, and Seattle-Tacoma International Airport also hired 100 temporary customer service workers to help reduce lines.
And the combination of more screeners, canines and line management help seems to be alleviating some of the checkpoint congestion.
Related: The TSA is hiring: Here's what you need to know
The 15-minute average wait time at O'Hare is a far cry from the messy weekend the airport recently experienced.
On May 15, 450 American Airlines' passengers missed their flights at the airport because they were stuck in a security line. The airline also delayed 30 flights that day because of the long lines.
Last weekend, additional TSA canines and screeners were sent to Chicago's two airports, and so far, the resources seem to be helping.
"We are definitely optimistic," said Scott. "Our focus now is making sure the fixes are long term and that we maintain the appropriate levels of staffing and canine teams. It's only going to get busier and we need those resources to stay in Chicago."
On Monday, contractors started working at Seattle's airport to assist the TSA with non-screening tasks. The move has allowed the TSA to open up more lanes, helping the lines move faster. A spokesman for the airport said the airport's peak wait time has been reduced by a third.
At Hartsfield-Jackson Atlanta International Airport, which is the busiest airport in the U.S., wait times have also dropped in the last week.
The airport recently received more TSA workers and canine teams, according to a spokesperson, and added contractors to work security exits to help avoid bottlenecks.
One of the airport's security checkpoints had been closed for a few weeks to upgrade two lanes with a new screening technology. The lanes re-opened on Tuesday, which is also expected to help keep lines moving.
But there's still a major question looming: Will the relief last?
The summer travel season typically heats up in mid-June, bringing in a flood of leisure travelers, who could be a strain on the already-congested checkpoints.