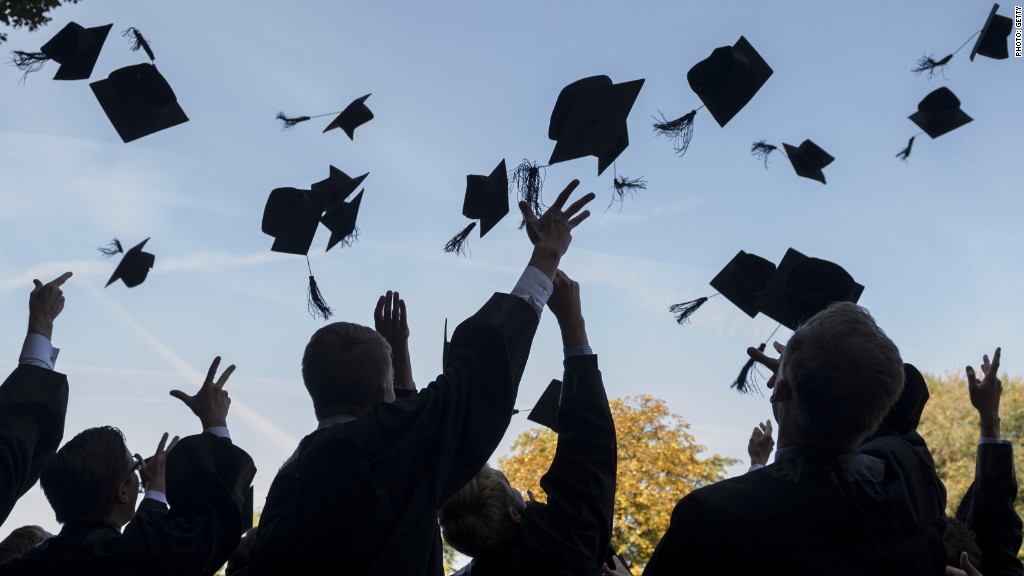 What's the best way to set up our current/future children so that they don't incur the same amount of debt and college expenses as us Millennials currently have? With rising education expenses and tuition increases, would it be smart to start saving before even having children? --Mathew Simonsen, 30, Minneapolis
Nearly 70% of college grads will leave school with some student debt, according to The Institute for College Access and Success. They graduated with an average debt load of nearly $29,000 in 2014, so it's not surprising that Millennials are looking to get a head start on saving for their kids' college tuition.
"It's very much on their mind: how much they had to pay for their education and their burden of student loan bills," said Jared Snider, senior wealth advisor at Exencial Wealth Advisors in Oklahoma City. "They don't want their kids to go through that."
And with college tuition rising faster than inflation, parents are staring down the barrel of a pretty big savings target.
So the earlier parents -- or soon-to-be parents -- can start saving, the better.
Related: Saddled with student debt, Millennials want to foot the bill for their kids
"I joke that I should hang out in the labor and delivery room to get people to start earlier," said Beth Walker, a certified college planning specialist at The Wealth Consulting Group.
But with all the demands on Millennials' budgets, like saving for a home, paying off their own student loans, funding retirement and creating an emergency savings account, prioritizing can be difficult.
To help create balance, Walker advised Millennials aim to save 20% of their earned income, with 10% earmarked for retirement and the other 10% going toward future goals like buying a house and having kids.
While discretionary spending like eating out can be curbed to help bulk up savings, retirement should not get put on the back burner, the experts warned.
After all, there are no retirement loans to help cover the cost of your golden years.
"Saving for college and retirement are parallel savings time lines, not sequential," said Walker. "Parents unknowingly say, 'I will fund college and then focus on retirement,' but they need to be doing both at the same time."
There are different methods to saving for college, which is why the experts said it's important for parents to scrutinize their budget to know how much they can afford to save and identify their investment risk tolerance.
Related: Should I save for retirement or pay down my student loans faster?
Snider recommended parents use a combination of a tax-advantaged investment plan, like a 529 plan and taxable investments, like a brokerage account.
A 529 college savings plan is a state-sponsored investment account that offers some serious tax benefits. The earnings grow tax free and qualified withdrawals are also not taxed by the federal government.
Many states offer their plans to non-residents, so it helps to shop around and compare. For instance, some plans have a lower initial deposit requirement and in some states contributions are tax deductible for residents.
If parents can afford to also save outside a 529 plan, Snider suggested investing the money in a diversified portfolio that is earmarked for college.
Investing in stocks, bonds, mutual funds and ETFs, can offer parents some flexibility to use the funds in case of emergency without getting hit with a penalty.
The time horizon for how long until Junior enrolls in college will play a role in investment selection and determining asset allocation, according to Snider.
Related: These bad money habits are keeping you from getting rich
If college is 10 or more years down the road, Snider said parents can have higher exposure to growth securities, like stocks to help grow their savings.
And as the child gets older and college is less than five years away, he recommended parents reduce their exposure to stocks and add less risky fixed-income investments like bonds.
Snider also recommended that parents keep a portion of their education portfolio in stocks when the kids are working toward their diploma to help maintain some growth opportunity.
"Often, college is a four year or more endeavor. That is a long time to have an entire balance sitting in low-returning bonds."
No matter the investment approach, it's important that parents start early. Yes, having a baby can put a strain on a budget, but waiting until life calms down to start saving could hurt in the long run.
"Between braces, club soccer and school-related activities, there's always something," said Walker.
Hey Millennials: What's your most pressing money question? Ask us and you could be featured in an upcoming story on CNNMoney. Please include your name, age, and city.