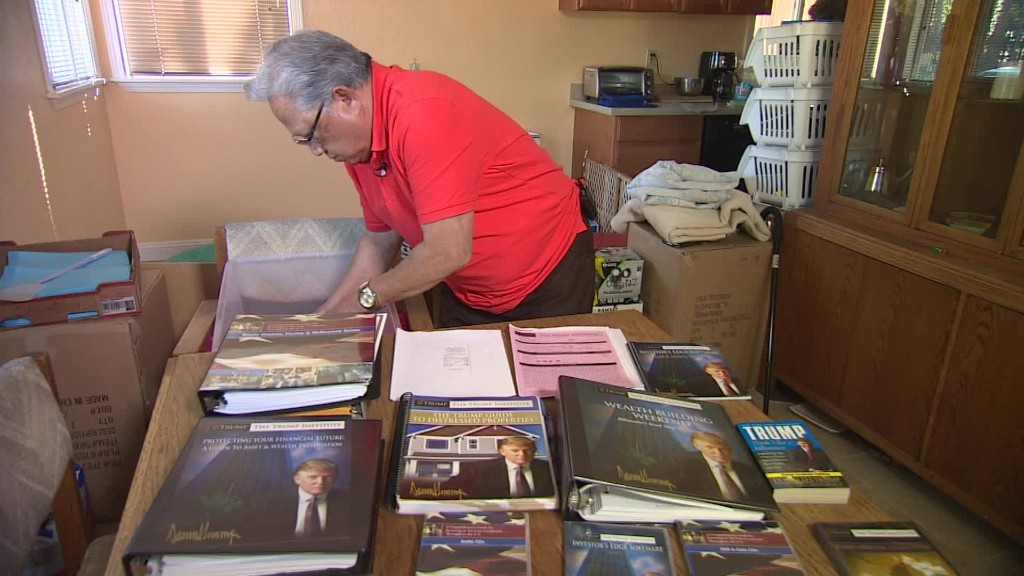 The ads for his university were classic Donald Trump -- Trump stares into the camera and proclaims:
"We're going to have professors and adjunct professors that are absolutely terrific people, terrific brains, successful. We are going to have the best of the best... and these are people that are handpicked by me."
But a CNN investigation finds that Trump and others involved in the school admitted under oath that some promises made to students just didn't happen.
In Trump's own deposition this past December, Trump failed to recognize the name of a single presenter or teacher at his real estate seminars. He also confirmed he had nothing to do with the selection process of instructors who taught at the school's events or mentors for the school's "Gold Elite" programs.
A review of Trump University presenters and so-called real estate experts found many with questionable credentials and inflated resumes. Court documents show background-checks conducted during the hiring process could not determine whether some instructors even graduated high school.
Trump University brought in an estimated $40 million from up to 10,000 enrollees between 2005 and 2010, when the New York Department of Education said it was no longer allowed to call itself a university. The company changed its name to the Trump Entrepreneur Initiative and shut down in 2011.
As Trump looks ahead to the general election, criticisms and legal battles over his unlicensed university continue to chase him on the campaign trail. A ruling this month means one lawsuit filed against Trump University in California -- which could potentially have had him take the stand as he was running for president -- now won't go to trial until November 28, after the election. Two others remain pending, but all three suits argue the program defrauded students with marketing schemes built on empty promises.
As the lawsuits move forward, so do the depositions. And it is in deposition, under oath, where the truth has emerged behind Trump's university, his lack of involvement in the school's curriculum and his lack of knowledge about who was hired to teach what was advertised as "Trump's Secrets" to real estate success.
The depositions were given by Trump and his former president of Trump University, businessman Michael Sexton. Sexton came up with the idea in 2004 to put Donald Trump's brand on a real estate education seminar that was initially just online.
In a deposition for a lawsuit filed in New York, Sexton describes how he took the idea to Donald Trump through an intermediary and how Trump became so impressed with the business model, the billionaire invested $3 million and took a controlling interest. Sexton would be paid $250,000 a year to run the program, along with a cut of the profits.
New York's Attorney General Eric Schneiderman, who is leading one of three lawsuits against Donald Trump and the defunct university, told CNN that Trump University was a "scam."
Schneiderman points to promotional videos made by Donald Trump in which Trump promises an education taught by his personal handpicked experts to teach Trump's exclusive methods for making money in real estate. Schneiderman insists Trump and Sexton contradict those claims when they are under oath.
"There wasn't one part of his pitch that was actually true," Schneiderman told CNN.
In a recently released deposition taken on July 25, 2012, Sexton, stated under oath: "None of our instructors at the live events were handpicked by Donald Trump."
Asked by attorneys if anyone at the Trump Organization was involved in the curriculum for the three-day real estate workshops, Sexton answered, "No."
Sexton confirmed Trump's lack of involvement in producing or reviewing the material used in the workshops. And on the specific promise of teaching Donald Trump's "proven secrets" in real estate, Sexton testified that the course taught strategies on how to invest in foreclosures, which Trump has used in the past.
"Mr. Trump has made investments with foreclosures. We cover investing with foreclosures," Sexton said.
Sexton testified Trump did have direct involvement in one part of the program -- advertising.
"He personally approved all the ads that were in newspapers," Sexton testified.
Sexton has not responded to CNN's multiple requests for comment.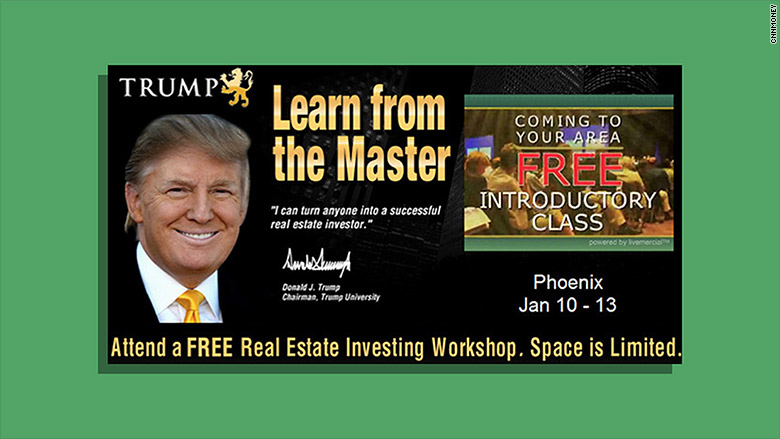 Though he did not know a single instructor when a list of names was read to him during the deposition, Trump said in December he saw the resumes of some instructors but did not review them and instead left the hiring decisions to Sexton.
And in a telling exchange about Trump's lack of involvement with the school, Trump, as a witness in the case, admitted he knew little about the background and qualifications of Sexton himself.
Attorney: "And Mr. Sexton, he had no background in terms of buying and selling real estate for profit, did he?"
Trump: "He was more of an educational person"
Records show Michael Sexton, the president of Trump University, has spent almost his entire career in business and consulting, not education.
Trump's attorney Alan Garten said the "cherry picked" portions of depositions do not tell the entire story behind Trump's involvement in the program. In an email to CNN, Garten writes in part: "The vast majority of Trump University instructors were real estate experts," and added, "Mr. Trump not only met with the instructors and professors who designed the course, but also contributed to the curriculum."
More than 25% of the program's participants received refunds and more tried to get their money back but were denied, according to the firm leading one of the class-action suits against the university.
Garten gave CNN 14 affidavits written by students praising the program that he says provides evidence against the lawsuit's claims.
A student who wrote one of these affidavits told CNN that Trump University enabled him to cut better deals and manage bigger projects in commercial real estate.
"It opened my mind and put my knowledge up to another level," said Jesus Castillo, a real estate investor based in San Juan, Puerto Rico who supports Trump for president.
But records show Castillo filed for both Chapter 11 and Chapter 7 bankruptcy in 2010 and 2011 after enrolling in the program, respectively. Castillo attributes this to challenges related to the economic recession.
Another student, Charles Lee of North Arlington, New Jersey, said the Trump University courses he took in 2009 provided him with the know-how to start a business flipping residential properties, which he still runs today.
Yet New York Attorney General Schneiderman counters that even if some former students don't recognize the fraud, Trump University scammed all paying participants.
"If you sell someone a Volkswagen and tell them it's a Rolls Royce, it really doesn't matter if some people like their Volkswagen. It's still fraud," Schneiderman said.
George Hanus of Fremont, California, says he personally experienced that fraud.
Hanus says he progressively paid for stages of Trump University courses in 2008, believing each time that the next stage would offer Trump's secrets to success. But he says that information never materialized and his instructors did not follow through on their commitments.
"I just felt really duped," Hanus said.
Retired Navy veteran Felicisimo Limon loved Trump and believed the billionaire wanted him to achieve success, but after charging $26,000 to his credit card to enroll himself and his wife in the program in 2008, he now feels differently.
Limon describes the course material as useless and devoid of any advanced real estate techniques. The one tip he does recall came from an instructor who detailed the benefits of paying off unpaid tax debts of elderly people -- keeping them in their homes until they die -- but then taking ownership of their properties.
"When I saw that teaching, you had to steal somebody's house? This is not right," Limon said. "We were ripped off."