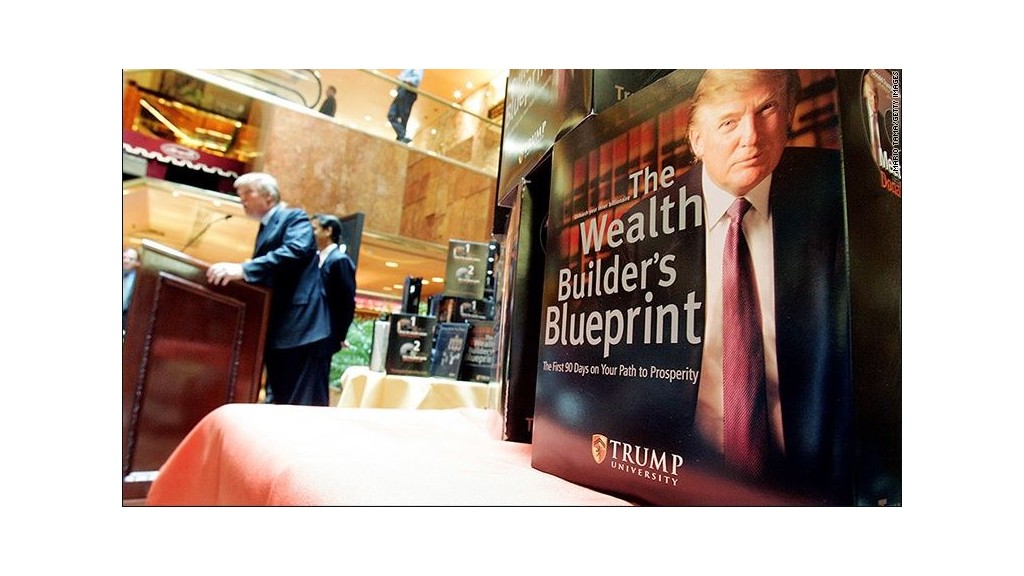 Among the harshest critics of Trump University were some of the people who used to work there.
In sworn statements released this week as part of a federal class action lawsuit, former employees complained of unethical sales techniques, unqualified instructors and widely unsatisfied students.
"Far from providing a 'complete real estate education,' as advertised, Trump University personnel only provided enough information to get students to sign up for the next seminar or program," said a statement from Corinne Sommer, who described herself as manager of the events department for six months in 2007. She said Trump University instructors used high pressure sales techniques, no matter the financial situation of the students.
"These people did not necessarily have real estate experience, but they were skilled at high-pressure sales," Sommer said in her statement. "I recall that some consumers had showed up who were homeless and could not afford the seminars, yet I overheard Trump University representatives telling them, 'it's ok; just max out your credit card.'"
Some of the sales people said they felt bad about what they were asked to do.
"I resigned from my position in May 2007 because I believe that Trump University was engaging in misleading, fraudulent and dishonest conduct," said Ronald Schnackenberg, who said in his statement he had been a sales manager for six months. He said he believed it was a "fraudulent scheme and that it preyed on the elderly and uneducated to separate them from their money."
Schnackenberg told the story of a couple he talked to the month before he quit who had no money to pay the $35,000 tuition. Schnackenberg said they were talked into using the husband's disability income and a home equity loan to pay for it. "I did not feel it was an appropriate program for them because of their precarious financial condition," he wrote. "Trump University reprimanded me for not trying harder to sell the program to this couple."
Related: Trump University controversy...in 2 minutes
Like Sommer, Schnackenberg questioned the qualifications of the instructors, recalling one whose background was in jewelry making rather than real estate.
"I believe most of the instructors, mentors and coaches had very little or no experience in the real estate techniques they were teaching," said Schnackenberg. "I received complaints from Trump University students about this....In my experience, virtually all students who purchased a Trump University seminar were dissatisfied with the program they purchased. To my knowledge, not a single consumer who paid for a Trump University seminar program went on to successfully invest in real estate based upon the techniques they were taught."
Related: Inside the Trump University 'playbooks'
The school promised that the instructors had been "hand-picked" by Trump.
"They were unqualified people posing as Donald Trump's 'right-hand men,'" said Jason Nicholas, another former employee, in his statement. "They were teaching methods that were unethical, and they had had little to no experience flipping properties or doing real estate deals. It was a facade, a total lie."
Related: Donald Trump under oath - Trump University's promises crumble
Trump, who has been hammered on the campaign trail by questions about Trump University which closed in 2011, has insisted that attendees were overwhelmingly satisfied. He said that he has refused to settle the two federal cases he faces in California and the state case brought by New York Attorney General Eric Schneiderman because he will end up winning in court.
Sworn statements also unsealed this week from Trump University employees defended the school's record. According to Mark Covais, director of operations, thousands of students received full refunds, including hundreds of those who had paid the top fee of $35,000. And he said that evaluations collected from the students showed 97% either gave it the top score, or nearly the top score, for satisfaction with the program.
In a statement, a Trump University spokesperson said: "The declaration testimony of the former employees was recanted or completely discredited at their depositions. The other unsealed evidence, including declarations and surveys from former Trump University students, demonstrates the high level of satisfaction from students and that Trump University taught valuable real estate information."
In addition, more unsealed documents revealed 17 positive reviews from attendees made in sworn testimony. Broadly, they showed people from varied work backgrounds saying that Trump University was valuable to them and that the instructors were knowledgeable. They also said that they understood they would not be "working personally with Donald J. Trump."
Separately, a paralegal at the Trump Organization sent CNN a YouTube video of three people who said they took courses at Trump University and said their experience was "outstanding."
Other documents released this week detail aggressive sales techniques and investing strategies.
The playbooks contain instructions for "Trump team members" on everything from how to dress, how to run a Trump U event, how to deal with travel expenses and how talk to the media.
But big portions are dedicated to how to bring in customers, encourage students to sign up for more courses and counter any objections or doubts they may have.